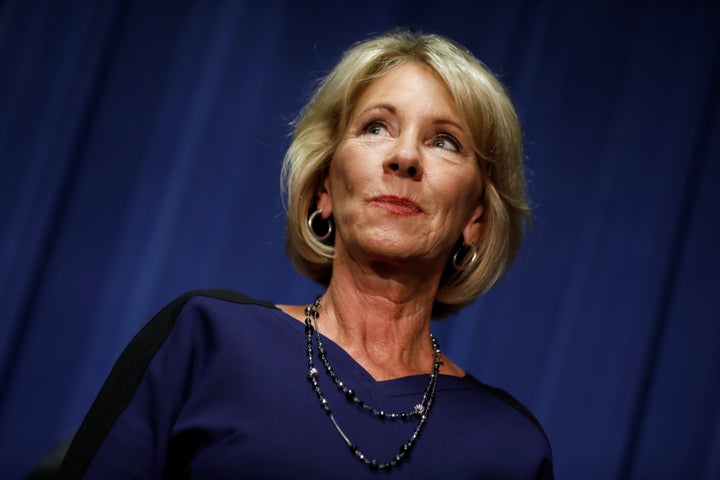 Dick DeVos mounted an unsuccessful gubernatorial bid in Michigan against then-Gov. Jennifer Granholm (D) a decade ago. During his campaign, DeVos said school districts should be able to teach the idea that a higher power created life on earth. DeVos said he would support guidelines that would allow intelligent design to be included in science curricula.
"I would like to see the ideas of intelligent design that many scientists are now suggesting is a very viable alternative theory," DeVos, a Republican, told The Associated Press at the time. "That theory and others that would be considered credible would expose our students to more ideas, not less."
To be sure, DeVos' comments were made 10 years ago, and his wife has given no indication that she'd like to use her position in the Trump administration to promote intelligent design in schools. But Dick DeVos' views on religion and education run parallel to his wife's in many areas, and the couple's family foundation has made donations that critics say have enabled the encroachment of religious education in the public sphere.
Dick Devos' campaign manager, Greg McNeilly, said in 2006 that DeVos thought "school boards should have the opportunity to offer evolution and intelligent design in science classes."
"We support that local control," McNeilly told the AP at the time.
I've always believed that our children should be provided with more knowledge, not less. Lots of intelligent people can disagree about the origins of life. In the end, I believe in our system of local control. Local school boards should have the opportunity to offer evolution and intelligent design in their curriculums.
At the time, groups like the American Civil Liberties Union fought back against DeVos' statements.
"Public schools are not Sunday schools," Kary L. Moss, executive director of the ACLU of Michigan, said in a 2006 statement. "DeVos' comments are part of a misguided campaign to force religious creationism back into the public schools. It is unconstitutional and bad public policy."
Dick DeVos, heir to the marketing company Amway, is a member of one of America's richest families. On Wednesday, Trump announced his selection of Betsy DeVos as education secretary. The couple has a history of supporting various education causes together. Their family foundation backs causes like charter schools and school voucher programs.
A spokesperson for the family said that Dick's remarks were taken out of context at the time.
"What Dick said was he's a strong supporter of local control - and decisions should be made locally, not by the state," the spokesperson told The Huffington Post in an email.
It's not clear what Betsy DeVos' current stance is on intelligent design, if any. Trump's transition team did not respond to a request for comment.
Critics say that teaching intelligent design in schools amounts to an attack on the separation of church and state. In the 2005 court case Kitzmiller et al v. Dover, a federal judge said that teaching intelligent design as science violates the First Amendment by promoting "a particular version of Christianity."
Maggie Garrett, legislative director for the group Americans United for Separation of Church and State, told HuffPost that "intelligent design isn't science, it's religion."
"It should not be taught in a public school science classroom," Garrett said. "The courts would agree with us on that one."
Garrett also has concerns about Betsy DeVos' support for school voucher programs. These programs allow students to use taxpayer money to attend private schools ― which are sometimes religious.
As of 2014, voucher and school choice programs in at least eight states had used taxpayer money to send kids to private schools that teach creationism, according to Slate.
A "fundamental value of religious freedom is that taxpayers should not be forced to fund religious education," Garrett said. "But that's really what vouchers do ― they funnel taxpayer dollars to religious schools and religious education."
Trump's selection of DeVos for education secretary has drawn praise from school choice groups like the National Alliance for Public Charter Schools.
"Betsy DeVos is a brilliant and passionate education advocate," Trump said in a statement last week. "Under her leadership we will reform the US education system and break the bureaucracy that is holding our children back so that we can deliver world-class education and school choice to all families."
Rebecca Klein covers the challenges faced in school discipline, school segregation and the achievement gap in K-12 education. In particular, she is drilling down into the programs and innovations that are trying to solve these problems. Tips? Email: Rebecca.Klein@huffingtonpost.com.
Popular in the Community