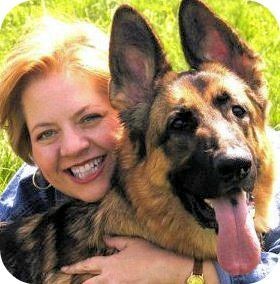 A few months ago a package arrived in the mail. A package that our dog Rumplepimple couldn't ignore. We opened it and discovered three packets of doggy deliciousness that our pooch found irresistible. They were natural treats made by a company called Apple Pie Pets. We'd met the company's founder and "Chief Jerky Maker" Karen Probst through a canine rescue organization. After hearing that tragedy had kicked the company into being, we wanted to learn more.
Tell us the story of what happened to your dog Sam, and how you got started with your business.
October 8, 2011 was one of the worst days ever. My beautiful, healthy seven year old boy was deathly ill. We rushed him to the emergency vet and spent the entire day running every test imaginable, but to no avail. Twelve hours later we lost him. Ultimately it was determined he was poisoned by recalled jerky treats.
After researching the dilemma, I found this was a horrible, wide spread problem all around the country. Thousands of dogs were dying. Basically the problem comes down to the use in pet foods and treats of imported chicken and other ingredients that do not meet America's higher standards.
This prompted me to do in depth research and start making my own treats at home so none of our other dogs would ever suffer like my poor Sam did. I shared experimental treats with close friends while I honed the craft of jerky and treat making. From there I was encouraged to sell to others and it snowballed into a little cottage-industry.
Has creating this line of treats helped you cope with the sadness and guilt of what happened?
Indeed it has. We are meeting a great need, as well as educating other K9 parents who are unaware of the dangers of foreign-sourced ingredients. Additionally, Sam's death brought me to my first rescue dog, Max. He is my constant companion and fills my heart with the love I lost when Sam died.
Rumplepimple is -obsessed- with your treats. What's the secret?
Simple, wholesome American-sourced chicken and ingredients. If we have a secret, it is that the aroma of the fresh fruits and syrups come shining through. I call our treats "Aromatastic." We have even had humans tasting some of our jerky!
Where do you source your ingredients?
Only American born and raised ingredients are used in our treats. Our fresh chicken is from several midwest farms that my husband and I visited personally while doing research. Our fruits, maple syrup and yams are all from Wisconsin.
What sort of "factory" do you have?
Apple Pie Pets was born in my kitchen. That's where I did all my initial experimenting, testing and recipe creating. In the last two years I have started collaborating with three local meat markets who have helped with production my kitchen can no longer handle.
Are you planning to come out with more products?
Over time we would like to develop a grain-free beef treat, but it takes lots of experimenting in order to get the perfect Apple Pie treat.
You've got quite an impressive following on Facebook. Do you have any idea how that has happened?
Social media can be an excellent tool for networking and getting out the word. Many of our customers come from other K9 parents. It takes diligent work and daily involvement, but it is very rewarding when customers become friends.
How has starting Apple Pie Pets changed your lives?
Through investigating the horrific problem of foreign-sourced ingredients in American dog/cat food and treats, I connected with others who had similar, deadly experiences. Over time I was led from this issue to an even more startling, but well-kept "secret"...that of the millions of stray, abandoned, neglected and suffering homeless dogs are on the streets of Houston, Texas, as well as several other major American cities.
This single issue drives me. Rescue is now in my heart. And, because of my awareness, about 90% of the proceeds from Apple Pie Pets jerky have gone to help those wonderful rescuers out on the front lines helping the sick, frightened, homeless dogs. As a matter of fact, we even have a separate Facebook page called, "Apple Pie Pets Rescue Support." Through that page, we continue to follow some of the dogs and rescue groups we have personally supported. I believe your adorable Rumplepimple and I met through Wire Fox Terrier rescue!
Do you have any advice for others who might want to transform something painful into something positive?
No specific advice really, but while pondering this last question, the old adage came to mind,"When life gives you lemons, it's time to make lemonade."
In my case, the lemons came in the form of losing my beloved Sam. The lemonade was rescuing my Max and learning about the incredibly selfless,wonderful people out there daily who aid and comfort the millions of abandoned dogs. It is my honor to help them the way we do.
Calling all HuffPost superfans!
Sign up for membership to become a founding member and help shape HuffPost's next chapter