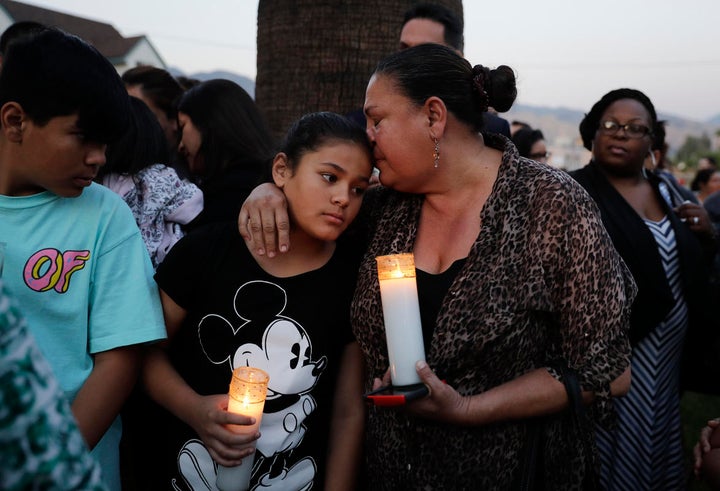 A connection between violence on a mass scale and violence on an intimate level often emerges when a mass shooting occurs.
Yesterday, Cedric Anderson, of Riverside, California, shot his wife, Karen Elaine Smith, "without saying anything," before turning the gun on himself. This took place, tragically, in a special-needs classroom at North Park Elementary School in San Bernardino. One 8-year-old student died from his injuries and a 9-year-old was injured.
The Los Angeles Times reports that "In an email to staff, the school district said: 'This is believed to be a case of domestic violence.'"
San Bernardino is a town that made national headlines in December of 2015 after another mass shooting in the community that saw the loss of 14 lives and another 21 injured. It was reported that one of the killers grew up in a home affected by domestic violence.
Domestic violence continues to be a thread weaving the many incidents of mass violence together. Other examples include: Esteban Santiago—who had previously been accused of attempting to strangle his girlfriend—allegedly shot travelers at Fort Lauderdale-Hollywood International Airport, killing five people as a result. And earlier last year it was shown that the Pulse Orlando shooter had a history of domestic violence.
Data shows that this connection is far from coincidental.
In December 2015, the New York Times reported that 462 people had died and 1,314 had been wounded in shootings involving four or more people during that year alone. Shockingly, that averages out to more than one per day. And, perhaps not as surprisingly, domestic violence was usually a factor in the killer's lives. According to the Times, "In 57 percent of the cases, the victims included a current or former intimate partner or family member of the attacker."
There has never been a more compelling reason to ensure that everyone who is a victim of, or witness to, family violence receives treatment and support, and that society takes domestic violence seriously as an issue.
For example, we know that children who witness and experience violence, like the killer of the 2015 mass shooting in San Bernardino, have a greater chance of growing up to experience a host of negative, life-altering outcomes that can range from becoming abusers themselves, to experiencing physical and mental health challenges, to developing addictions or having a run-ins with the criminal justice system.
At Safe Horizon, we believe that we can reduce violence in our society by providing speedy, expert mental health care to child witnesses who may also be victims. Every year we help more than 6,000 children and their families recover from the most severe physical and sexual abuse in New York City, but we know thousands more cases are never reported.
Imagine the fear, confusion, anger and profound loss that these children are facing and how that trauma, if left untreated, could lead to tragic outcomes for these future teens and adults, and also for our society at large.
And there are other things that need to change in our society before killings like those in San Bernardino end.
We absolutely need decisive action on gun violence, for a start. Research shows us the immediate danger guns can have in the wrong hands. For example, women who are abused are five times more likely to be killed by their abuser if the abuser owns a gun. In fact, between 1990 and 2005, firearms were used to kill in more than two-thirds of homicides committed by a spouse or ex-spouse.
But we also know that we can help reduce the daily bloodshed in our society by intervening sooner and supporting victims of domestic violence more fully. Only then will we build a society free of family and community violence.
A previous version of this article appeared under Safe Horizon's CEO Ariel Zwang. Repurposed with permission.
Calling all HuffPost superfans!
Sign up for membership to become a founding member and help shape HuffPost's next chapter
BEFORE YOU GO