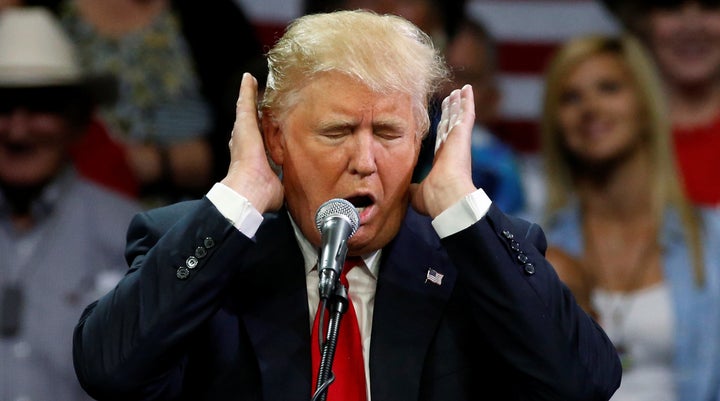 The Republican National Committee launched a new website Wednesday, asking the public to help shape its 2016 platform. The site invites users to comment on the issues of the day, which are organized into six broad categories, including "America's Natural Resources," "Rebuilding the Economy" and "American Exceptionalism."
That last category, however, is in direct conflict with the worldview of the party's presumptive presidential nominee. Just last year, Donald Trump disavowed the idea of American exceptionalism.
We are the party of peace through strength. Professing American exceptionalism -- the conviction that our country holds a unique place and role in human history -- we proudly associate ourselves with those Americans of all political stripes who, more than three decades ago in a world as dangerous as today's, came together to advance the cause of freedom.
But that was four years ago, before Trump became the leader of the party. This year, Republicans crafting the platform will have to decide whether to take their cues from their nominee and do away with that language. For now, it remains on the GOP's platform site.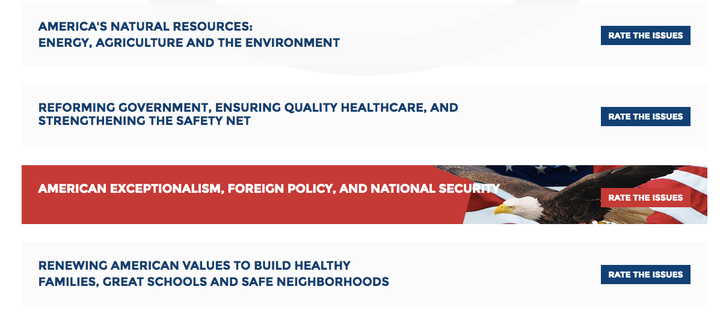 It's pretty common to hear GOP leaders praise the idea of American exceptionalism, but Trump is not a Republican's Republican. In April 2015, just before he launched his presidential bid, Trump spoke in Houston to a local tea party group. The host asked him to define American exceptionalism and explain whether it still exists and what the country can do to foster it. Trump took issue with the term itself, as Mother Jones reported. From Trump's response:
I don't like the term. I'll be honest with you. People say, "Oh he's not patriotic." Look, if I'm a Russian, or I'm a German, or I'm a person we do business with, why, you know, I don't think it's a very nice term. We're exceptional; you're not.

First of all, Germany is eating our lunch. So they say, "Why are you exceptional. We're doing a lot better than you." I never liked the term. And perhaps that's because I don't have a very big ego and I don't need terms like that. Honestly. When you're doing business -- I watch Obama every once in a while saying "American exceptionalism," it's [Trump makes a face]. I don't like the term...

You can think it, but I don't think we should say it. We may have a chance to say it in the not-too-distant future. But even the, I wouldn't say it because when I take back the jobs, and when I take back all that money and we get all our stuff, I'm not going to rub it in. Let's not rub it in.
The RNC did not respond to a request for comment for this story.
Republicans have gone after President Barack Obama in the past, accusing him of not believing in America's uniqueness.
Obama, however, has said he believes in American exceptionalism, although he's noted that citizens of other countries probably feel a similar pride in their own homelands as well.
"I believe in American exceptionalism, just as I suspect that the Brits believe in British exceptionalism and the Greeks believe in Greek exceptionalism," he said in 2009. "I'm enormously proud of my country and its role and history in the world."