WASHINGTON ― In March 2014, Donald Trump opened his 126-room Palm Beach mansion, Mar-a-Lago, for a $3,000-per-person fundraiser for Pam Bondi, the Florida attorney general who had recently decided not to join a lawsuit against Trump University and was facing a tough reelection campaign.
Trump did not write a check to the attorney general that night. The previous fall, his personal foundation had given $25,000 to a pro-Bondi PAC. But by hosting her fundraiser at Mar-a-Lago and bringing in some of his own star power, Trump provided Bondi's campaign with a nice financial boost.
Since he began his run for the White House, Trump has repeatedly claimed that Bondi is merely someone he has supported politically. But his fundraising efforts for her were extensive and varied: In addition to the $25,000 donation from his foundation and the star-studded Mar-a-Lago event, Trump and his daughter Ivanka each gave $500 to Bondi's campaign in the fall of 2013. The following spring, Ivanka and her father donated another $125,000 to the Republican Party of Florida ― Bondi's single biggest source of campaign funds.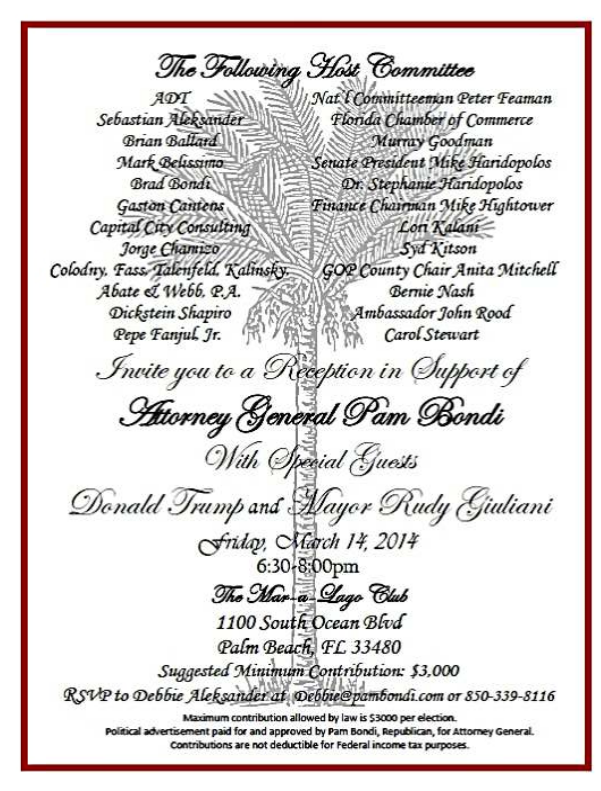 All this money created the appearance that Donald Trump was thanking Bondi for halting any further investigation into his failed seminar programs. Trump's efforts to boost her politically came during and after a period when Bondi was under pressure to pursue allegations that those seminars were defrauding consumers.
The use of Mar-a-Lago alone was a donation of some value. Space at the resort is expensive to rent, and Trump has charged his own presidential campaign roughly $140,000 per event for use of the mansion.
In contrast, the Republican Party of Florida paid only $4,855.65 for the Bondi fundraiser, cutting a check on March 25, 2014. It was a "small event on the lawn ... featuring snacks and refreshments, attended by about 50 people," a Bondi campaign staffer told The Huffington Post.
Trump's courtship of Bondi, including the Mar-a-Lago event, could complicate a line of attack his campaign is currently making against Hillary Clinton. Trump and his surrogates have attacked Clinton's family foundation for accepting donations from governments and individuals with business before the State Department during her tenure there. They have suggested that, in turn, those donors were given special access to then-Secretary of State Clinton and her staff.
Clinton and her aides have denied that charge and responded by arguing that Trump has used his money to influence politicians ― an accusation that he hasn't always denied.
"I've got to give [campaign contributions] to them, because when I want something, I get it," he said in January. "When I call, they kiss my ass. It's true. They kiss my ass. It's true."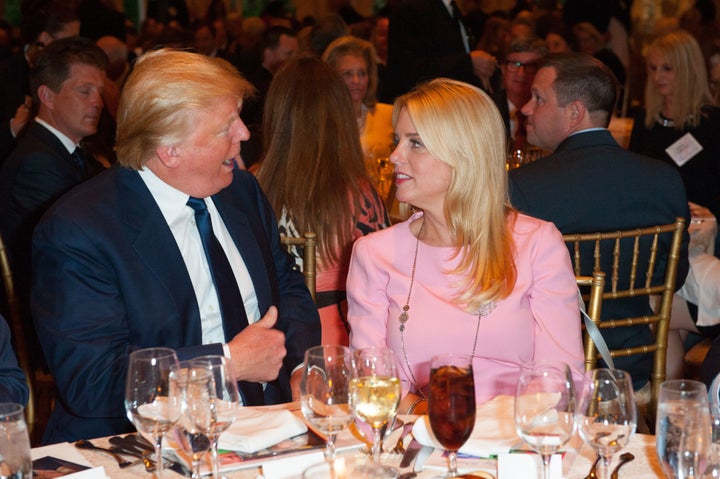 Allegations of fraud by Trump University and its predecessor Trump Institute began before Bondi took office in 2011. The previous Florida attorney general, Bill McCollum, had received numerous complaints from attendees of Trump's real estate programs. According to those attendees, Trump had promised classes and mentoring that never materialized, and when customers complained, the organization refused to give refunds.
One attendee, Sheila Roberts, contacted McCollum's office in 2009 when she did not receive a refund of almost $2,000. Roberts told The Huffington Post that she felt the office handled her complaint appropriately.
"I did get my money back, so no problem there," she said. Roberts added that she is voting for Trump.
But for many unhappy customers of the real estate seminars, refunds were few and far between.
Carol Minto of Connecticut said the Trump Institute, which is based in Florida, refused to honor her refund. She reported the matter to the attorneys general of both Florida and Connecticut, but only heard back from the latter, who helped her get her money back.
"Trump holds himself out to be this great person in real estate, and I wanted to learn how I could buy and sell properties just like him," Minto told HuffPost. "And he didn't even turn up. He just had a picture of himself [at the seminar]."
When Bondi was elected attorney general, the broader question of what to do about all the Trump Institute complaints ― and whether Florida could or should join pending lawsuits ― had yet to be resolved. As late as Sept. 14, 2013, Bondi's spokesman said that the office was reviewing the allegations "to see if they have any relevance in Florida."
But around that time, Bondi personally solicited Trump for a political donation. On Sept. 17, the real estate mogul's charitable foundation wrote the $25,000 check to the Bondi-backing PAC named And Justice For All. (The check proved to be a violation of Internal Revenue Service rules for tax-exempt nonprofits. Trump recently paid a $2,500 penalty.)
Florida resident Kenneth Lafrate claims that the Trump Institute scammed him out of roughly $7,000, most of which paid for a mentoring program. He said he spoke to a mentor online "for a number of months," until the mentor abruptly stopped answering messages. Lafrate contacted the Florida attorney general's office as early as 2008 but said he did not receive a response. When he later learned of Trump's connection to Bondi through news reports, he stopped expecting to get an answer.
"She's not going to do anything because she's kind of in with [Trump]," he told HuffPost.
Lafrate said he also notified the office of New York Attorney General Eric Schneiderman, who filed a consumer fraud suit against Trump in 2013, and received "a nice letter saying that they were aggressively pursuing this."
Connecticut resident Mitzie Andrade reached out to the Florida attorney general's office under McCollum as well, seeking a refund on the more than $3,000 she had paid for Trump's seminar programs.
"I got everything back. I was lucky, I guess," Andrade said, but she added, "It is not a real seminar, it is a scam. It is a downright scam."
Trump has pushed back against criticism of his seminar programs, in part by offering up positive reviews by carefully vetted attendees. To this day, the first entry on the "Issues" page of Trump's presidential campaign website is a video of people insisting that Trump University was not a scam. It's worth noting, however, that none of these positive reviewers are descibed as working in the real estate business that Trump promised to teach them all about.
Despite taking office after Trump University had largely been disbanded, Bondi did some follow-up with the alleged victims. On Oct. 10, 2013, for instance, a representative for her office followed up with Harold Stevens. The representative told Stevens the office was "concerned with all potentially unfair and deceptive trade practices."
But there is little or no evidence that Bondi's office followed up on scores of individual complaints against Trump's seminars made before she became attorney general or developed a larger legal response to the widespread dissatisfaction with Trump's education business.
At the time, the Florida attorney general's office said there was no need to pursue any Florida litigation or to join another state's effort. Bondi's office assured Floridians that "the New York litigation would provide relief to aggrieved consumers nationwide."
Florida isn't the only state where campaign donations appeared to be linked to investigations of Trump that went nowhere. In 2013, the businessman gave $35,000 to then-Texas Attorney General Greg Abbott, who had dropped his probe into Trump University a few years earlier. (In an email to HuffPost, a spokesperson for Abbott, who is now Texas' governor, noted that although the state did not bring a suit against Trump U, the company closed its Texas operations after an investigation by the deputy attorney general.)
A former employee of Trump University, who requested anonymity because he has a nondisclosure agreement, said that politics always played a role in how Trump University did business.
"All we had to do is stroke a check to the committee to re-elect [the state attorney general]," the individual said. "And the problems went away."
S.V. Date contributed reporting.
This article was updated after publication both for clarification and to include comment from a spokesperson for Texas Gov. Greg Abbott.
Sign up for the HuffPost Must Reads newsletter. Each Sunday, we will bring you the best original reporting, longform writing and breaking news from the Huffington Post and around the web, plus behind-the-scenes looks at how it's all made. Click here to sign up!
Popular in the Community