WASHINGTON -- Reality TV star Donald Trump can't stop boasting about how he's currently leading in the polls among GOP presidential candidates -- and how he has no place to go but up. 
Or not. Take it from Sen. John McCain (R-Ariz.), who won the GOP nomination in 2008.
On Tuesday, a reporter asked McCain what he thought it meant that Trump was at the top of the pack right now.
"It doesn't tell me anything," he replied.
McCain should know. At this point in his presidential election cycle, in July 2007, he was lagging in the polls behind former New York City Mayor Rudy Giuliani (R). There was even significantly more buzz around former senator -- and "Law and Order" actor -- Fred Thompson. 
And McCain ended up winning the nomination and running in the general election against then-Sen. Barack Obama (D-Ill.), who, at this point in the cycle, was still far behind then-Sen. Hillary Clinton (D-N.Y.).
As HuffPost Pollster has explained, everyone should take a deep breath before getting too excited about minor shifts in these early presidential polls. National polls tend to survey many voters who will never engage in the primary process, candidates who get a significant amount of media attention often get bumps that fade and the Republican field is still very much in flux with 16 contenders. 
Here's how these early leaders have fared: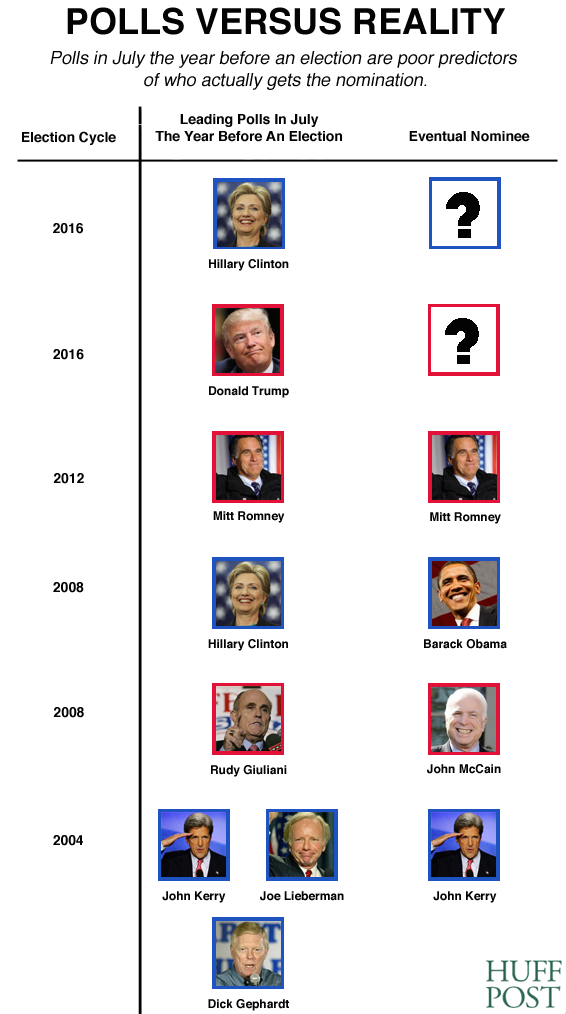 Calling all HuffPost superfans!
Sign up for membership to become a founding member and help shape HuffPost's next chapter