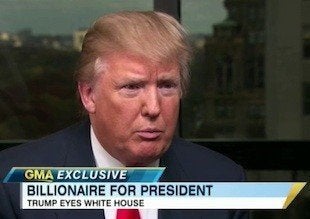 Real estate mogul Donald Trump says he's thinking about running for president, saying "everybody's ripping off the United States."
Trump tells ABC's George Stephanopoulus in an interview he doesn't actually want to run, but that he's worried about the country's future and thinks he could be the person to stand up to America's rivals. He singled out China for criticism in the interview, accusing Beijing of manipulating its currency to gain unfair advantage of the United States in global trade competition.
He has shown interest in the past in running for president, in both 1988 and 2000. But in the interview, Trump said, "I am thinking about things." He said he expects to decide by June and said he'd likely run as a Republican if he enters the race.
Last month, Trump communicated a similar message on the possibility he'd jump into the 2012 presidential mix.
"I'm totally being serious because I can't stand what's happening to the country," he explained during an appearance on Fox News. "I am being serious about it. I've been asked for years to do it. And I had no interest. This is the first time I am -- at least I'm considering it."
On Thursday's edition of GMA, Trump said "it could be fun" to mount a run for the White House because he'd "like to see some positive things happen for the country." He also spoke out on the possibility of facing off against former Alaska Governor Sarah Palin, who signaled this week she's seriously considering running for president in the next election cycle.
"She's very interesting," explained Trump. "And don't underestimate her. I mean, I see what she does. Do not underestimate Sarah Palin."
He added, "I would take her on. I like her, but I'd take her on."
Think you predicted correctly? Make predictions for other potential contenders here.
REAL LIFE. REAL NEWS. REAL VOICES.
Help us tell more of the stories that matter from voices that too often remain unheard.