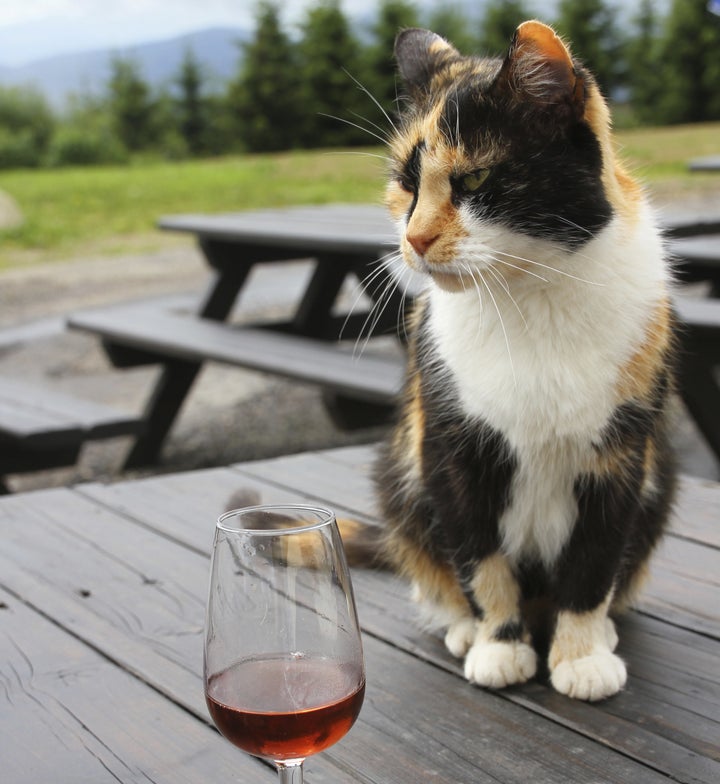 It wasn't uncommon for frisky feline Aljosha to leave his home to strut around the town of Würselen, Germany, and come back home around midday. But, one fateful day in July, the cat didn't return.
In the days after the disappearance, Aljosha's owner, Claudia von Büren, wasn't able to track down her beloved pet. She printed 150 flyers and posted them around town, with no success, The Local reports via German-language publication Bild.
So it was a surprise when, seven weeks later, the kitty emerged from an environment that apparently didn't bode well for the animal's health or sanity: He'd been trapped in a wine cellar a few houses away.
During the seven-week timeframe, the cat managed to shatter three wine bottles totaling more than $44, lapping up the liquid and getting increasingly inebriated with every taste.
When Aljosha reappeared after his epic binge, it was obvious the cat was sick. Immediately upon seeing him, von Büren rushed the cat to the vet.
"He was more dead than alive when I picked him up," she told Bild. "We went to the vets straight away, where they diagnosed him with alcohol poisoning."
It took three days on a drip, but the cat eventually sobered up and is doing much better now, The Local reports.
Aljosha was lucky, because booze can be deadly for felines. The ASPCA warns that any alcohol is "extremely dangerous" for cats and notes that any intoxicated cat should be monitored by a veterinarian.
KC Theisen, Director of Pet Care Issues at The Humane Society of the United States, encourages people to keep their cats indoors to protect them from potentially tragic situations such as Aljosha's.
"His misfortune highlights the need to keep our pet cats indoors, where there is less risk of ending up trapped where they don't belong," she told Huffington Post.
Related
Popular in the Community