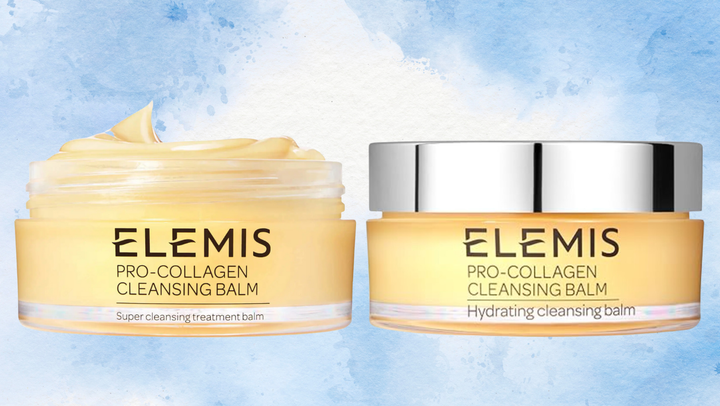 HuffPost and its publishing partners may receive a commission from some purchases made via links on this page. Every item is independently curated by the HuffPost Shopping team. Prices and availability are subject to change.
It's embarrassing to admit this, but despite my lifelong devotion to all things skin care, I've long relegated cleansers to the bottom of my priority list, to my own detriment. But over the last year or so, I've started double cleansing and incorporating high-quality products into my routine and the difference in my skin has been shocking.
There's nothing quite like the deep clean that accompanies a double cleansing routine, and a good oil cleanser or balm is an absolute must for beautifully fresh skin that doesn't feel dry or stripped. I'd long heard people sing the praises of the Elemis Pro-Collagen cleansing balm, but the price point made me hesitant to pull the trigger. I finally gave in about four months ago and I regret to inform you that it is worth every penny.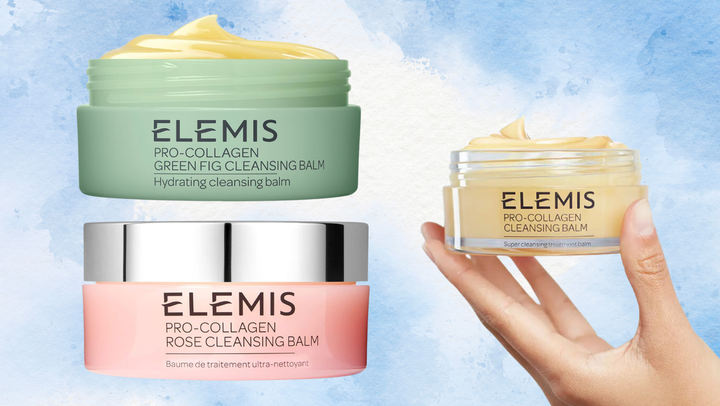 It brings me no pleasure to report that it was in fact my own mother who turned me onto this iconic, cult-fave cleansing balm. After hearing her rave about it for months I finally gave it a shot while visiting my family and couldn't believe how soft, supple and clean my skin felt. I had always assumed that someone with acne-prone, oily skin like me should stay away from oil cleansing, but I couldn't have been more wrong. My face cannot get enough, and when I start to get lazy and stop using it for a few days my complexion always rebels and starts to feel congested and stripped, leading to breakouts.
My colleague Kristen Aiken is also a huge fan of this cleansing balm. She told me that "this item is way pricier than what I'm usually willing to spend on cleanser (which is usually from the drugstore and under $10), but I've found it's one of the only products that can effectively cleanse my skin AND nourish it without making me break out. I have perpetually dry skin no matter how much water I drink, and this saves me from drying out (especially in the winter months). Bonus: If you use it as a second round of double-cleansing (i.e. after you've already removed the day's initial layer of gunk), you can use your favorite facial massage tool over top it, to help your tool slide smoothly along your face and de-puff."
There are also scores of videos, comments and more dedicated to this luxury beauty product on TikTok, Reddit and beyond. This TikTok in particular shows just how effective it is at removing makeup. It's the real deal!
The texture is wholly unique and utterly delectable. It has a buttery soft consistency that starts off like a rich, thick oil and slowly melts into the skin, dissolving makeup, grime and impurities. Eventually, it takes on the consistency of a cleansing milk, so by the time I wash it off, my skin is as clean as can be while still feeling hydrated, smooth and healthy. I like to massage the balm into my face for up to a minute to really let it sink into my pores to get all the gunk out and soak up the balm's nourishing ingredients.
It's formulated with fatty acids that can help to improve skin elasticity and moisture retention, and the brand says its starfish and elderberry oils help soothe irritation and smooth out the complexion.
I was initially wary of the fact that it's a scented skin care product; those of us with sensitive skin often avoid scented items (especially those formulated with essential oils). But I'm pleased to report that not only has my skin shown zero adverse effects, but the intoxicating scent is a large part of why I love it so much.
You can get the Elemis Pro-Collagen cleansing balm in one of three scents: original, green fig and rose. I am absolutely besotted with the green fig option, which happens to be the newest option. It releases a gentle, calming aroma that majorly elevates everyday face-washing to a spa-like experience. I cannot speak highly enough of how luxurious it smells and feels — it's a positively elegant experience.
This cleansing balm takes the everyday act of washing your face and turns it into a true self-care moment. There's no denying that it is definitely on the expensive side, but a little goes a long way, so it's not a purchase you need to make more than a few times a year. I like to think of it as an investment not only in my skin, but in my overall well-being. I love how relaxed and fancy it makes me feel.
But don't just take my word for it, take a look at these major raves from happy showers over at Amazon. Pick one up for yourself and consider gifting one to the skin care lover in your life this holiday season — the balm is a perfectly-sized stocking stuffer and your pal will be thrilled.
"I first purchased this product back in 2021 and towards the holiday season, I gotta say, Elemis cleansing balm, especially the original minty aroma is exquisite and luxurious at every turn. I have sensitive skin and Rosacea. I wanted and needed a product that could remove makeup without leaving my skin stripped of all moisture but effective enough to remove heavy makeup and waterproof mascara. I've tried Clinique's balm and other forms of makeup removal products but Elemis leaves my skin feeling soft, without films. A spa in my bathroom." — The Zlayer

"I love using this cleansing balm to take my makeup off. It does have a noticeable fragrance but I find it relaxing. It has a buttery consistency and does a good job of removing makeup but I do use a damp cotton pad to facilitate makeup removal. It leaves my skin feeling soft and moisturized. This is now one of my holy grail products!" — Andrea

"I'm somewhat of a skin care junkie and have tried most of the highly-rated cleansers available on the market today, but this remains the only one I use as a first step in a double cleanse. It has the most incredible texture, starting out as a balm, melting into an oil, then transforming into a gentle foaming cleanser as you rub it in. It effectively removes all traces of cosmetics, and it feels (and smells!) of a luxury spa whilst doing so! A little goes a long way, and this large tub lasts me for several months. I love that it is gentle, effective, and very moisturising without leaving any trace of residue. The accompanying flannel is a lovely addition and makes the entire routine feel like self-care. It is probably ill-advised for those sensitive to essential oils, but otherwise I would encourage anyone to give it a try! I've never been disappointed by an Elemis product, but this is a particular favourite." — Nimue

"I am in love with this cleaning balm! Melts away makeup, dirt and grime while leaving your face so smooth and fresh. Has clean, non-toxic ingredients and smells like a day at the spa! Also, product seems to last for a while - a little goes a long way! Highly recommend" — Avery

"I was somewhat hesitant to pay so much for this product, but I am so glad I took the chance and discovered a new favorite! The smell is scrumptious, and it leaves my skin feeling refreshed and supple. After rubbing it together in my warm hands, it emulsifies and spreads easily over my skin. I wiped it off with a washcloth soaked with warm water. I am so impressed with this product." — Jen Elliott Ehrhardt
Before You Go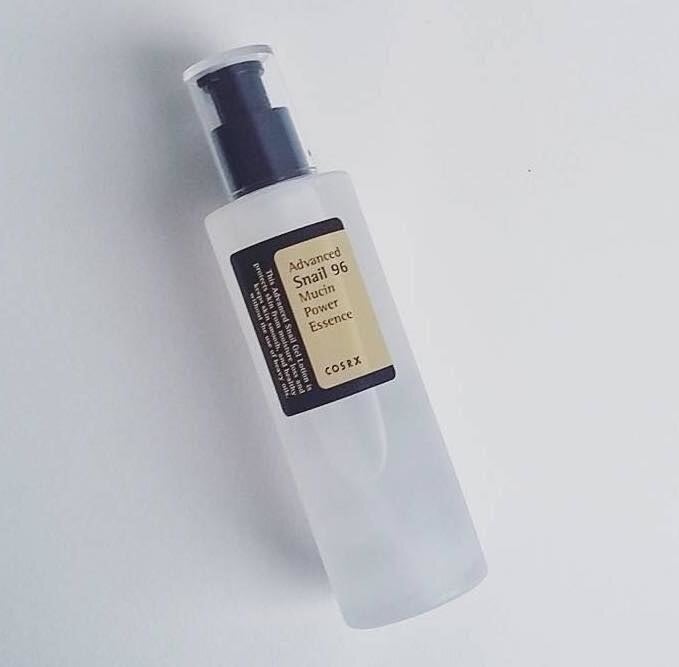 21 Korean Skincare Products Under $25 That You'll Want To Add To Your Cart
Popular in the Community