 WASHINGTON -- Sen. Elizabeth Warren is adamant that she is not seeking to move up to the White House.
"I am not running for president," the Massachusetts Democrat told The Huffington Post, as she has told many others. "You can ask that question any way you want, but you're going to get the same answer."
That's not exactly the question HuffPost was asking, though. The question was why readers of her new memoir and political treatise, A Fighting Chance, shouldn't take from it a very powerful argument for why Warren should run.
All through the book, despite her Shermanesque declarations of non-intent, can be found passages that suggest the logical next step for the middle-class girl from Oklahoma who grew into a champion for social justice is to seek the office where she could have the greatest impact.
Indeed, the argument for why she should attempt to go beyond even her unlikely ascension to the U.S. Senate two years ago begins on Page 2 of her book.
"I am determined -- fiercely determined -- to do everything I can to help us once again be the America that creates opportunities for anyone who works hard and plays by the rules. An America of accountability and fair play. An America that builds a future for not just some of our children but for all of our children. An America where everyone gets what I got: a fighting chance," Warren writes.
Perhaps Warren does not think that climbing onto the high-profile platform of a presidential bid lands in the category of doing "everything I can." But her book also shows how often in her public career she looked at the lay of the land and said no, or at least hesitated. She often had to be convinced.
When former Rep. Mike Synar (D-Okla.) asked Warren to join the National Bankruptcy Review Commission in 1995, she balked at first, but was then convinced by the opportunity to improve the laws in concrete ways. Not long after, Synar died, and the goal all but died with him.
President Bill Clinton appointed a lawyer named Brady Williamson to continue the work.
"When Brady called, I was blunt: Mike and I had a deal, but that was then. Mike is gone, and I'm out of here," Warren recounts in her book.
Williamson responded that ordinary bankrupt Americans had no political clout, that banks would make a bad situation worse if they dictated the commission's work, and that even though Warren couldn't make the reforms she had initially hoped, every day that they at least preserved the best aspects of the old laws was a day that some 5,000 people could use them to get a fresh start.
"Lord this was discouraging," Warren writes of their conversation. "But I signed on, and we started stacking sandbags as quick as we could. Maybe we'd lose in the end, but every day we held on was a better day for struggling families."
Helping people trumped her distaste for the project. It was a similar situation when President Barack Obama asked her to establish the Consumer Financial Protection Bureau. He wanted her to set it up, but -- for political reasons -- not to lead it.
She told him no at first, fearing she wouldn't have the authority to build the agency that she thought was needed. Obama pleaded for her to trust him before she finally decided she would do it.
And when Democrats wanted her to run for the Senate seat in Massachusetts, she writes, "I really didn't want to run. I'd had enough of Washington." Her family was telling her, "We love you and we don't want to see you hurt. Please stay out."
But she thought about what a senator could accomplish:
[T]here was so much at stake in this election. I'd spent nearly twenty years fighting to level the playing field for the middle class, and I'd seen millions of working families go over the economic cliff -- and it was getting worse. What kind of country would my grandchildren grow up in? What if the conservatives and the big banks and the big-time CEOs got their way, and Washington kept helping the rich and powerful to get richer and more powerful? Could I really stand on the sidelines and stay out of this fight?
So she dipped her toe in the water, visiting small gatherings around the Bay State, until she met a woman who had walked miles to meet her. Warren writes that she decided to run after she was moved by this woman's tale. The woman declared, "I don't care how hard it gets, I want to know that you are going to fight."
In her book, Warren, who used to teach Sunday school, suggests that she has an almost religious calling to fight the good fight. She explains how she's inspired by the words of the King James Bible and how she offered their wisdom in a visit to a church.
"I stood up, and I talked about my favorite Bible verse, Matthew 25:40," she writes. "I told people what it meant to me. It's message was very simple: The Lord calls us to action. It's what we do that matters most."
Her takeaway from defeating Republican Sen. Scott Brown in 2012 has a similar tone.
"What is the lesson of that day? When we fight, we can win. And when we get really fired up and fight shoulder to shoulder, we can do some pretty amazing things," she writes. "Some say the rich and powerful now control Washington and always will. I say this battle isn't over yet. True, the playing field isn't level and the system is rigged. But we're putting up a heck of a fight, and we intend to keep on fighting."
If such comments -- found throughout the book -- don't make an argument for Warren to try for the White House, here are the final two paragraphs:
No one is asking for a handout. All we want is a country where everyone pays a fair share, a country where we build opportunities for all of us, a country where everyone plays by the same rules and everyone is held accountable. And we have begun to fight for it.

I believe in us. I believe in what we can do together, in what we will do together. All we need is a fighting chance.
Warren can probably count on hearing those words come back to her many times over the coming months.
Michael McAuliff covers Congress and politics for The Huffington Post. Talk to him on Facebook.
Before You Go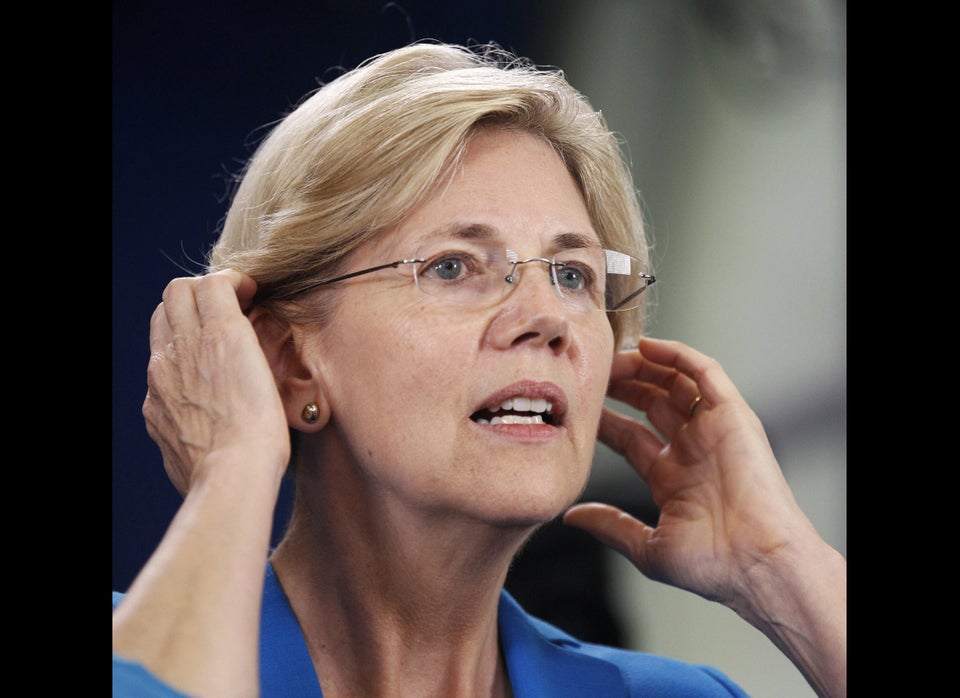 Elizabeth Warren
Popular in the Community