"You're going to have to hold it," the teacher said.
But 6-year-old Emma Smith couldn't.
It was the second time that Emma was forced to urinate on herself while attending Glen Arden Elementary, a small public school tucked away in the rural mountains of western North Carolina.
When the teacher realized what happened, she walked Emma from the cafeteria to her classroom at the opposite end of Glen Arden to change ― a trek the length of the school's campus ― while Emma's urine trickled from her soiled clothing, down her legs and filled her shoes.
When she came home that day with a bag of urine-soaked clothes in tow, it wasn't difficult for her parents to piece together what happened.
Emma is a transgender child living in a part of America that has become a battleground for transgender rights ― including the right to use the bathroom that corresponds with an individual's gender identity. First with 2016′s House Bill 2 and now House Bill 142, North Carolina helped galvanize a wave of proposed legislation that has swept the American South, targeting transgender individuals and challenging their right to exist in public spaces.
For Emma and her family, this fight has become tangible and all-consuming over the past year.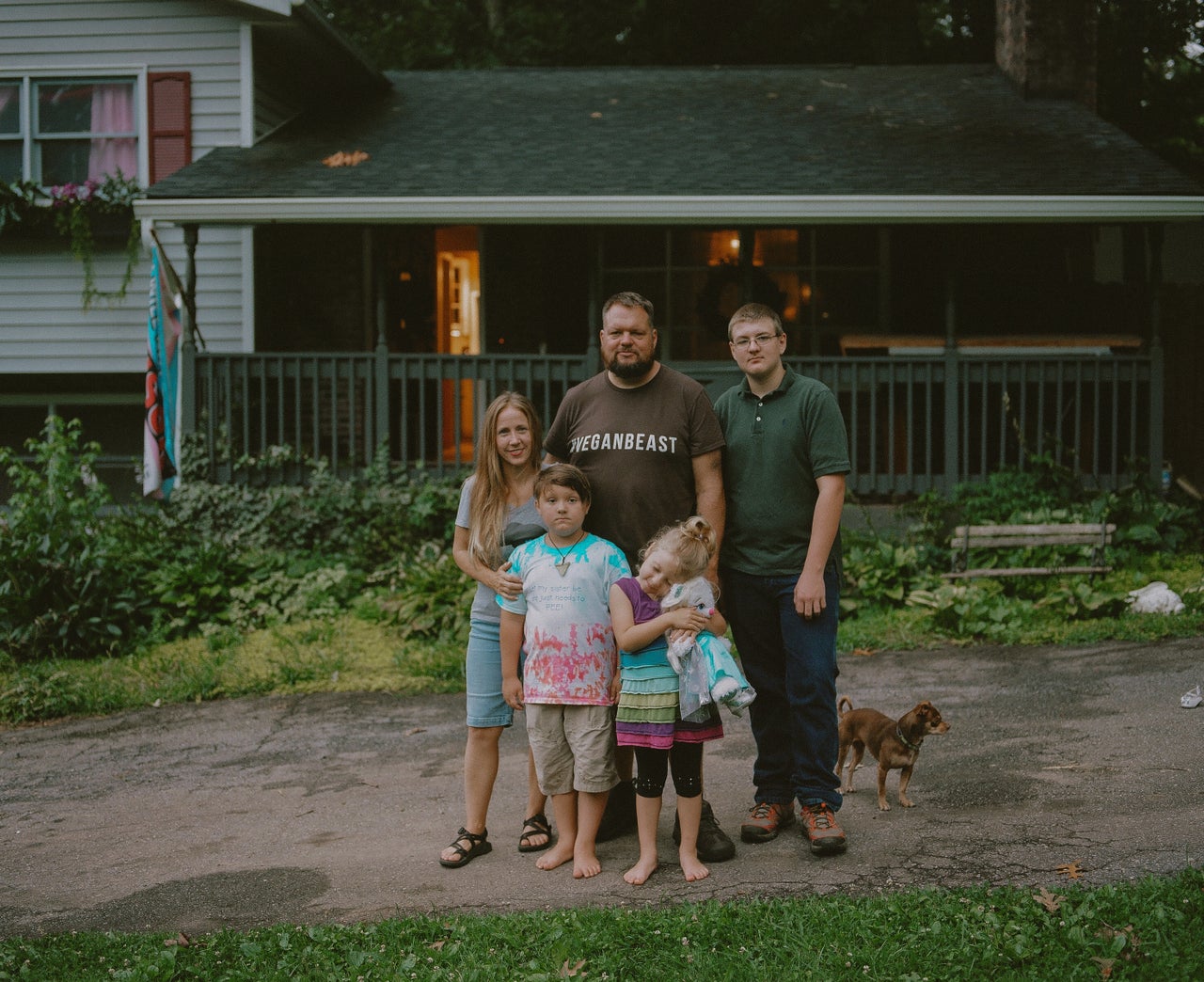 Amy and Kevin Smith live in a modest home in a small community outside of historically liberal Asheville, North Carolina, with their three children and a menagerie of pets. In 2014, Emma, their youngest child, who was assigned male at birth, began gravitating towards toys and clothing traditionally understood for girls.
"She always had girl tendencies," Kevin told HuffPost. "She's always been petite, she's aways been sweet like a little girl. Before we ever realized, she was always wanting pink and girls' toys, dolls. We didn't really know what was going on with it, we just thought, 'Pink, blue, what makes a difference? We don't care.'"
For a few years, the parents thought Emma's preference for girls' toys and clothing might just be a phase. But as time passed and Emma began trying to articulate her understanding of the world around her, it became clear that something was different about Emma from her two older brothers.
"She began calling me 'he,'" Amy said. "We thought she was just really confused and we needed to explain to her the difference in gender. I said, 'Let's explain this: Boys' pronouns are he and him. Girls' are she and her.' But Emma kept saying, 'You're he!'
And then one day she said, "Well, if I'm a boy, you're a boy."
In other words: if that is what I am, then you must be it, too.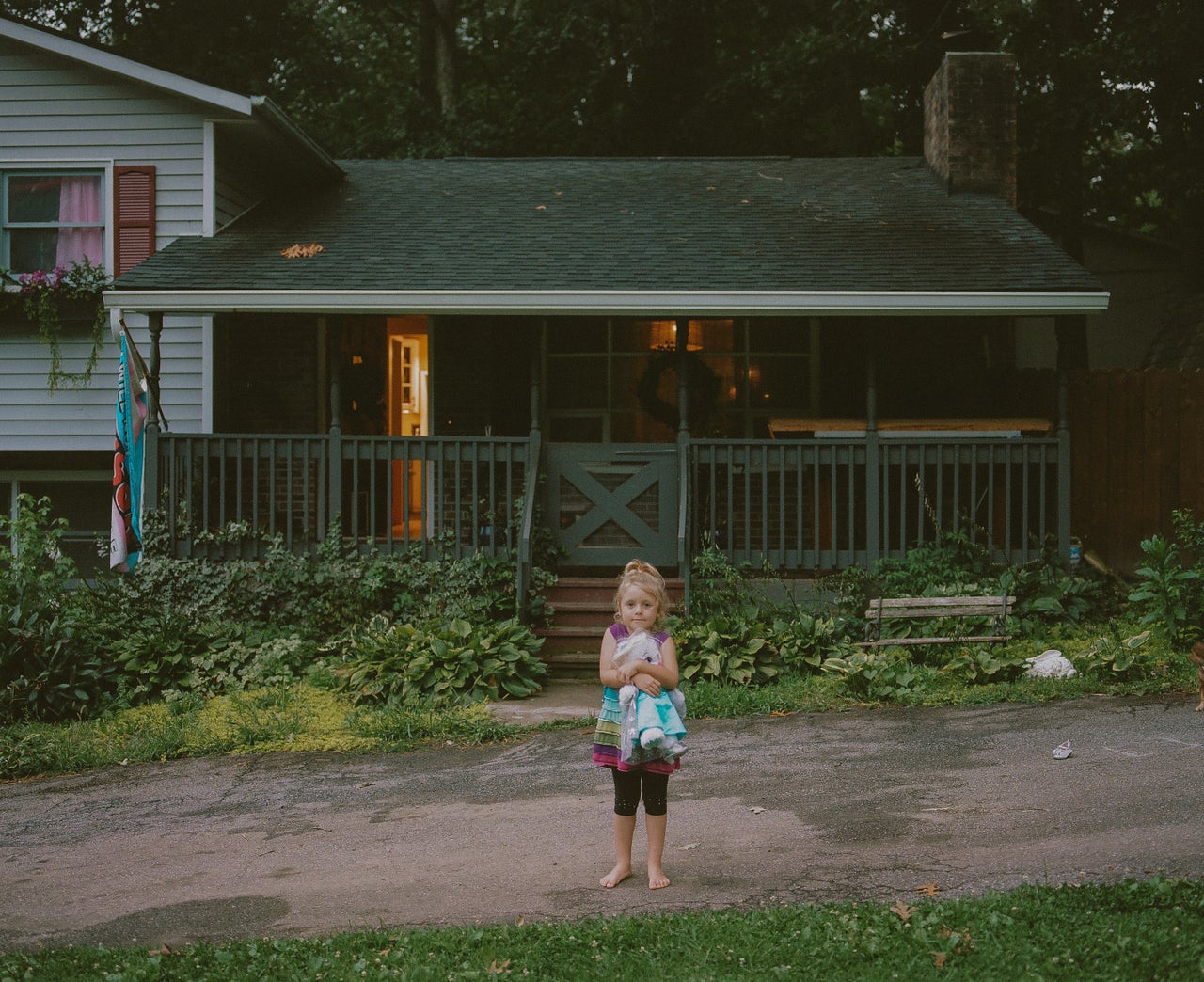 What followed was an intense period of self-education by Kevin and Amy ― nights spent researching and purchasing books on Amazon, hours spent scouring Facebook for support groups to join. "I think that we just got online to make sure that we weren't going to damage her and that we were doing things right," Amy said. "That's when we started seeing that she could be transgender."
The Smiths learned that being trans at Emma's age doesn't involve taking hormones or medical intervention, but coming to understand herself and her relationship with the world around her, the way every child does.
The family grew alongside Emma, allowing her burgeoning sense of self to shape how they related to her. It was important to the Smiths to avoid inscribing upon Emma their own thoughts and feelings about her gender.
"We were confused [at first] ― but she's never been confused," Amy said. "It was gradual, it wasn't all of a sudden. We kept letting her express herself the way she wanted to express herself."
And life seemed to be ideal ― almost perfect ― until Emma and her brother, Miller, who is one year older, began kindergarten at their local public elementary school, Glen Arden.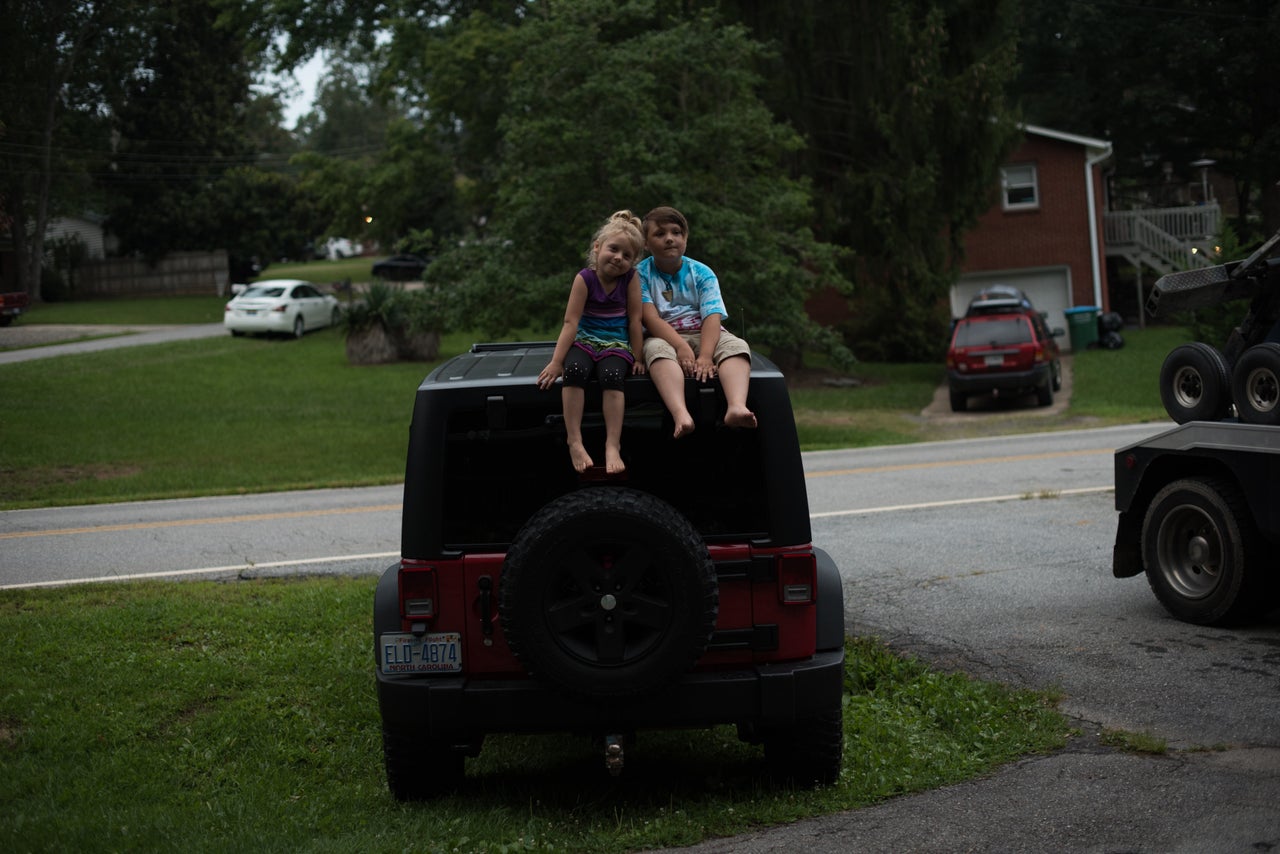 Emma entered her first day of kindergarten at Glen Arden Elementary in August 2016 wearing a white dress with flower embroidery that she picked out herself.
Amy and Kevin thought that if they simply told Glen Arden educators about Emma's personal journey with gender and identity, they'd be met with support and understanding. But, according to the couple, Emma faced immediate resistance.
"It just turned into a mess," Kevin said. "They wouldn't [call her Emma], they refused to do it, the teachers wouldn't do it. So we had to get a meeting with the principal and formally tell them, 'Her name is going to be Emma.' But the teacher she was with from day one disagreed with it, and expressed her feelings to Emma daily. Emma would say she had girl hair and the teacher would tell her, 'No, you've got boy hair. You're a boy.'"
Kevin and Amy sat down with the Glen Arden principal to explain that their child was mid-transition, currently considered gender-nonconforming and unsure of pronouns, and that their family was still in the process of coming to understand her identity.
The pair say that what they found was a school under-equipped to deal with issues of gender, projected through the lens of cultural prejudice and framed by the political climate of North Carolina.
HuffPost reached out to Glen Arden Elementary and the Buncombe County School System and asked them to comment on these allegations. Stacia Harris, Director of Communications for Buncombe County Schools, responded with this statement:
Federal law prevents us from publicly discussing the specifics of any student matter. We can say that the Buncombe County School system works to ensure that all students, employees, and visitors feel safe, welcomed, and respected in all of our facilities. Our teachers, administrators, and parents work diligently to address sensitive student issues that are brought to our attention on a case-by-case basis, including issues that are related to transgender students. Individual needs and privacy concerns vary from student to student and we work to accommodate those needs so our students can focus on learning.
But according to the Smiths, from the very first meeting with the principal, it was evident that things were not going to be easy for their family.
"The principal said, 'Exactly who buys his clothes?' I said, 'Of course we do. We're his parents, we're going to buy his clothes. We buy all of our kids clothes,'" Amy, who at the time was using male and female pronouns interchangeably to describe Emma, told HuffPost. "[The principal responded with], 'You know that you can tell your child to not wear these kind of clothes? He could wear boy clothes,' and just going on and on."
The conversation eventually turned to bathrooms ― and the principal brought up House Bill 2.
″'We have to follow HB 2,'" the principal allegedly stated, according to Amy and Kevin. "And that states... she has to use the boys' bathroom. And that's all we can offer.'"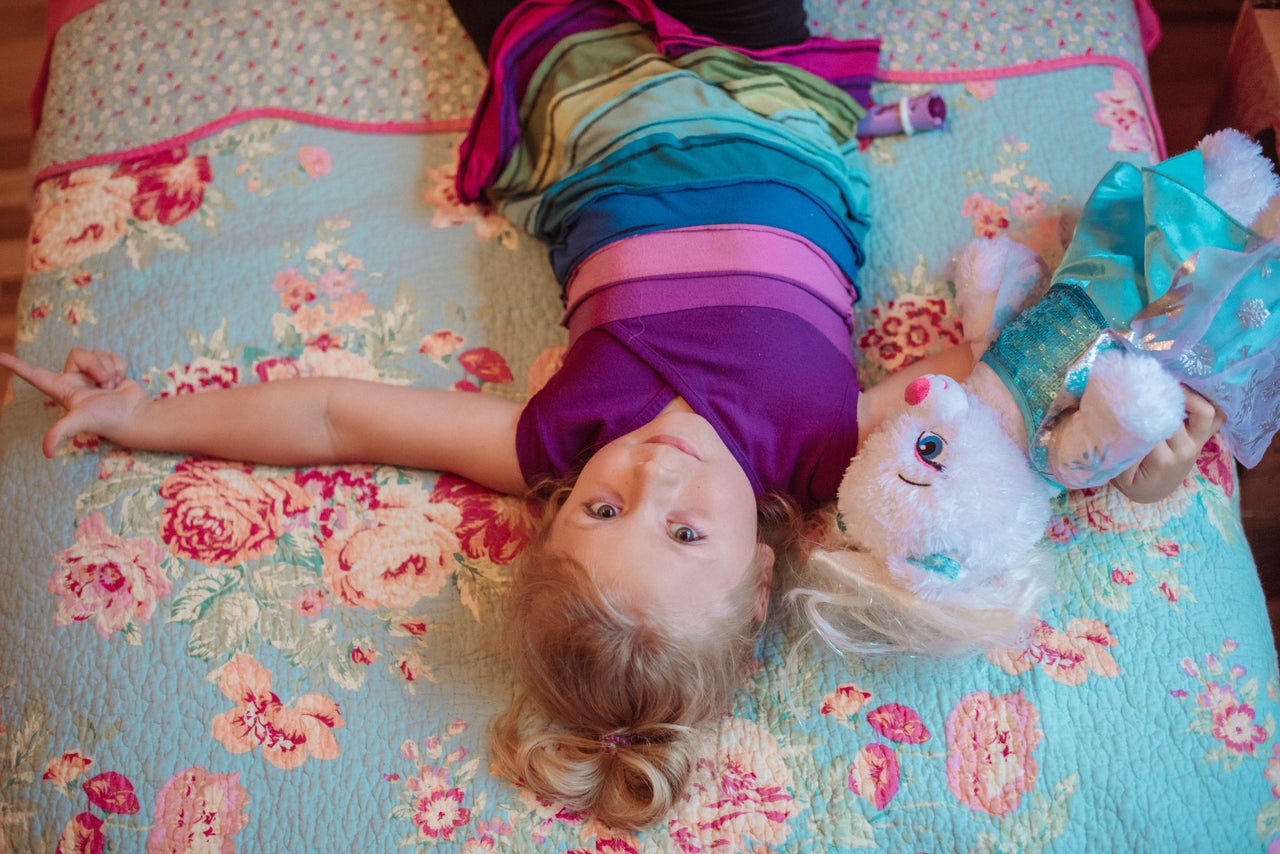 The North Carolina General Assembly passed House Bill 2 in 2016 during a special session and former Gov. Pat McCroy signed it into law. In addition to blocking cites and counties from passing LGBTQ anti-discrimination policies, the bill forced trans people to use public restrooms that correspond with the gender they were assigned at birth.
"Nothing has changed whatsoever so it's really hard when it's been touted on such a public level that it's a repeal," Zeke Christopoulos, director and founder of western North Carolina transgender advocacy organization Tranzmission, told HuffPost. "It just leaves people's civil rights flapping in the wind. To have delayed passing on discrimination ordinances to December of 2020 ― this is civil rights! How can you delay it? It's just morally repugnant. It's wrong."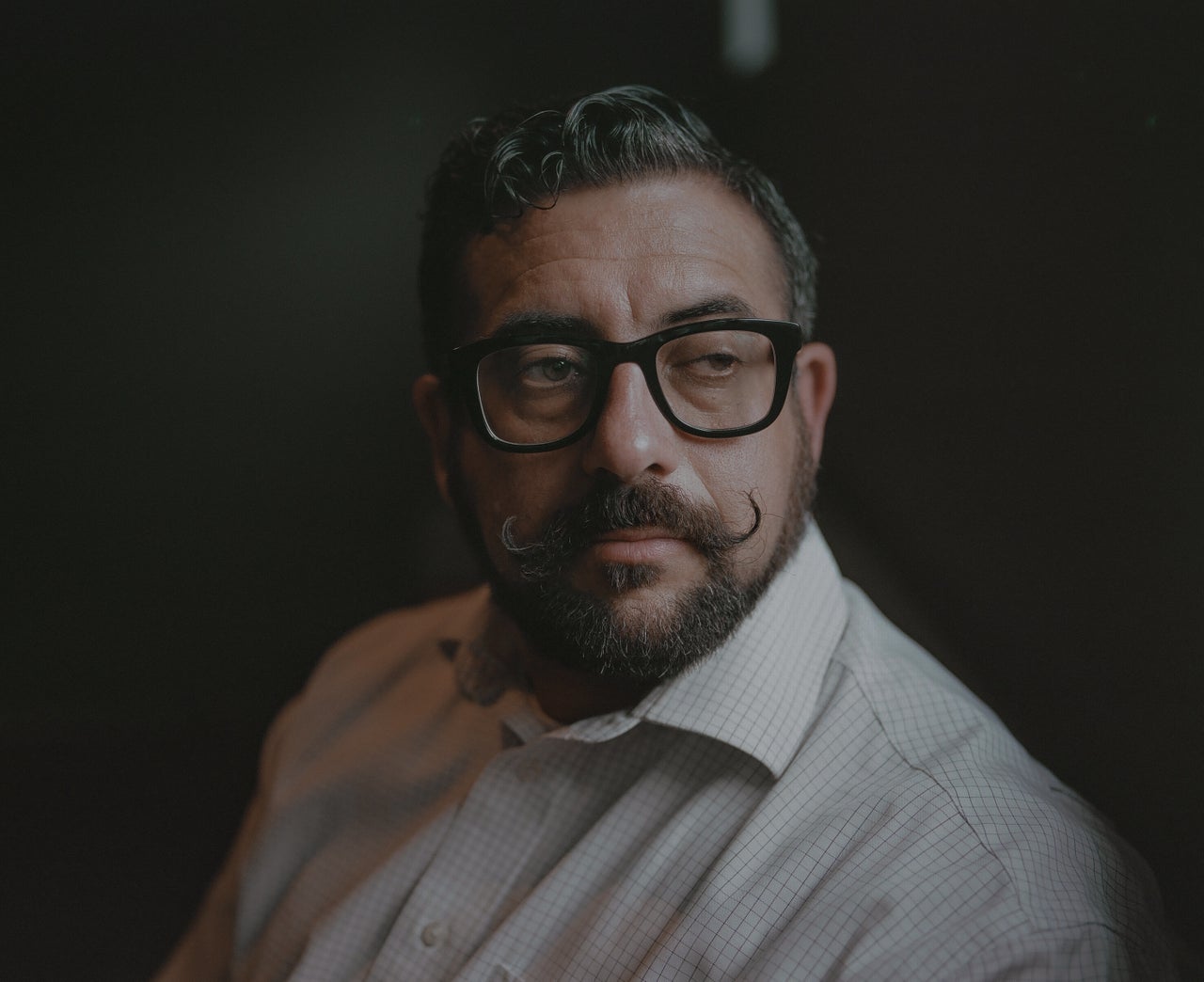 Discrimination against transgender students in the North Carolina public school system is just one effect of HB 2 ― but it's an insidious function that provided a framework for similar "bathroom bills" in other states like Mississippi and Texas.
Activists say both HB 2 and HB 142 prevent students from feeling safe at school and receiving an education because the legislation creates a climate of harassment, bullying and humiliation by both students and teachers. The Smiths say Emma experienced this firsthand during her year in kindergarten at Glen Arden Elementary.
"Several times she came home crying over the teacher telling her about being a boy," Kevin told HuffPost. "And they actually punished her for telling them that she was a girl."
Students in Emma's kindergarten class were assigned clips on a chart to indicate how they're behaving while at school, sort of like a sticker system. Good behavior was rewarded with the clip moving up the chart ― bad with it moving down.
"She would come home devastated that her clip was moved down," Amy told HuffPost. "We would say, 'Why did your clip get moved down? What happened?' [and she responded] 'I said that I was a girl... and [the teacher] said that I was a boy and that if I say I'm a girl again, she's going to move my clip down.'... We felt like we were in a movie ― like we're watching one of those Lifetime films. This can't be real. This can't be happening."
The Smiths talked about other moments when they felt Emma was being unfairly punished. They claim their daughter was told she had to be a pilgrim boy in the Thanksgiving play, when all other students were given a choice about which character they would play.
There was the "new rule" that Emma was no longer allowed to hug any of her friends at Glen Arden ― a rule the Smiths maintain only applied to Emma. "The only thing I can think of is a concerned parent called the school thinking that transgender [identity] was contagious or some such bullshit," Amy said.
Amy and Kevin say Emma's "All About Me Day" was also particularly traumatic. Each student gets their own day where the teacher draws an image of the student in front of the class and their classmates follow suit.
Emma was ecstatic for her "All About Me Day" and picked out a pink shirt with a glitter heart and a pair of little pastel shorts for the occasion.
She came home that afternoon bawling. Not only had the teacher written her "boy name" on the "About Me" image ― she had erased all aspects of femininity from Emma's appearance, with all of her classmates then following the teacher's lead.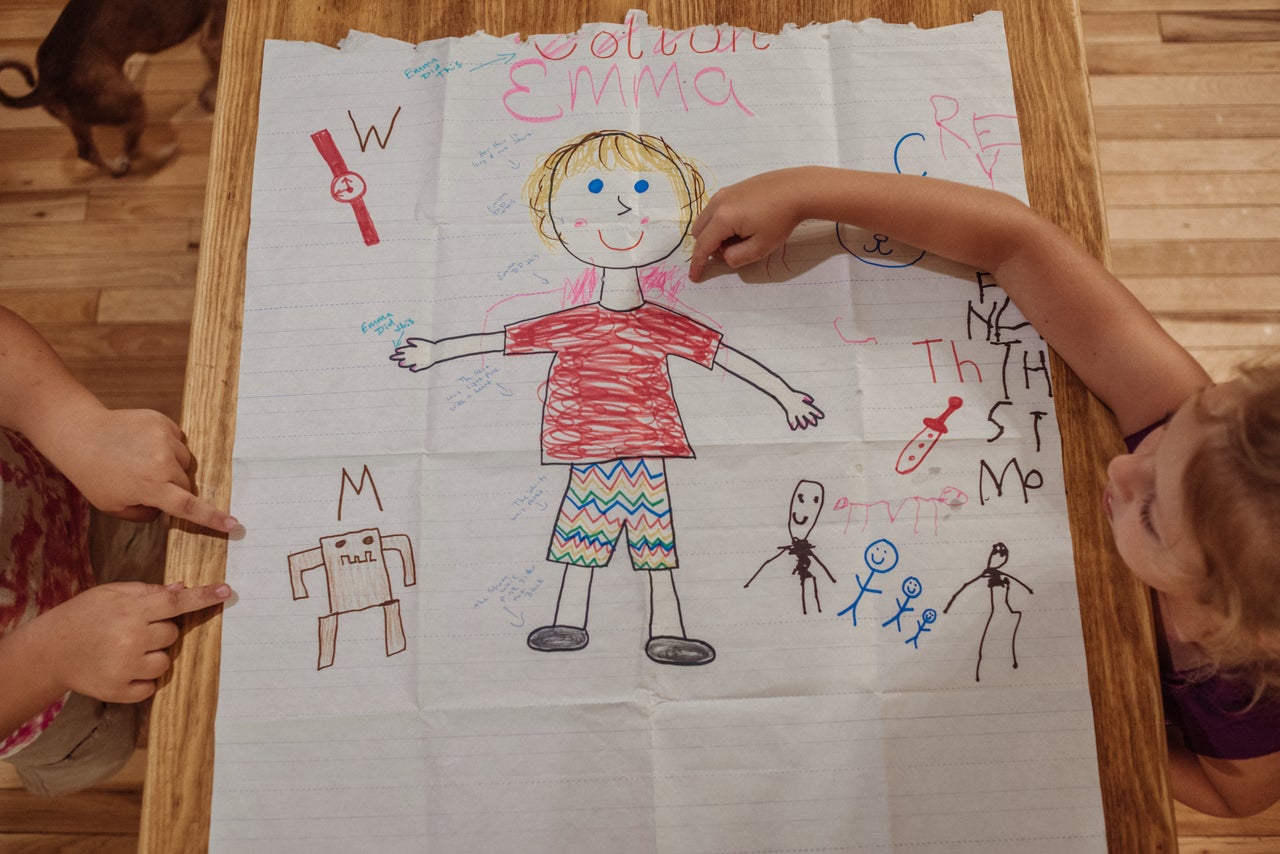 For Amy and Kevin, "All About Me Day" was the last straw ― and they had Emma moved to a different classroom in November 2016, one week after the incident.
"There's no way that that ['About Me' image] was her," Amy said. "If you would've seen her and what she was wearing, it was ― I don't know who that is. Completely different child... It was just this nonstop emotional rollercoaster, every day. What's going to happen today?"
Emma's new teacher respected her chosen name and pronouns. But the Smiths' nightmare was far from over. The issues Emma faced then became magnified through the lens of HB 2 when she found herself in situations where she was unable to reach the school's assigned single-stall bathrooms.
"If I'm a boy, you're a boy."
Emma urinated on herself on two different occasions during the remainder of the school year.
Whenever she needed to use the bathroom during her year at Glen Arden, Emma had three options: use a single-stall facility if one was in close proximity, use the boys' restroom, or hold it. She was not allowed to use the girls' room.
The first time Emma urinated on herself was during gym class. According to Amy and Kevin, she came home with a bag of soaking wet clothes and said the gym teacher told her that with no single-stall bathroom nearby, she had to either use the boys' bathroom or "hold it."
″[We were] very mad, just upset," Amy recalled. "Where do you have to be in your mind to be forced to urinate on yourself or go in the boy's bathroom? What kind of choice is that for a child?"
The second time took place during lunch. Emma was in the cafeteria and had to use the bathroom. There were single-stall restrooms located in the cafeteria.
Emma told her parents that she was not allowed to leave the cafeteria and a teacher told her to "hold it." Sitting in the middle of a crowded lunchroom with a locked single-stall bathroom only twenty feet away, Emma urinated on herself again.
When Amy visited the school a week later to have lunch with her daughter, the single-stall bathrooms in the cafeteria were still locked.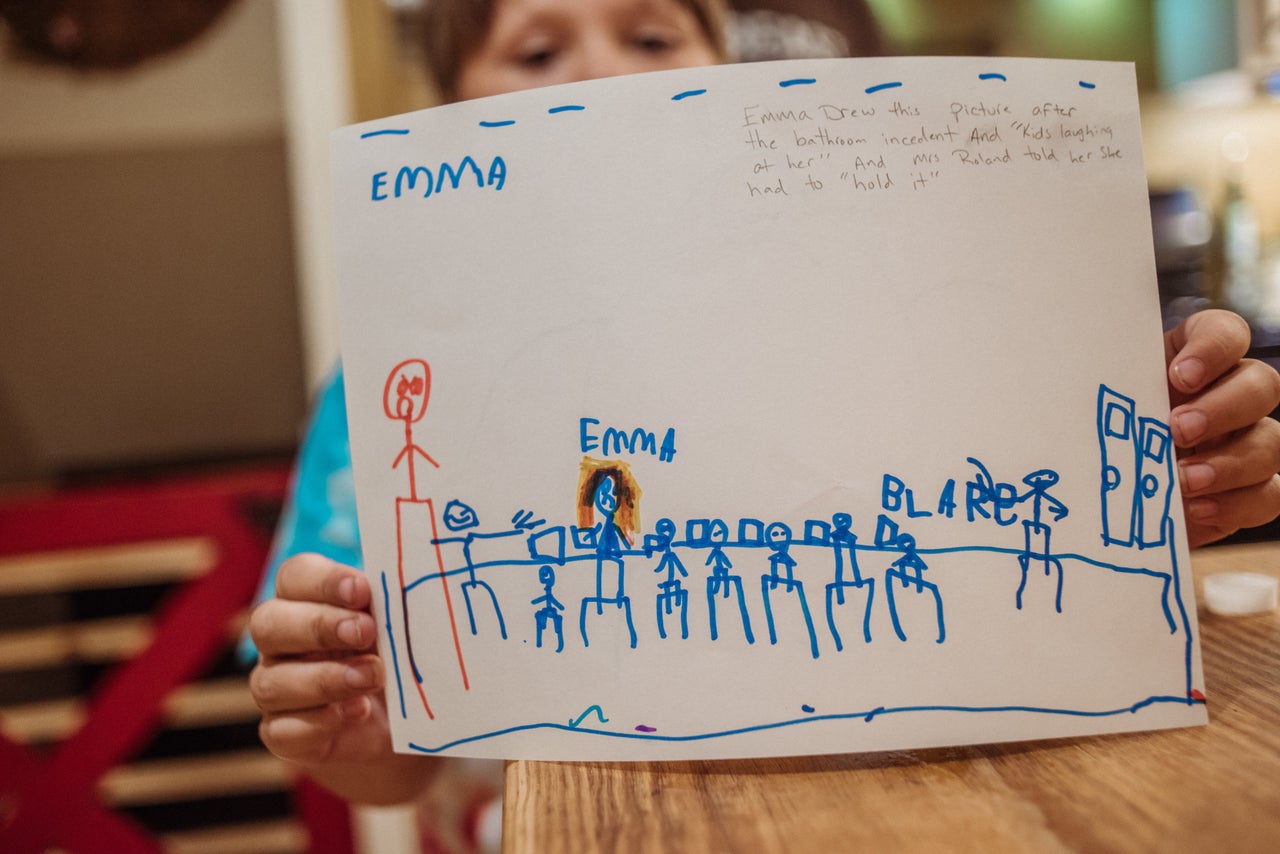 After this second incident, Tranzmission became intimately involved in Emma's fight with the Buncombe County School System. Amy put a plea for help on a local Facebook page and eventually was connected with the organization and Christopoulos. He reassured her that the school was in the wrong and promised to help however they could.
"The school locked [the bathrooms] so Emma couldn't use them," Christopoulos, director of Tranzmission, told HuffPost. "I will say, and this is pretty personal, that as a kid I did pee on myself in school because I didn't want to go to the bathroom because I didn't want to be seen going into the girls' room. Emma's having that forced on her. She's been in the girls' room. She's used it. She feels comfortable with that. She doesn't want to go in the boys' room and she's being forced to."
Other organizers and activists involved with Tranzmission also view Emma's fight as highly personal. Allison Scott, advocacy director for Tranzmission, told HuffPost that she sees much of herself as a child in Emma ― and that the Smith's story sounds just like countless others as families with trans and gender-nonconforming children all over the country are fighting for their kids' rights.
"This is the thing that makes Amy and Emma and Kevin and their family, what they're going through, so wonderful and so painful at the same time," Scott told HuffPost. "Most families [with transgender children] have not pushed it publicly, have not pushed it this far because they don't want the hate. They don't want the blowback from their community, from their family, from their friends, from schools... This is why so many kids are going through this silently. For every Emma out there, there are ten Emmas and there are ten trans boys and there are ten gender-nonconforming kids who are not fighting. Not because they're weak, not because they don't want it, just because the blowback is too much for them to handle."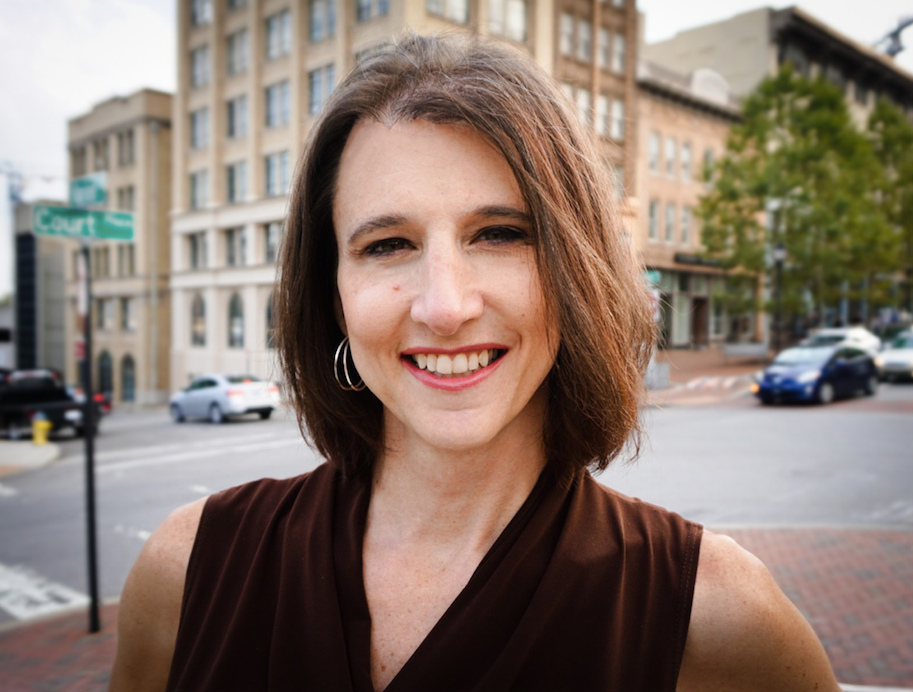 The school year ended not long after the second urination incident ― but the Smiths and Tranzmission were only getting started. In the months since, they've organized protests, attended board meetings and shored up community support through local media in an attempt to have the Buncombe County School System adopt a policy that provides institutional support for trans and gender-nonconforming children ― including letting them use the bathroom that corresponds with their gender identity.
"I think that basically establishing a policy that all kids are safe and all kids are
valued is primary," Christopoulos told HuffPost. "It's not necessarily about being trans or non-binary, but it's about every kid deserving education that doesn't have discrimination at its heart. We have public school for a reason. It's so that all kids can receive the same tools and have the same opportunities. When you're discriminating against any class, it's oppressing them. It's oppressing their chance for the future and it does grave emotional harm."
"For every Emma out there, there are ten Emmas and there are ten trans boys and there are ten gender non-conforming kids who are not fighting."
Amy and Kevin are also committed to pressuring the school board to adopt a policy ensuring the safety and quality of life for kids like Emma ― despite the fact that they chose to transfer Emma to a charter school for the Fall 2017 semester.
This decision to have Emma leave Glen Arden rather than returning for first grade alongside her brother was extremely difficult. But Amy and Kevin felt the most important thing was ensuring Emma's well-being ― and the pair will continue to fight for other families like their own.
"I'm going to be at every meeting and I'm still going to try to get a policy in place," Amy told HuffPost. "They've already agreed to do training for the teachers so that's one positive… I don't know, it's hard to describe. At first I felt like I'd been beaten and then after I step back and look at it I realize that I don't think there is any chance they would ever do that to another child in that school because of what we did. I guarantee you they are going to put some kind of training in place, or at least the next parent that comes in and tells that principal 'my child is exploring gender' – they won't ever think of saying 'well don't you buy his clothes?' We made a mark."
As for Emma, she couldn't be happier at her new school ― an educational institution where she is allowed to not only wear her favorite dresses without scrutiny and tell her classmates that her name is Emma ― but where she will never have to worry about which bathroom to use ever again.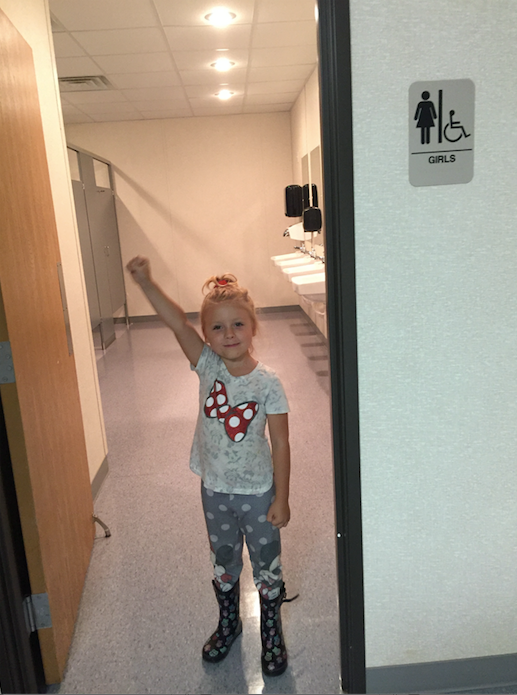 "I go pick her up and she's smiling, it's just night and day different. She's a different child," Amy continued. "Her teacher keeps saying 'she keeps hugging me! Like she hugs me 20 times a day!' and she couldn't even look her other teachers in the eye. I mean literally, she would not look them in the eye – she wouldn't look them in the face. She's just so incredibly happy."
If you would like more information about Tranzmission and how you can help support their fight for children and people like Emma living in Western North Carolina, head here.
Below is the first episode in the HuffPost podcast series "I'm Still Here" that visits communities whose tales of adversity have put them on the map and explores what "survival" in America really looks like. This episode centers around Emma Smith's story.
I'm Still Here is a HuffPost Podcast hosted by Zeba Blay and produced by Nick Offenberg and Jessica Samakow. Send us an email at stillhere@huffpost.com.
Popular in the Community