If you've driven down Vine lately in Hollywood, maybe on your way to the Arclight or Golden Bridge, you've probably noticed something's going on at the old Big Lots. There's a huge heart in the parking lot, and a sign advertising Manifest Equality, which is both a movement for full civil rights without exception based on sexual orientation or gender, and an exhibition of more than 200 artists, including Buff Monster, Chris Anthony, Deedee Cheriel, Gary Baseman, Herb Williams, Jillian Kogan, Timothy Karpinski, Robbie Conal, and Shepard Fairey.
But to describe Manifest Equality as an art exhibition might not do it justice: it's really more of an event, a happening. On opening night, when the place was packed with 800 people, DJ's and musicians on a stage of unfinished plywood, and the Border Grill taco truck parked inside the rope line, it was as close to a rave as politically active hipsters are probably going to get.
The driving force behind Manifest Equality are partners Apple Via, Jennifer Gross, and Yosi Sergant, the man the Washington Post called "the hipster-in-chief" when he worked at the White House, and the genius behind the Manifest Hope exhibition commemorating Obama's inauguration.
(You can read more about Yosi Sergant, his career in Washington, and how he became a target of Glenn Beck's right-wing hysteria in Hillel Aron's excellent article for Neon Tommy, USC's digital news service.)
Like many Californians, the Manifest Equality team was elated the night of Obama's victory, and then stunned the next morning with the news that Proposition 8 had passed.
(The constitutionality of Prop 8, which purports that "only marriage between a man and a woman is valid or recognized in California," is being decided right now by U.S. District Court Judge Vaughn R. Walker.)
As Sergant told Out, "I was so dedicated at that point to helping Barack Obama get elected, that I had made the assumption, like a lot of Angelenos and Californians did, that there was no way a law like Prop 8 could pass."
Manifest Equality is not only an effort to right the injustices of Prop 8, but to ratchet up the case of equal rights several notches higher. "I'm a mother," says Apple, "and in my mind, it's absolutely unacceptable for my son to grow up in a country where it's legal to discriminate against any one person or group of people."
In the article for Out.com, Yosi says, "I think we can change 'don't ask, don't tell.' I think we can pass the Non-Discrimination Act. I think we can bring marriage equality across the country."
Yosi also says, "Art can move mountains." To see for yourself, stop by 1341 Vine Street in Hollywood, 11:00 am - 10:00 pm on Friday, and 10:00 am - 6:00 pm on Saturday and Sunday. But hurry - it's this weekend only. The L.A. show closes March 7th.

Apple Via & Yosi Sergant at Manifest Equality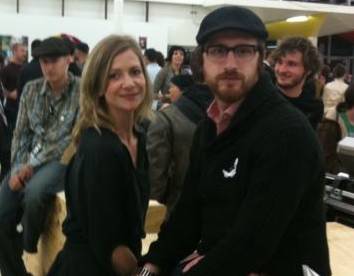 For more details, go to the Manifest Equality website.
REAL LIFE. REAL NEWS. REAL VOICES.
Help us tell more of the stories that matter from voices that too often remain unheard.