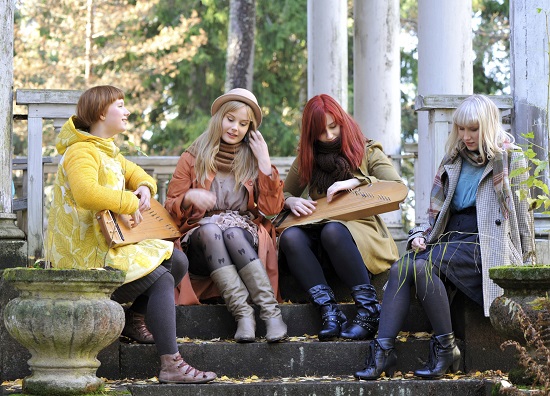 Kardemimmit. Used by Permission of Kardemimmit
In addition to the American and Canadian folk I often encounter, I've been writing for years about European music, from Finland to Spain and everywhere between. Here are the latest releases I've come across from bands with strong European roots.
Kardemimmit is a quartet of young women who all sing and play the kantele, a Finnish zither. The instrument comes in 15-string and 38-string versions, and has a crystalline sound like a metal-strung harp or a guitar played in the second harmonic. Said to have been invented by the epic hero Väinämöinen, the kantele is Finland's national instrument, and it's a popular fixture on the folk music scene there. Most of the pieces on Kardemimmit's third album, Autio Huvila (Abandoned Cottage), have a traditional component -- either the words or the melody -- but all of them have creative input from the band, whether lyrics, tune, or arrangement ideas. This album was the 2012 Folk Music album of the year in Finland, all the more impressive when you realize the band members are still undergraduate music students. Americans who have heard Finnish women with kanteles may think of the group Värttinä with its propulsive world-music energy, or of the quartet Loituma, which had a more delicate, acoustic sound. Kardemimmit falls between these poles, with songs that sound a little like Värttinä ("Häpeään joutunut tyttö"), and ones that sound a little like Loituma ("Kalpea valo"). But they also sound like they'd be at home on a psych-folk concert bill, on songs like the wistful, gloomy "Autio Huvila." A few pieces have the sweet innocence of 60s and 70s folk acts like Simon & Garfunkel or Cathy & Carol, while others play with blue notes and other sounds you'll recognize from jazz and pop. Mostly, what you'll hear is sweet strings, clear voices, and well-constructed harmonies. Here's a live version of the title track:
Kardemimmit plays "Autio Huvila"
Norwegian American Kari Tauring was elected by the Midwest Tribes Midwest Thing (a gathering of Nordic pagans) as their Völva, or staff-carrying wise woman. In addition to rune-lore and pagan religion, her study has encompassed folk ballads and music. This led to Nykken & Bear, a CD of old Nordic ballads, songs and dance tunes, in Norwegian and Swedish and even German, laced with some of her own poetry and storytelling in English. As the title indicates, all the pieces on the album are thematically related to either the nykken, a water-spirit known in Britain as the nix or nixie, or the bear, an animal that features strongly in Nordic myth and folklore. Her versions of traditional ballads derive from living traditional singers, but they all have something that adds appeal for Americans. On the opening cut, a well-known ballad about a harper who rescues a woman from a nykken, it's a bouncy arrangement in American folk style; on other ballads, she sings alternately in Norwegian and English, so Americans can get the gist of the ballad's story. One dance tune is preceded by a story set just after World War II, about the last time the women of a certain Norwegian town celebrated a successful bear hunt with the ritual Bear Dance. Tauring's hypnotic storytelling and singing make for a charming and instructive trip to the northlands. Here's the album opener:
Kari Tauring sings "Villeman og Magnhild"
Remember when I wrote about sea music? Europe's a hotbed of sea music, too, as evidenced by Kapriol', who come from the Frisian region of the Netherlands. They gave me two CDs, Andé and Ridderspoor. Andé is a sea music album, chock full of sea chanteys (sailors' work songs), ballads on nautical themes, and tunes with titles like "Lost Sailor" and "Fish Stick Jig." The songs (some in Dutch, some in Frisian) are sung by all four band members, in striking harmonies. In some places, they adapt other harmonic traditions, such as that of Corsican paghjella singing, to Dutch songs from sources such as the 1544 Antwerp Songbook. Ridderspoor contains some of the same songs, but also a more general program of ballads (mostly tragic love stories) and dance tunes -- sometimes, as was the custom in these parts of Europe, the ballad was sung to a sprightly dance tune, and people boogied down to tales of murder and mayhem. The band's facility on a lot of different instruments, including recorders, shawms, fiddle, accordion, and guitar, as well as Scandinavian willow flute and Peruvian cajón, allows their music to occupy the middle ground among medieval and early music, folk, and ethnic world beat. This and their vocal harmonies are reminiscent of 1970s bands like Malicorne, so they're continuing a long and proud tradition in European folk music. Here's a video trailer for the band's sea music shows:
Kapriol' plays a medley of sea music
Aulaga Folk's third CD, A Menos Cuarto, (A Quarter 'Til) proves that there's also great eurotrad music from Spain. It's a very satisfying album for song-lovers; you'll hear drinking songs ("La Uva"), dancing songs ("Reeguedoble"), love songs ("Esta Noche Vengo Solo"), and juiced-up dance tunes. You'll also hear some great old ballads, notably "Gerineldo," which is sort of the Spanish "Matty Groves." The group's soulful vocals are backed by guitars, flutes, fiddle, accordion, bouzouki, lots of percussion, and a full rock band of bass, drums and keys to boot. Needless to say, they have a big, complex sound. If that weren't enough, they're augmented on most tracks by guest artists such as Manuel Luna (voice and guitar), Joaquin Diaz (voice), Javier Ruibal (voice and guitar), Eliseo Parra (percussion) and Mariquelo (pipe and tabor), some of whom are among Spain's best-known folk musicians. In their strong Spanish roots, their rumbling percussion, their complex arrangements, and their extensive use of guests, Aulaga Folk remind me of fellow Spaniards La Musgaña, whose career I have followed for many years -- except that they incorporate more elements of rock, pop, and Celtic music, and their repertoire is focused on songs rather than instrumentals, both of which are all to the good. The disc comes with a booklet containing lyrics to all the songs, extensive credits to all the performers, and photos. The package also includes a DVD containing several music videos, and a demo disc containing nice scratch versions of some of their collaborations. In all, it's a beautiful package that includes some wonderful music. Here's "Gerineldo":
Aulaga Folk performs "Gerineldo"