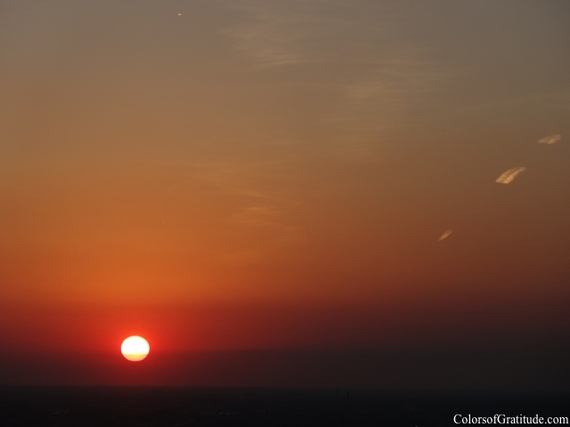 I love the holiday season! As soon as the air gets crisp, the days shorter, and our desires for light deeper, I revel in the splendor of the year's final quarter. Sparkles galore in gold & kaleidoscope, pumpkins, blankets, garlands, warm tea, hot chocolate, root veggies, gatherings, cheers, hugs & kisses, and music in the air... New beginnings of all kinds; a celebration of humanity.
If you belong to a particular religion, some days may be more special to you than others. Holier than others. And that's great. Personally, I've come to see every day I have as the holiest. Quite life-changing.
It's an on-going practice since I, like most folks, didn't grow up in a culture that honors the beauty of "this day," "this moment." Instead, it seems as if our culture needs a container for joy. During a set period of time, the holiday season for instance, it's fine to be joyous & magnificent but when that's over it's safe to go back to the familiar routine which is all too often less than joyous & magnificent. I'm encouraging you to feel special outside of that box.
And I'm not talking ball gowns & state dinners. Savoring your today can be as simple as enjoying the sunshine, being grateful for the vital light & warmth it provides. Or basking in the deliciousness of imagination & creativity. Or being happy for the success of others (no shortage of abundance in this universe, mind you). Or blessing your home by keeping it clean & tidy. Or using your good china daily. Or volunteering to brighten the lives of others as well as your own.
What you do in your own universe affects the universe at large.
If I enjoy where I am right now, my journey will be that much more exquisite. And as far as destination, there is none, really. As soon as we reach one milestone, we focus on new things that excite & inspire us. Ever expanding. Never complete. So my new understanding of the holiday season goes like this: I wholeheartedly embrace the charm it brings to the dark, cold months. I adore the momentum of delight & wonder it creates in people's hearts, maybe even opening them a little wider. And I choose to celebrate every day as a holy day. 'Cuz every day is a day of love.