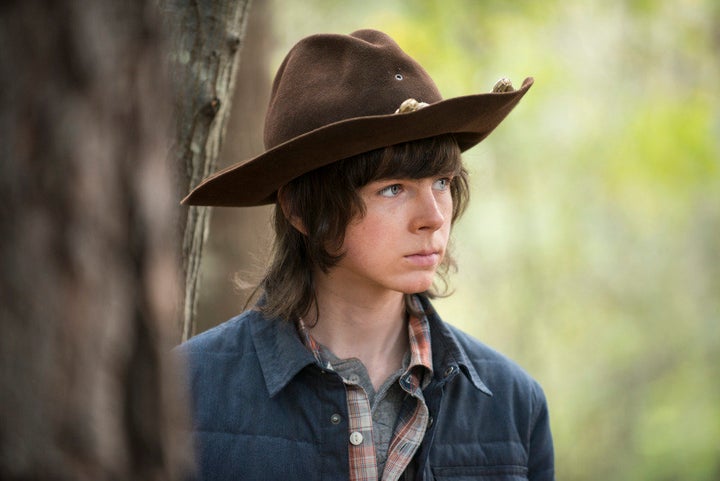 You can see this coming a mile away, even if you're rocking an eye patch.
Things already weren't looking good for Carl Grimes on "The Walking Dead." His eye has been shot out, the Saviors are now in control of Alexandria and he's going after the new villain, Negan, despite the fact that his aim is like this: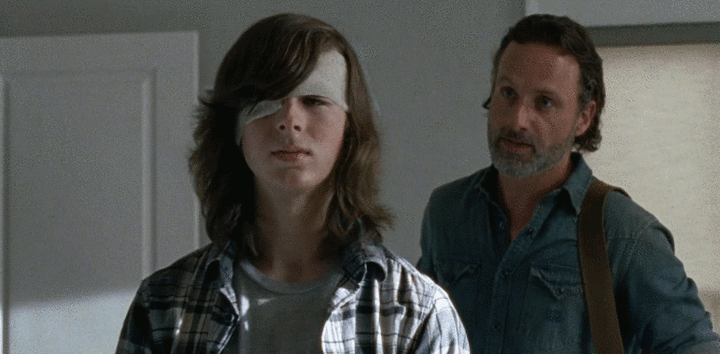 Yeah, it wasn't good. Now, it's even worse.
The speculation is that Carl Grimes, aka Chandler Riggs, is going to be killed off "Walking Dead" so Riggs can go to college. 
The actor tweeted about his future plans to attend school earlier in November:
Ok, so Carl is going to college. No big deal, right? Unless you're Enid. Long distance relationships aren't ideal for the zombie apocalypse.
Then Riggs' father posted a message about his son completing his "Walking Dead" contract, and that's what has everyone worried:
Yeah, William Riggs, Chandler's father, included "#freedom" at the end of the message. 
Comicbook.com reports a since deleted Facebook message from Riggs' dad was even longer and "sounds a lot like a goodbye."
 7 year contract completed! Grateful to AMC, Cast & Crew, TWD fan base, and especially Chandler for always being 100% dedicated. Whether is was getting up at 4 AM, working in the freezing cold past 2 AM, leaving his friends and carefree kiddom behind, scrambling to make up missed schoolwork, he has done it without complaint and always made me proud & amazed to be his dad!
Does this mean Carl is leaving the show?
Fans of the comics know Carl has a large role to play still on "The Walking Dead," and comic creator Robert Kirkman previously said Carl was his favorite character in a Reddit AMA. It'd be strange for him and showrunner Scott Gimple to kill him off so soon.
Auburn University, where Riggs is set to go to school, is driving distance from where the show films in Georgia: Going to school and staying on the show also seems manageable.
Plus, as far as contracts, Andrew Lincoln and Norman Reedus reportedly recently renegotiated their contracts for Season 8. Even if Riggs' contract is finished, that doesn't mean he's gone.
Still, in the same AMA that Kirkman named Carl as his favorite character, he also joked about killing Carl. In response to a fan asking about a spoiler, Kirkman said:
What spoiler are you talking about? I don't know what spoiler you're mentioning here. I really don't like to spoil things at random on things like that. Negan killed Carl?
Kirkman previously joked on "@midnight" about Steven Yeun's character Glenn getting killed by Negan's baseball bat. This happens in the comics and came true on the show in the Season 7 premiere.
Don't you get any ideas, Negan.
Calling all HuffPost superfans!
Sign up for membership to become a founding member and help shape HuffPost's next chapter
BEFORE YOU GO
PHOTO GALLERY
The Walking Dead