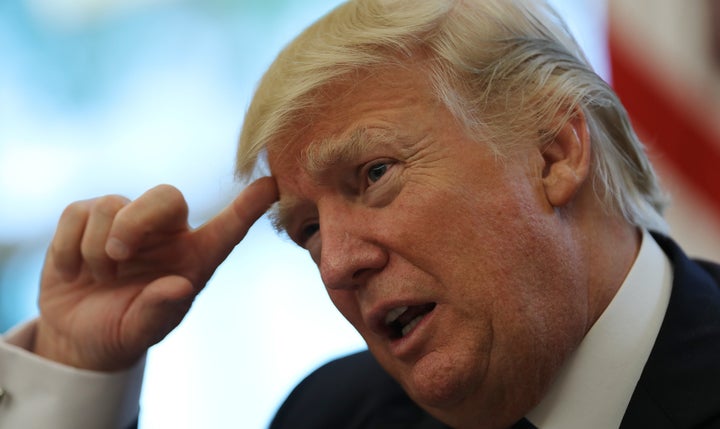 Which demographic groups have changed their assessments most? And what explains the change? Pollsters get these questions a lot. In this case, the shifts in Trump's approval, while real and detected by other polls, have been glacial. The Americans most likely to shift their opinions tend to be those least engaged in politics, and explanations of the trends depend mostly on inferences derived from their timing.
Let's take a closer look. SurveyMonkey's latest weekly national tracking poll, published last Friday, shows Trump's approval number ticking up to 46 percent overall. While relatively stable the last two weeks (45 percent each week), Trump's approval rating was slightly but consistently lower (42 percent) in interviews conducted during the three-week period from March 17 to April 6.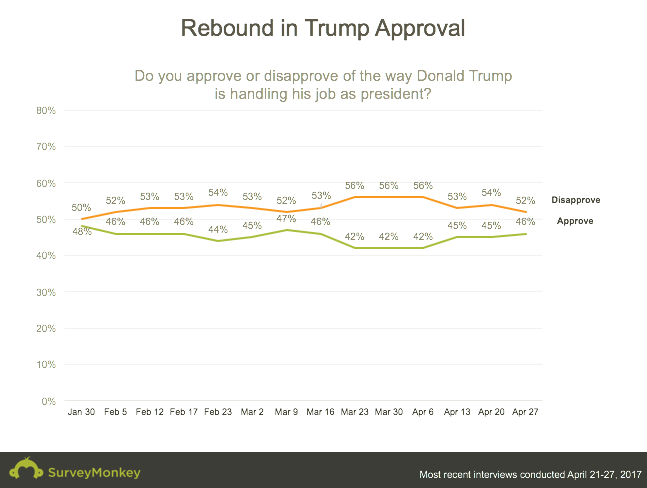 That slight dip in March represented the lowest ebb so far in Trump's presidency. Prior to that, our tracking of Trump's ratings varied between 44 and 48 percent – essentially where they are now. So while the dip in late March was real and not statistical noise, it was small.
Recent trends have been similar in the percentages who say they feel strongly about Trump's performance. Far more (39 percent) now say they strongly disapprove of the way Trump is handling his job than strongly approve (25 percent). The numbers were slightly worse during the three weeks between March 17 and April 6, with roughly twice as many expressing strong disapproval (44 percent on average) as strong approval (22 percent on average).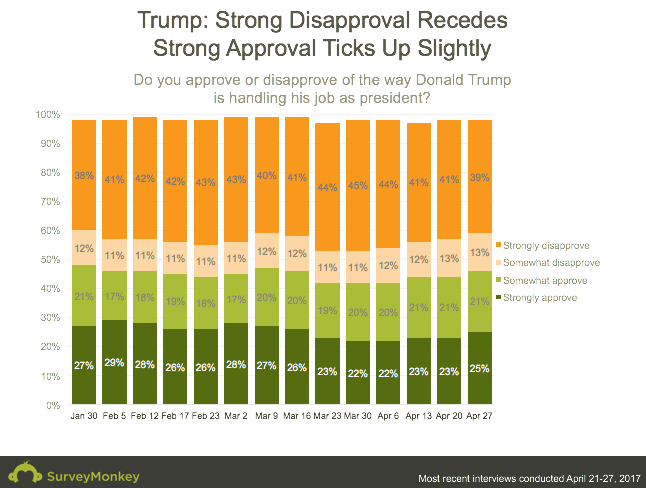 What explains the recent trends in Trump approval? While we do not routinely probe Americans to explain why opinion of the President may be changing, we do track the issue that Americans tell us matters most, and the trend in that question is helpful in explaining the recent patterns.
For example, the percentage selecting "health care" peaked between 24 and 23 percent, the same three-week period during which Trump's ratings dipped. Not surprisingly, that was also the time in which Congress debated a Republican proposal to repeal President Obama's Affordable Care Act and then abruptly pulled the bill from the House floor. So part of Trump's slight uptick may be a regression to the mean as the health care debate faded from the news.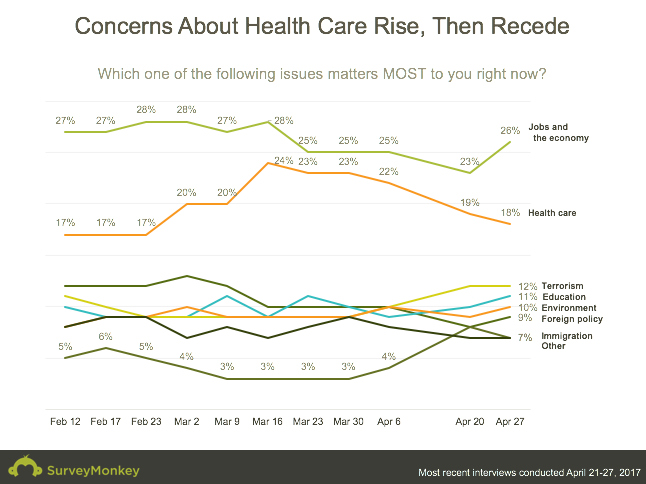 Also, on April 7, Trump ordered a military strike on Syria . News that the U.S. military dropped a 21,000-lb. bomb in Afghanistan broke on April 13. Our interviews conducted between April 6–13 showed the biggest uptick in Trump's ratings (from 42 to 45 percent).
Beyond the military action, which helped shift the agenda of news coverage, Trump also made news with other matters that week. April 12, as Politico recently summarized,
was that day that Trump not-so-quietly reversed himself on at least four of his campaign promises. He canceled a federal hiring freeze imposed in his first week. He flipped on labeling China a currency manipulator. He endorsed the Export-Import bank that he had called to eliminate. He declared NATO relevant, after trashing it repeatedly on the campaign trail.
So while it is difficult to attribute recent changes to any one issue, it is likely that the shift in news coverage from a high-profile defeat of an unpopular proposal to military action and other news helps explain the glacial regression to the mean in Trump's ratings.
And which subgroups in our survey have moved the most? Given the massive scale of SurveyMonkey's ongoing tracking polling, we can tabulate results from a variety of subgroups with less statistical noise than other polls. However, with changes as glacial as the recent trends in Trump approval, we see essentially the same pattern – a slight dip followed by a slight rebound – in nearly every demographic group. To the extent that changes have been bigger, it has been among those less engaged in politics.
More specifically, the slight dip and rebound for Trump has been most pronounced among the relatively small slice of Americans (typically about 17 percent of adults in our tracking) who identify as independents but lean to neither party. These voters gave Trump approval ratings varying between 35 and 40 percent for most of February and early March, then dropped to between 33 and 36 percent in late March and have ticked back up to 38 percent since.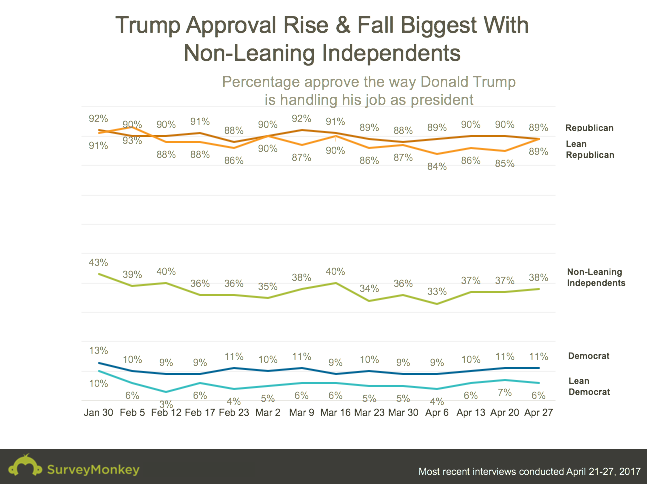 Independents who lean Republican have also been more variable in their assessment of Trump (partly because that subgroup is smaller, typically about 10 percent of all adults), but do show a slightly different pattern: Well over 80 percent approve of Trump, and while the numbers dipped slightly in late March, hitting a low of 84 percent in the week ending on April 3, they only rebounded in the past week (to 89 percent).
But stepping back from the trends, partisans – whether they initially identify as Democrats or Republicans or lean to a party – show enormous polarization when it comes to Trump and even less variation from week to week. Nearly nine out of ten Republicans approve of Trump's performance, and roughly one in ten Democrats approves.
One seemingly odd pattern in Trump's approval by partisanship is the way those who initially identify as Democrats give Trump a slightly better rating (varying between 9 and 11 since February) than independents who lean to the Democrats (varying between 3 and 7 percent over the same period).
Why are Democrats with a weaker attachment to their party more critical of Trump? One clue may come from their demographics: Independents who lean Democratic are slightly younger and more liberal than those who initially identify as Democrats. Also, throughout the 2016 Democratic primaries, independents who merely lean Democratic were consistently more supportive of Sen. Bernie Sanders those who initially identified as Democrats.
The full topline results and a detailed demographic breakdown of our most recent full week's survey can be viewed here. Results from previous weeks can be accessed here.
Methodology: The most recent SurveyMonkey Tracking poll was conducted online April 21 through April 27, 2017 among a national sample of 15,235 adults ages 18 and up. Respondents for this survey were selected from the nearly 3 million people who take surveys on the SurveyMonkey platform each day. Data for this week have been weighted for age, race, sex, education, and geography using the Census Bureau's American Community Survey to reflect the demographic composition of the United States. The modeled error estimate for this survey is plus or minus 1.5 percentage points. This article is cross-posted at SurveyMonkey's Election Tracking Blog.
Calling all HuffPost superfans!
Sign up for membership to become a founding member and help shape HuffPost's next chapter
BEFORE YOU GO