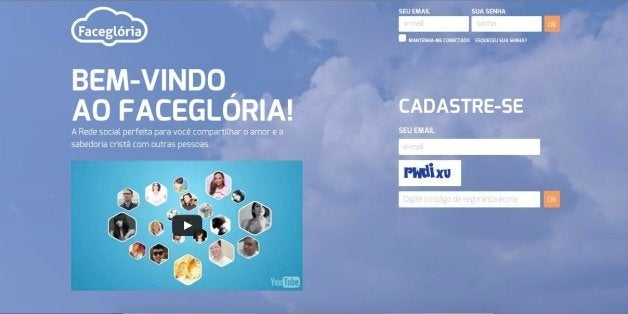 Despite Facebook's numerous privacy settings and content controls, some find the site too immoral for their taste. In Brazil, a group of evangelical Christians recently took matters into their own hands and built their own social network.

The new platform, called Facegloria, launched on June 4 and already has 100,000 users, one of its founders told the Agence France-Presse. The site encourages people to share religious content with one another and draw in more believers.
"On Facebook, there's a lot of violence and pornography and for this reason we thought of founding a network on which we would be able to speak of God, of love, and share His word," Facegloria co-founder Atilla Barros told the AFP, per a translation by The Huffington Post.
With its blue-and-white color scheme, the new site physically resembles Facebook, except that Facegloria's login page features a sky with floating clouds. Instead of clicking a "Like" button, users show appreciation for content by clicking "Amen." On the right-hand side of Facegloria pages -- where Facebook's Trending news widget would be -- there is a media player that features Brazilian gospel music.
As one would do on Facebook, users can upload photos, view other profiles, add new friends, chat, send private messages, see what people are listening to on Soundcloud, post status updates and more.
We created a profile on the site -- which currently is available only on desktop -- and posted a couple status updates: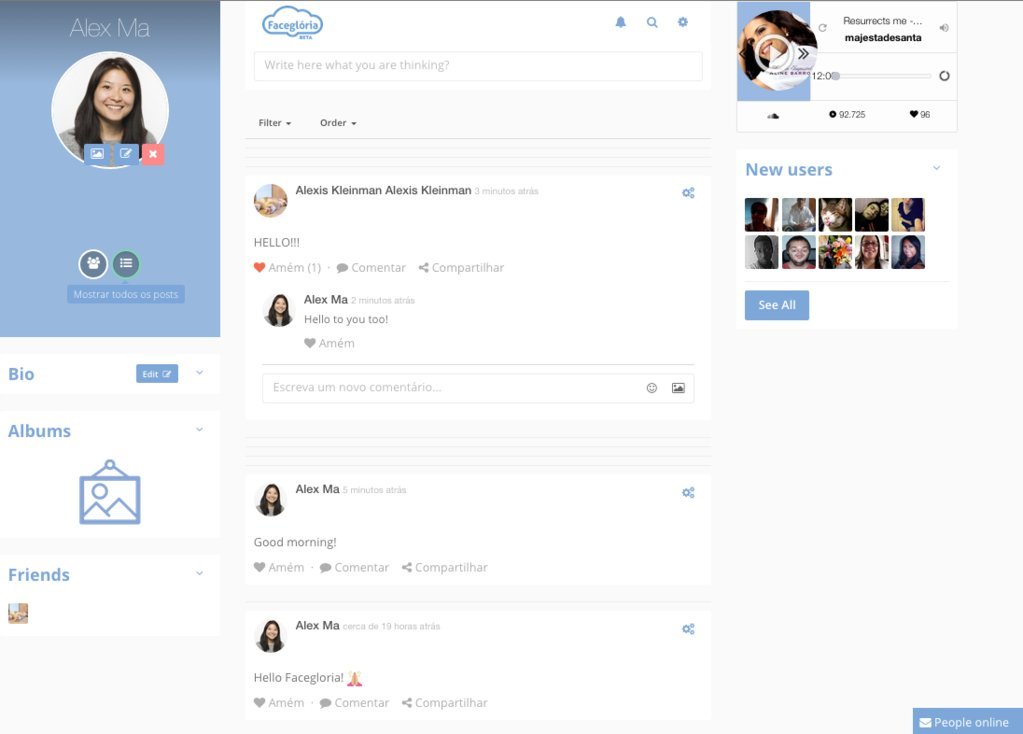 While Facebook uses automated and manual systems to police its network, users can further scrub offensive or abusive posts from their News Feed on a case-by-case basis. Facegloria, on the other hand, forbids objectionable content altogether.
The site's terms and conditions caution against posting stuff that could be considered hateful toward particular people or groups, violent, discriminatory or obscene -- and that last one apparently includes bikini shots and images seeming to show alcohol or cigarettes. There's also a lengthy list of banned words.
According to the AFP, this content is vetted by a team of 20 volunteers, who patrol the network, remove content or ban users as they see fit.
"There is no discrimination on Facegloria," Acir Fillo, president and co-founder of the network, told HuffPost. "Everyone can be members: Catholics, Muslims, atheists, gays, etc. However, everyone has to respect the rules and respect the principles of the family. Christian principles. Respect. Facegloria defends the free expression of thought, the freedom of expression. But with respect. "
The AFP reports that photos of gay couples kissing are not permitted on the site, even though Brazil has allowed same-sex marriage since May 2013. According to a June 2013 Pew Research poll, 60 percent of Brazilians said homosexuality should be accepted.
Fillo did not immediately respond to our questions about this policy.
The launch of a site like Facegloria in Brazil is perhaps unsurprising, considering the country's large religious population. According to a 2010 Pew study, Brazil has 127 million Catholics -- making up 11.7 percent of the world's Catholic population -- and a growing evangelical Christian community. Between 1970 and 2010, Brazil's Protestant population -- of which evangelicals are a part -- grew from 5 million to 42 million.
Facegloria is not the only religious social network created to face the digital revolution. Ummaland, a social networking site for Muslims, has 329,000 users and features "daily Islamic inspirations," "daily prayer times in your city" and -- for the particularly devout -- "extended privacy settings for sisters."
The Hasidic Jewish community, which has banned members from visiting forum boards such as Reddit and Craigslist, now has Kaveshtiebel, a forum entirely in Yiddish. The site features topics such as news, religion, the Talmud and even discussion threads about the podcast "Serial," a topic that would normally be hush-hush in public.
Facebook doesn't appear to be happy with the new site's name choice. The social network giant has sent a lawsuit to Facegloria for "misuse of brand," UOL News Brasil reported Tuesday.
We've reached out to Facebook for comment and will update if we hear back.