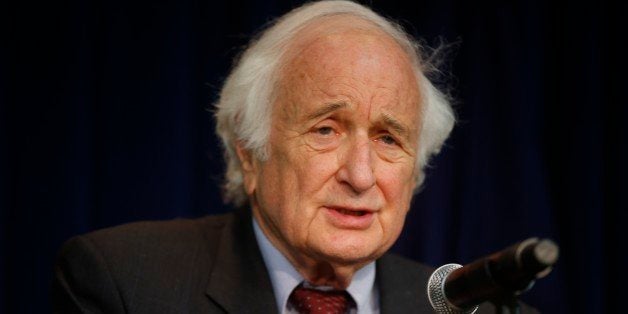 WASHINGTON -- One of the most powerful House Democrats on trade offered a ray of hope to President Barack Obama on Thursday, seeking to draw attention away from a controversial proposal that would allow the president to pass massive international trade deals with little congressional oversight.
Speaking with reporters, Rep. Sander Levin (D-Mich.), ranking member of the Committee on Ways and Means, presented a number of outstanding issues he has with the Trans-Pacific Partnership, a proposed trade agreement with countries in the Asia-Pacific region. But Levin did not criticize Trade Promotion Authority, also known as "fast track," the legislation the president is seeking in order to get the trade agreement passed.
Sen. Orrin Hatch (R-Utah) wants to introduce legislation to grant the president fast track authority by the end of the month, which would strip Congress of its ability to amend treaties, instead restricting lawmakers to a yea or nay vote. Fast track legislation is the primary area where Congress has leverage over TPP.
When asked whether he thinks fast track authority gives the President too much power, Levin refused to criticize the authority. "I see it differently," he said. "I think the focus should be on TPP."
He acknowledged that Congress should "maintain our leverage," but when asked how he expected TPP to get through Congress without fast track in place, Levin said, "Once we get TPP in good shape in terms of its outcome, then we talk about the next step."
His focus on TPP is at odds with some of his colleagues, as well as with conservative Republicans. On Thursday, Senate Minority Leader Harry Reid (D-Nev.) said in a news conference that he has "always been suspect, over my entire career in Congress, of these trade agreements." He added, "I don't support fast track. Why? Because I have not been shown that these trade agreements have helped the middle class."
Rep. Alan Grayson (D-Fla.) told HuffPost earlier this month that the Democratic caucus was "very unhappy" with the president's stance on fast track. "The president needs to go back to his college economics course and maybe take a refresher," he later added.
TPP opponents are concerned that the treaty will hurt job growth, as well as jeopardize everything from financial regulation to access to medicine. However, the Office of the United States Trade Representative maintains that "TPP will be the most progressive trade agreement in history, breaking new ground on labor and environmental protections."
Levin on Thursday raised his own issues with the proposed treaty, including that that the Obama administration has not yet broached the subject of enforceable currency obligations in the TPP negotiations. Levin's list of "outstanding issues" did not address Internet freedom, although he said that "data flow issues are a concern to us." What remains unclear is how Levin plans to get his proposed solutions into the treaty.
Levin said he intended to circulate his list of issues among Republicans and Democrats, and he meets often with members of the Obama administration. The goal, he said, is to "try to get all of us to keep our eye on the ball, which is a TPP that has outcomes that will bring about strong bipartisan support."
Update: 1/23 -- On Friday, a USTR spokesman sent The Huffington Post this statement: "We look forward to continuing to work closely with Congress as we finalize a high-standard TPP agreement that delivers for American workers, farmers, and businesses. Congressional input has long helped us shape our views and negotiating approach with our TPP partners."
Michael McAuliff contributed reporting.