Taylor M. Wilson of St. Charles, Missouri, had previously traveled with members of a neo-Nazi group to the white nationalist rally in Charlottesville, Virginia, and expressed an interest in "killing black people," according to court documents unsealed Wednesday.
After Wilson was arrested for triggering the train's brakes in October, FBI agents found weapons, tactical gear and white supremacist documents at his home. Some items were in a hidden compartment behind a refrigerator, according to the court documents.
FBI Special Agent Monte Czaplewski said that Wilson, who has a concealed carry permit, boarded the train intending to carry out a terrorist attack and pulled the emergency brake "with intent to harm those aboard" on Oct. 22, according to the affidavit.
Czaplewski also said he believed Wilson's firearms "have been used for or obtained in anticipation of engaging in or planning to engage in criminal offenses against the United States."
There were about 175 people aboard the train from California to Missouri when Wilson triggered the brakes, The Associated Press reported in October.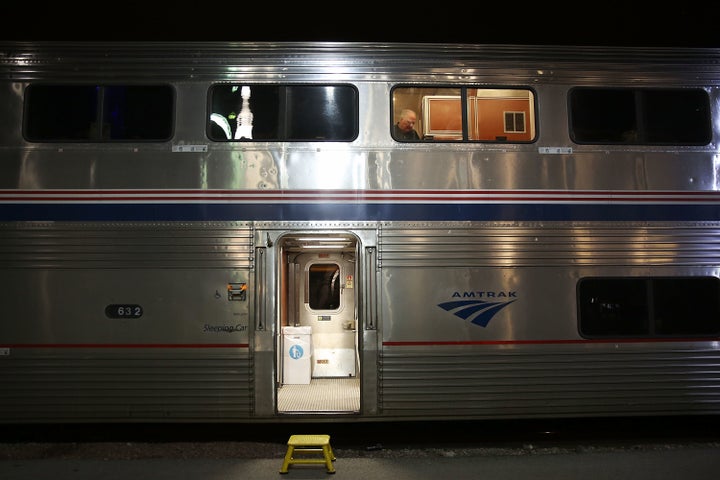 In the early hours of Oct. 22, Wilson entered a restricted area of the California Zephyr train as it passed through rural Nebraska and triggered the train's emergency brakes.
After the train came to an "expedited stop," Amtrak workers found Wilson "playing with the controls" while sitting in the engineer's seat of an engine, according to the affidavit. A struggle broke out as train employees tried to subdue Wilson, who reached toward his waistband several times during the confrontation.
Deputies later found a loaded handgun in Wilson's waistband along with a speed loader, a device that allows rapid reloading of a weapon. Wilson also had three additional speed loaders, a box of ammunition, a hammer, a knife and a respirator-style mask in a backpack.
Deputies also found that a business card for the National Socialist Movement, a neo-Nazi group, on Wilson.
In an interview with the FBI, Wilson's cousin Andrew Olney said that Wilson had joined an "'alt right' neo-Nazi group" that he found while researching white supremacy forums on the internet, according to the affidavit. Olney, who lived with Wilson for at least four months, also told the FBI that Wilson attended the white supremacist rally in Charlottesville in August with friends from the neo-Nazi group.
Olney said "he knew a lot of the guys took guns with them [to the Charlottesville rally], but he did not know for certain if Wilson took anything other than a shield and bulletproof vest," the affidavit read. Wilson regularly carried a "9 millimeter handgun or a .38 caliber revolver," according to Olney.
After a search warrant was issued in December, St. Louis FBI agents discovered firearms, body armor, "records of communication of threats or detailing instructions pertaining to committing acts of violence against others" and "documents concerning white supremacy."
Items found in a compartment behind a refrigerator included 11 AR-15 rifle ammunition magazines with 190 rounds of ammunition, one drum-style ammunition magazine for a rifle, 100 rounds of 9mm ammunition, white supremacy paperwork and a handmade shield, which Czaplewski believes was taken to the Charlottesville rally.
Wilson's father later gave the FBI 15 of Wilson's firearms. The Bureau of Alcohol, Tobacco, Firearms and Explosives determined that at least one weapon was an automatic rifle and another was converted to a short rifle, "both in possible violation of federal firearm laws."
Wilson was arrested in October on suspicion of felony criminal mischief, trespassing and weapon charges. On Dec. 11, Wilson's $100,000 bond was posted and he was released.
Bobbie Garris, a passenger on the California Zephyr, told Nebraska ABC news affiliate NTV that passengers sat in the dark for over an hour after the train came to an abrupt stop.
"We lunged forward in our seats and all the power went out," Garris told NTV at the time. "We could smell something burning, and I'm going to guess that was the brakes."
Wilson was arrested again Dec. 23, one day after the complaint was filed in a federal court in Nebraska, and is under federal custody, according to the Lincoln Journal Star.
Related
Popular in the Community