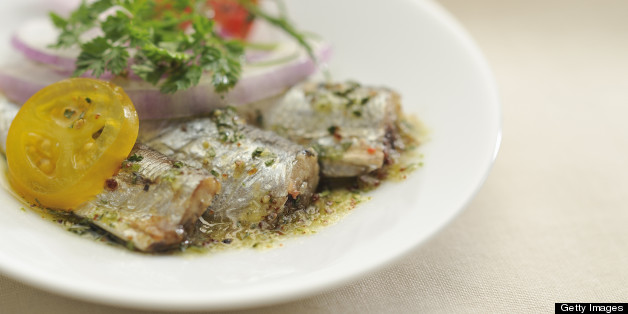 If you're like me, then you struggle incorporating fish into your diet. As a dietitian, I know fish is healthy for me, that I should be having at least two servings of fatty fish per week (such as salmon, char, herring, mackerel, sardines and trout) and that most people don't eat enough fish. I also know fish is high in protein, vitamins and minerals and some varieties provide the best source of omega-3 fatty acids, which are not readily available in other foods. Omega-3 fatty acids are important and are associated with several health benefits, including lowered risk of heart disease and inflammation.
So if I know this, why do I struggle to eat enough fish?
I think the common problem for most people is that fish is not part of their regular routine, and because of this, many are not comfortable or don't know how to cook fish. I know this is the case for me. I'm a fish out of water when it comes to cooking fish, so to speak.
So I came up with some ideas that are fun and easy and not so daunting in order to get those healthy servings of fish in my diet.
Start with what you like: There's no point in eating something you don't like. Milder fish such as tilapia, cod or halibut can be good introductions. Pair them with flavourful toppings such as crushed peanuts and fresh herbs or lemon, capers and tomatoes and grill, bake or broil. As you get used to eating fish you can start to experiment with other varieties.
Canned or frozen: Don't overlook canned or frozen fish as a quick and easy way to incorporate fish into your diet. Look for canned fish packed in water with little or no added salt instead of those packed in oil and frozen fish with little or no added salt or seasoning.
Canned: Mix into pasta, casseroles or salad. Combine with low-fat cheese on whole-grain bread and make a melt or with low fat mayonnaise, green pepper and lemon juice and pop into a sandwich. You can even include canned fish in your favorite low-fat dips and spreads and eat with carrots and broccoli.
Frozen: If you find cooking from scratch intimidating, try experimenting with a variety of frozen fish in order to find the one you like. Broil, bake or grill for a quick, convenient and easy dinner.
Fish tacos and kabobs: All are fun ways to eat fish. For kabobs, chop as you would other proteins, skewer with your favorite vegetables and grill. For tacos, use fresh or frozen fish and pair with chopped cilantro, tomatoes, peppers, salsa and lime juice.
Make a point to order fish when eating out: It's always nice when someone else cooks it for you! Order fish that's been baked, broiled or grilled, with little or no added salt. Pair with steamed vegetables and voila!
Bon appetit!
For more by Samara Foisy, click here.
For more on diet and nutrition, click here.
REAL LIFE. REAL NEWS. REAL VOICES.
Help us tell more of the stories that matter from voices that too often remain unheard.