Rooms are lovely, but breakfast is the star at these five fantastic inns and resorts "out East" USA.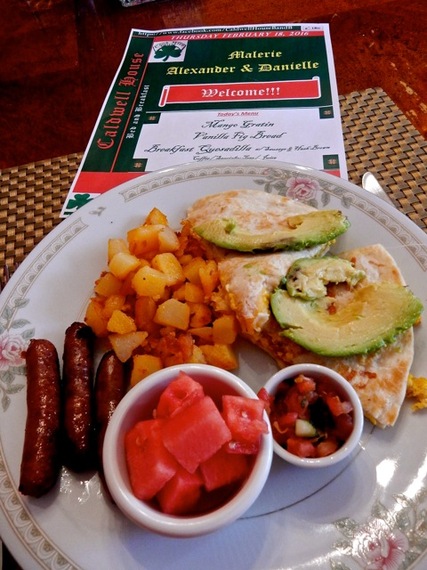 1. Caldwell House, Salisbury NY. There are shamrocks everywhere in the Caldwell House, a beautiful four-leaf-clover of a Bed and Breakfast in a stately home built in 1803 by a wealthy merchant from Ireland and turned into a B&B in 2000. Indeed, you don't need to have the luck of the Irish to be assured a superb stay in this historic home that's been wonderfully restored by incorporating original front door, floorboards and other 19th century elements. Owned by the spritely Dena and John Finneran, the 14-room Caldwell House, unpretentious in its luxury, is elegant and stately. Breakfast is a freshly cooked three-course treat, personalized with a paper placemat welcoming guests by name and providing information about the day's news headlines and weather. The omelet quesadilla, fried potatoes, sausage and sweet watermelon bites - hearty and delicious - will tide you over till dinner.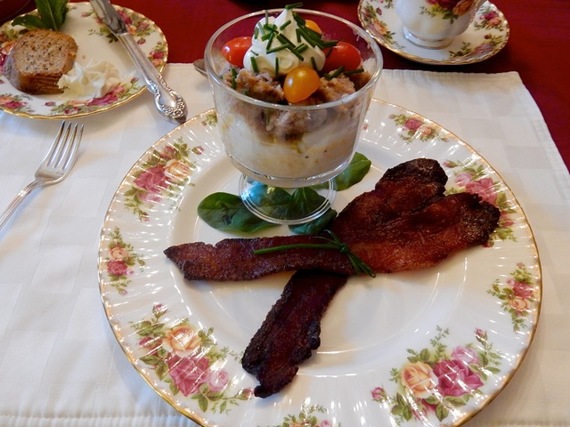 2. A.C. Stickney House, Strasburg VA. Owners Donna and John Huntsberger raised their family in this meticulously landscaped Victorian home on a hill in Strasburg, Virginia, and then opened it up as a luxury B&B in 2010. Almost immediately, the inn began drawing "Heritage Tourists;" folks looking for their roots in this region of the country. Common rooms are cozy, circa 1892 Victorian, filled with art both old and new. Bags of local Route 11 Potato Chips and glasses of wine are complementary for guests. The Huntsberger's warm hospitality extends into the morning hours with an extravagant three course candlelit country breakfast. Mine began with a wine-poached pear, topped with vanilla yogurt, fresh strawberries and plated with a drizzle of local honey, morsels of blue cheese and dried cranberries. This was followed by a sausage-egg casserole in a parfait glass and an X of sweet maple bacon. No big surprise that repeat visitors come back to The Stickley B&B time and time again for Donna's breakfast alone.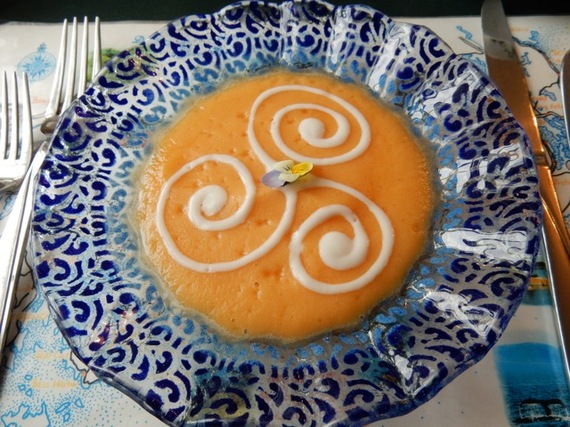 3. Acadia's Oceanside Meadows Inn, Prospect Harbor ME. On 200 diverse acres, a ferry ride from Bar Harbor, this fantastic place is not just an "inn:" it's a nature preserve, a lecture/event hall, and beach all in one. Plus, it offers one of the most beautifully presented and delicious B&B breakfasts I've ever seen and tasted. FYI - this Inn is Vegetarian, so do not expect a Farm Breakfast with Sausage and Bacon. You will get, however, one of the most beautiful breakfasts a B&B can offer. The inn's property encompasses rocky shore, sandy beach, salt marsh, meadows and fresh water ponds (with beavers!) and is one major reason visitors from "away" keep coming back here year after year. Guestrooms in both the main house and the Farmhouse next door are not posh or luxe, but comfy and pretty in traditional country décor. In the morning, you will not miss bacon or sausage when you see what comes out of the kitchen. First course, the likes of Mellon-Ginger Soup served in stunning blue-glass bowls, followed by Whole Wheat Waffles with fresh berries is a feast for both the stomach and eyes.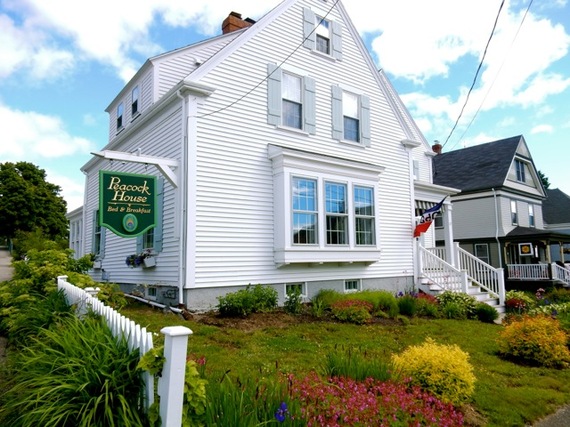 4. Peacock House B&B, Lubec ME. This 1860's Captain's House stands atop a hill in the tiny Canadian border town of Lubec Maine. Surrounded by flowers in the spring, with birds chirping and coffee brewing in the morning - it's a quiet, tranquil, and beautifully decorated haven. When all 7 rooms are full, mornings become a happy, social, "small world" time for conversation over a hot gourmet breakfast. Soft-spoken and warm innkeeper, Mary Beth Hoffman, purchased The Peacock Inn (named for the Peacock family) last year, but her pride of ownership is readily apparent. She has all the reason to be proud. Common areas are lovely - bright rooms furnished in a modern, eclectic style, a grand piano and guitar in the living room (for guests to play), a library stocked with jazz and classical CD's and books about the Roosevelt's (whose summer home is across the bridge on Campabello Island, Canada) and a stately dining room with illuminated glass china cases. Mary-Beth serves a hot, candle-lit gourmet breakfast in the dining room, with fresh fruit to start and something sweet or savory, like toothsome hot berry compote. Guests gather around the large stately table to swap stories and backgrounds, making for a very congenial, social and delectable meal.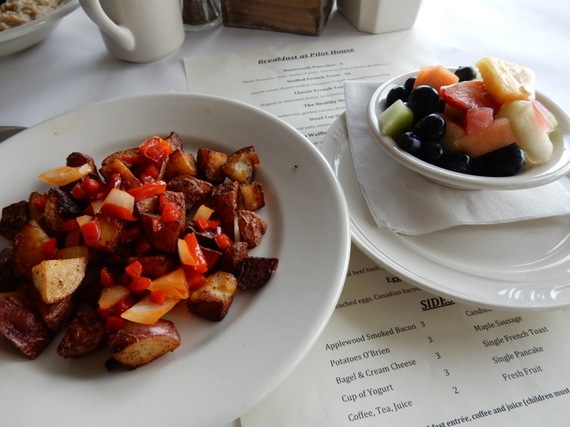 5. Sebasco Harbor Resort, Phippsburg ME. I wasn't sure whether to include this resort in my Huff Po "Historic Lodgings" roundup, or here, to tout the on-site restaurant's awesome homefries, so I flipped a coin, and here we are. But, this true Maine Family Resort, built in 1929, and a favorite of Benny Goodman (who played here) and Eleanor Roosevelt (who would stay here on her way up to Campabello Island) truly has historic merit. So many of these types of places on the Maine Coast have floundered or faded, but not Sebasco Harbor Resort, which has managed to maintain a multi-generational, friendly, laid-back, ice cream days, rec-center-nights vibe while keeping up the standards of its rustic-chic lodging - some rooms even considered luxurious. It's like camp - for adults and kids - only with much nicer bunks. On the waterfront, the setting is gorgeous, with its original yellow inn and cottages scattered around the 450-acre property. The Pilot House and Ledges Pub are in the same building - but both are where you must be at sunset for Mother Nature's serene waterfront fading-light show. Striking. And in the morning, head back for those home fries - as an aficionado of that early hour potato dish, I declare it The Best in the USA.