To say that the future of Florida's health care assistance plan is in flux is a gross understatement.
The great donor state of Florida was about to get back some federal funds. The funds would come in the amount of approximately $55 billion dollars from the federal government. All they had to do is to expand Medicaid and the feds would have leveraged every dollar spent by the state over the next 10 years with $9.51 of federal funds to cover about one million more people than are currently eligible for assistance.
The State House and State Senate Select committees on the PPACA, or Patient Protection and Affordable Care Act met and listened to months of testimony. Then they said no. They heard the testimony of many citizens from vulnerable populations and all walks of life who practically begged them to approve Medicaid expansion. Those giving testimony spoke of heart-wrenching stories that came from families dealing with catastrophic illness that led to the death of a loved one, financial ruin, or both. The committees were not swayed. They heard from experts in economics from Florida and Georgetown University, who spoke of the $55 billion coming from the feds that would build the economy, create over 71,300 jobs and help to pay the mandatory expenses that will be incurred by the implementation of the PPACA. They shook their heads and opposed the notion. They heard from CEOs of hospitals and hospital associations in favor of Medicaid expansion. Those CEOs noted that uncompensated care was killing hospital budgets, and how the loss of DSH (Disproportionate Share Hospital) adjustment funds that will occur, if they said no, would cripple hospitals, and the state budget as well. The legislature still said no. They even heard from major business lobbyists like the Associated Industries of Florida, who told them that accepting the expansion made good business sense. They didn't accept it.
Both the House and Senate committees voted directly down party lines to oppose Medicaid expansion. In a state that has a legislature that is almost two-to-one Republican, that can only mean no. No, no, no, no, no, no and no... for now.
The Democrats saw Medicaid expansion as an apple, the kind that you take to keep the doctor away, but the GOP saw it as the Evil Queens's poisoned apple. Both sides had their arguments, some of which were quite valid, and some just didn't make much sense.
The leaders didn't make this scenario any less surreal. The governor, Rick Scott, had opposed each and every part of the Affordable Care Act with each and every bone in his body since he first started talking about it during his election in 2010. Then, in a turn-around that left his supporters and detractors' heads spinning, he embraced the Expansion as something he could not turn down "in good conscience".
The new Speaker of the House, the charismatic Will Weatherford threw his hat to the other side of the field and came out against it. In his statement to open the 2013 legislative session, he said, "Passions will run high and principles will clash within this chamber." He went on to say, "I believe in the safety net. My family has benefitted from the safety net." He spoke of his family, who couldn't afford health insurance, and of the little brother who died of cancer, a tragedy that was worsened by a huge pile of bills his bereaved family couldn't pay. He continued, "It was the safety net that picked my father up. It was the safety net that picked my family up. I will continue to believe in -- and fight for -- a strong safety net for Florida." At the time, he did not realize that the safety net he spoke of was the Florida Medicaid for the Medically Needy program. His father knew, but that is not often the kind of thing a father discloses to his children. Proudly independent folks are like that. The Speaker concluded this portion of his speech by stating, "I am opposed to Medicaid expansion because I believe it crosses the line of the proper role of government. I believe it forces Florida to expand a broken system that we have been battling Washington to fix, and I believe it will ultimately drive up the cost of health care."
Two leaders of the same party. Diametrically opposed. The odds-makers wouldn't even try to guess how this one was going to turn out.
On the day before the session started, the two PPACA committees met in a joint session. It was anticipated that the Senate committee would vote first and the House later in the week. Then the Senate decided to delay their vote for a week, supposedly to wait for a report from state economists on the fiscal impact of accepting or denying the Expansion. Comments made by the two chairmen made it appear that the House was against it and the Senate for it. Senate Chairman Joe Negron stated, "I think there's a very legitimate issue on how to do it. And that's what we're wrestling with. But I don't buy this idea that we don't have the capacity and ability to provide healthcare to people in our state who need it."
All this would have made a great reality show. But the rose was not going to be given out. Not this time.
Then the first vote came that morning in the House committee, and it went straight down party lines, 10-5 against drafting language to accept Medicaid expansion. In other words, "No".
The vice chair of the committee, Rep. Matt Hudson of Naples (one of the wealthiest and coincidentally healthiest cities in Florida) was adamant in his opposition to the Medicaid expansion and formed his opinion long before the committee decided not to draft legislation that would allow the House to vote on the expansion. He did not trust the federal government to make good on their 10-year commitment to the expansion, citing the current congressional stagnation, stalemates and sequester, and felt that "even an adjustment of a percentage over the 10 years could be devastating to the state."
However, the "no" that was tendered by the GOP was softened by the misty image of an alternate plan. The republican chairman of the Select House Committee on the PPACA, Rep. Richard Corcoran, had stated that he felt Medicaid was a poor system at best, and expanding it would only makes things worse. Based on a proposed program in Arkansas, pending agreement with Department of Health and Human Service (HHS), he offered up the recommendation of using federal dollars to subsidize the private insurance plans. The plans would be presented to consumers via the health insurance exchange (or marketplace) created by the PPACA. As he stated to me, "We need to get as many people as possible on private insurance so that we can be sure that we get the great health outcomes that we know come with it."
It is interesting that he embraced the use of the marketplace, since both committees had already agreed to waive full or partial state control of the marketplace, in favor of a federally run program. However, this was practically a moot point since Florida missed all the deadlines to set up their own over the last two years, passing up the million dollar grant from the feds to put it together.
Vice chair Hudson admitted that he was not sure that Secretary of Health Kathleen Sibelius even had the ability to endorse and implement the Arkansas plan, which would require a waiver from and the HHS.
The democratic members of the House committee didn't see their Republican counterpart's reasons for their decision as valid.
Rep. Dwight Dudley (D-St. Petersburg) called the Republican justification, "Ludicrous!" He added, "You didn't hear any solutions, you didn't hear any alternative ideas or plans. That's pretty appalling considering they're willing to kill this, something that is a plan, something real that people can access and have."
Minority Leader Perry E. Thurston Jr. of Ft. Lauderdale called the Republican's position "morally reprehensible," and added that "we're talking about peoples' lives here. We're at the bottom of the barrel for people who need these services."

Rep. Elaine Schwartz was equally confounded.
The idea that the Federal Government will welch on the deal is ridiculous because they've never welched on the match for Medicaid and they've never not matched in the past... I find that to be so short-sided that there has to be some other reason that they're thinking of doing this. It may be partially ideological. They want to stick their finger in Obama's eye. They don't want to just take it lying down."
The report the senate waited for came out Friday, March 8. According to Jim Saunders of the News Service of Florida, the report stated that the PPACA will cost $5.2 billion over the next 10 years, with $3.5 billion coming from the state output for the Medicaid expansion, a fraction of the $55 billion overall cost. The vast majority would be paid by the federal government, very close to the Florida Center for Fiscal and Economic Policy's estimate of $9.51 of leverage from the feds for every state dollar spent.
Optimism was high, even though Senate President Don Gaetz had stated on the opening day of the session that the Speakers statement, along with the House Committee's vote, meant it was over for the Expansion, and time to "shut the lights out."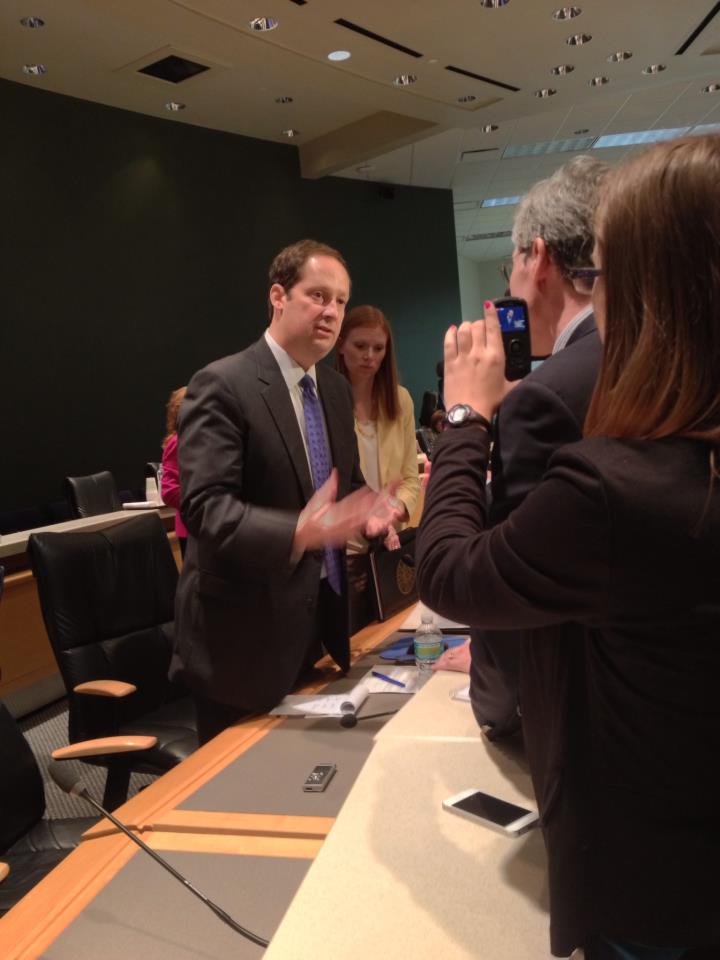 Sen. Joe Negron explains the "Negron Plan" to reporters. Photo: Gary J Stein
Then, on Monday, it was the Senate committee's turn. Once again, the answer was "No" , and once again, straight down party lines with a 7-4 vote count... with a caveat.
When it came time for the chair of the Senate Committee, Sen. Joe Negron (R- Stuart) to debate, he started by saying," I oppose the Washington plan, and I want a Florida plan." Arkansas may have spent time developing their plan, but during the years, since it had been signed into law, Florida did their level best to ignore every action step of the PPACA. They called it unconstitutional and lead the charge to file a lawsuit to oppose it, all the way to the Supreme Court. But now, as the deadline for a decision approached, they proposed a "Florida Plan". It was also called the "Negron Plan" and even "Negron-care" by minority leader, Sen. Chris Smith (D-Ft. Lauderdale), who had recommended that the committee "take their cod liver oil" and accept the Medicaid expansion dollars. He added that, no matter how bad it may have tasted for the GOP members to take it, it would make us healthy.
These were the "Guiding Principles" of Chairman Negron's work-in-progress "Florida Plan":
Benchmarked cost-sharing amounts that requires plan participates to pay something for emergency room (ER) visits and other services they used, based on income, even as low as3.80 for an ER visit.
Administering the program through Florida Healthy Kids, currently the state program that helps children ages 5-18 obtain coverage, and calling it "Florida Healthy Families"
Creating "health reimbursement accounts"(HRA's) that reward participants for healthy behavior by adding money to accounts that can be used for co-pays.
Allowing participants to purchase private health insurance plans.
Using available Federal funds that would have been used for the Medicaid Expansion to help subsidize the premium costs of the insurance plans.
That was his version of "No".
Here are a few of my notes and comments on the plan, which, as mention previously, is less of a proposal and more of a work in progress.
Benchmarked cost-sharing plans with that low of a co-pay still makes ER use attractive to Plan users. Visits to the ER cost far more to the Plan than use of clinics such as Federally Qualified Health Centers (FQHC's) or a Primary Care Physician.
Title XXI programs are also known as the State Children's Health Plans (SCHIP's). They are reimbursed by the Federal Government at a rate of 75%, as opposed to Medicaid (Title XIX) at 53% or the Medicaid Expansion (100% for the next three years and sliding down to 90% after the next ten years). Florida Healthy Kids administers to children funded by Title XIX as well as Non-Title XXI Full-Pay. Currently (as of October 2012) enrollment in Florida Healthy Kids is at 203,748 Title XXI children and 28,611 Non-title XIX and Full-Pay Healthy Kids for a grand total of only 232,359 enrollees. That begs the question of how much more can they handle before they are over-burdened.
HRA's are actually not a bad idea, as long as they are paid using Federal Funds. Florida is already paying for Medicaid at a rate that engulfs over 30% of the State Budget.
I like private insurance plans, and I even testified to that fact in front of the Senate committee. Far more doctors accept them, but not all doctors accept all private insurance plans, especially the less expensive ones that give low reimbursement rates to providers.
The State may be able to use Federal funds to subsidize the premiums, which is great for middle-class and lower middle class folks, but folks below the 138% of the Federal Poverty Level (FPL) may still have problems covering deductibles and co-insurance or co-pay, which are usually higher in cheaper plans. Medicaid doesn't have deductibles or co-pays.
One more point about the Florida plan -- the GOP started all their arguments with trepidation and grave concerns over taking federal funds. They were angry over the government not even passing a balanced budget for five years (a requirement for the Florida legislators) and even worry that the feds will default.
The Florida plan, Negron plan or whatever they plan to call it, (their version of saying "No"), uses those same federal funds and they still have to get a waiver from the HHS for the plan to implement the plan and still get the $55 billion.
This will be one heck of a cobble-job with only 55 days left in the session.
The opposition response to this semi-refusal of federal funds came swiftly. Even from a member of the Republican Party. As Rep. Mike Fasano (R-New Port Richey) stated,
I am most disappointed that the Senate tasked with exploring Medicaid expansion has voted to turn down the federal dollars that would have opened up healthcare to over a million Floridians. All we hear about are alternatives, safety nets and vague promises that 'something should be done.' What we actually get are the solid votes against our own money coming back into our state. Why did the legislature wait until the 11th hour to make this decision? Why were these so-called alternatives not being explored and debated long before the session started? It is my hope that some straight thinking will take place and both chambers will reconsider the ill-advised decision to turn down these needed dollars.
The following day, at a press conference with Florida Remedy, a group formed by the Florida Hospital Association, Rep. Fasano added, in reference to the Florida plan, "Ladies and gentlemen, that's a cop out. It's nothing more than a cop out."
The Florida Democratic Party (FDP) saw the vote as weakness on the part of the governor. From Allison Tant, chair of the FDP: "Gov. Scott said this would be a top priority but has failed at every turn to show leadership on this issue. It's time the Governor proves he's really serious about putting Florida families first."
House PPACA Committee member, Rep. Dwight Dudley (D-St. Petersburg) had this to say:
I'm stunned and amazed, that the three year anniversary of the passage of the Patient Protection and Affordable Care Act is upon us, March 23, 2013, and the Florida Legislature has no response other to say no to Medicaid Expansion. It seems", he added, " as if nobody has been paying any attention at all to planning and preparing for going forward with implementing the act. It's just woefully sad that we couldn't do better, as a state. That we don't have a better plan to take care of a million people that can't afford insurance. To try to model something after Arkansas, which is a very, very small state, and does not replicate to Florida in any way, shape or form would be a silly approach. We're jeopardizing, I think the estimates have been, in the range of $51 Billion dollars over 10 years. It just is shocking to me that there could be such abject failure and extreme ideology to keep something that could be so helpful to such a large segment of our society and that would probably help healthcare for everyone in Florida. It is very disappointing.
The democratic Senate committee members were more conciliatory. They adopted a far different paradigm. According to their official press release, "Senate Democratic Leader Chris Smith (D-Ft. Lauderdale), along with Senators Eleanor Sobel (D-Hollywood), Audrey Gibson (D-Jacksonville) and Darren Soto (D-Orlando) on Monday welcomed the endorsement by Republican lawmakers of expanding Medicaid in Florida -- after they rejected it."
"Although Republicans voted against what they called 'traditional Medicaid expansion' they turned around and endorsed a program that still relies on the same federal dollars and still extends affordable health care to 1 million Floridians," said Senator Smith. "Whatever name they opt to give the program, the bottom line is that money allocated by the federal government for Medicaid expansion will be the mechanism. In the Senate, the remaining question is no longer 'if,' but 'who.'"
Senator Gibson paraphrased Shakespeare and Gertrude Stein. "A rose, by any other name, is still a rose," she said. "This move is long overdue and one the House would be wise to emulate."
In other words, the senate Republican's "no" was a cleverly disguised "yes"... Maybe.
The lead Democrat of the committee felt that transparency was the key to moving forward. The press release concluded by saying, "As the final details over how to proceed with implementing the Medicaid program remain under discussion, Senator Sobel, Vice Chair of the Select Committee, urged that any oversight board of the program be subject to the state's public records laws (known as the Sunshine Laws), and that all meetings be noticed and open to fully protect consumers. "In 1965, as he signed the national Medicare and Medicaid bill into law, President Lyndon Johnson quoted Deuteronomy, (which stated): 'Thou shalt open thine hand wide unto thy brother, to the poor..'" she said, adding: "Remember, that thine hand must be opened in the sunshine."
Governor Scott's comments also showed guarded concern. "I am confident that the Legislature will do the right thing and find a way to protect taxpayers and the uninsured in our state while the new healthcare law provides 100 percent federal funding."
Can they do it while saying "no" when they mean "yes", or will they have do take their cod liver oil and admit that the only path to saying "yes" is by not saying "no", at all.
After all, especially to an ideologue, "no" means "no" and you just can't say "no" by saying "yes" or "yes" by saying "no". Can you?

Don't think about it too hard, you'll get a headache. And if you have to go the ER and you have no insurance, the hospital will charge for a $100 Tylenol.
The bottom line is that, if they don't get it right, we may lose that money and all that it could do for Floridians and our state, and it will go to another state.
God, help the legislature to get it right. God help us if they don't
Popular in the Community