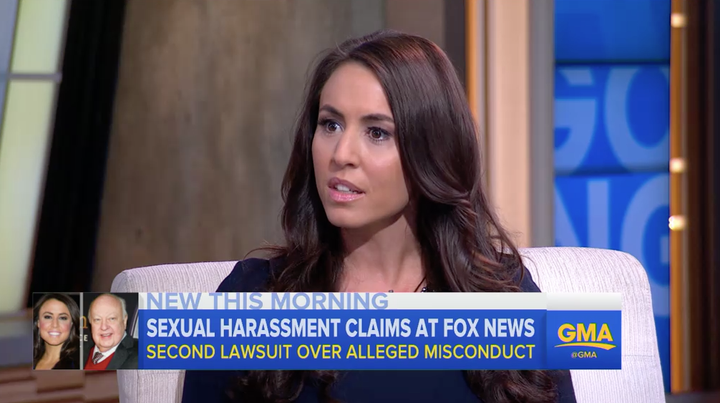 Former Fox News host Andrea Tantaros accused former Fox News chairman Roger Ailes and current high-level executives of using electronic surveillance and computer hacking to retaliate against her for making sexual harassment claims.
In the new suit, Tantaros alleges that Fox News executives resorted to illegal electronic surveillance and computer hacking to "intimidate, terrorize, and crush her career through an endless stream of lewd, offensive, and career-damaging social media posts, blog entries, and commentary, and high-profile 'fake' media sites which Fox News (or its social-influence contractors) owned or controlled." 
Tantaros is suing not only Fox News and Ailes, but also current co-president Bill Shine and public relations chief Irena Briganti.
Fox News has a reputation for using fake sites, or "sock puppets," to attack perceived enemies inside and outside the network.
NPR's David Folkenflik reported in his 2013 book, Murdoch's World, that Fox News' public relations department used sock puppets to attack critics. Ailes also orchestrated the smearing of rivals, critics and journalists through an anonymously written site called "The Cable Game," according to Gabriel Sherman's biography of the former Fox News chief.
On Tuesday, Salon's Matthew Sheffield reported that Ailes also oversaw lewd fake fan sites dedicated to the women of Fox News. According to Salon, the network retained a firm called New Media Strategies, whose former CEO, Pete Snyder, is one of the defendants in Tantaros' new suit.
"While the use of professional social influences and fake stories, accounts and posts has been part of Fox News's stock and trade for years, the use of illegal electronic surveillance and computer hacking has taken the company's conduct to a profoundly disturbing level," the suit alleges.
Tantaros believed she was under surveillance after social media accounts left her cryptic messages tied to recent private conversations. 
For instance, someone tweeted an advertisement for the film "The Black Scorpion" after a friend was hospitalized for a scorpion attack. She received a tweet about Disneyland after discussing a family member's trip there and a tweet of pyramids after a conversation about a dog named Egypt.
Shortly after discussing the anniversary of her brother Daniel's death on the phone with her mother, an event that was still two months away, someone directed a tweet at her reading "R.I.P. Daniel."
Tantaros' suit also alleges that a "Fox News operative engaged in surreptitious surveillance by breaking into her personal computer."
The network's outside counsel, Dechert LLP, denied the surveillance claims in a statement.
"Fox News and its executives flatly deny that they conducted any electronic surveillance of Ms. Tantaros," the statement read. "They have no knowledge of the anonymous or pseudonymous tweets described in her complaint. This lawsuit is a flimsy pretext to keep Ms. Tantaros and her sexual harassment claims in the public eye after the State Supreme Court directed her to bring them in arbitration."
Read the text of the lawsuit below.
Calling all HuffPost superfans!
Sign up for membership to become a founding member and help shape HuffPost's next chapter