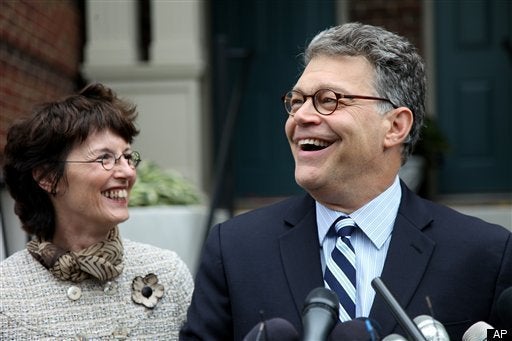 Yesterday, Al Franken, after a protracted Hundred Years War with Norm Coleman that played out in front of every legal body in the state of Minnesota, finally became Senator Al Franken, giving the Democrats a 60-vote caucus and a new set of challenges as to how they will manage to excuse disappointing their constituents going forward. You may ask yourself, "Huh, I wonder how all of Franken's opponents in the media are taking it?" Not very well, as it turns out!
You can watch for yourself, if you like, in this video mashup from Media Matters! Sean Hannity: he still BELIEVES, Y'ALL, that Coleman won! Glenn Beck says it's the equivalent of Glenn Beck being made Senator! Even that brown-haired dude from Fox And Friends, ol' what's his face, has a sad about it! Yes, Al Franken is the New New Reason Democracy Has Died, thus ending the reign of the Huffington Post's own Nico Pitney.
From where I perch, it's like a whole new set of Americans now are angry at the way a recount was decided, and are worried over their belief that Minnesota is represented by a crazy person. There's another group of Americans who know what that feels like, I think! So really, isn't Al Franken just bringing the whole country together, in empathy? Probably not!
Calling all HuffPost superfans!
Sign up for membership to become a founding member and help shape HuffPost's next chapter