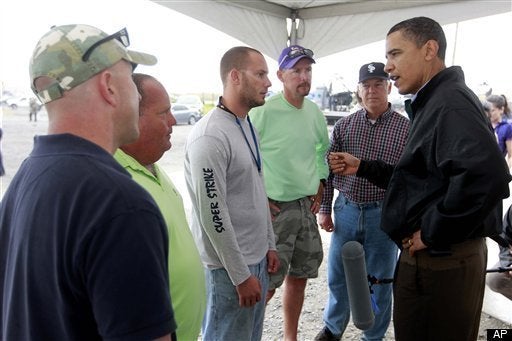 The Obama administration said on Monday that it remains "premature" to rule out including additional offshore drilling as part of comprehensive energy legislation, even as Senate Democrats warn that such a provision would make the bill "dead on arrival."
White House spokesman Robert Gibbs said that the president will determine whether to stay with or abandon his call for additional drilling off various parts of the coast once he gets the findings of an investigation into the massive oil spill in the Gulf.
"The president was specific in ordering [Department of Interior] Secretary [Ken] Salazar to look at all the possible aspects of what could go wrong in this instance [and] to report back to him in that thirty day period," Gibbs said in response to a question from the Huffington Post. "This is an administration that is going to take any information we can get from that and have that dictate our decision making going forward. I think it would be premature to get too far ahead of where Secretary Salazar's investigation is."
While the White House declines to fully abandon offshore drilling in light of the current spill, others in the Senate are ramping up their opposition. On Friday, Sen. Bill Nelson (D-Fl.) said any energy bill that included such exploration in its legislative language would be "dead on arrival" in the Senate. His office went even further, speculating that larger energy bill itself was now all but impassable in the Senate.
"It's dead on arrival if it contains oil drilling," an aide said, "if it doesn't have offshore drilling then you don't have Republicans."
Over the weekend, the lone Republican who had lent his support to a soon-to-be-introduced energy bill re-affirmed his stance that offshore drilling should be a component of the final product.
"We've had problems with car design, but you don't stop driving," Sen. Lindsey Graham (R-S.C.) told the Greenville (S.C.) News. "The Challenger accident was heart-breaking but we went back to space. The biggest beneficiaries of this proposal to stop drilling would be overseas oil interests, OPEC and regimes that don't like us very much."
Caught between Graham and Nelson, the White House has decided to kick the can down the road. Asked if the president's thinking on the matter had evolved as the news of oil spilling in the Gulf has grown worse, Gibbs said that the administration's priority remains "to plug the leak in the floor of the ocean, deal with the spread of the oil on the surface, to ensure that we are doing all that is possible to prevent environmental and economic damages."
"The investigation [by Salazar] is to determine what happened and to use that information going forward to dictate any changes in our policy," he added.
Popular in the Community