"Wishing you only wonderful things in this new chapter of your life," the supermodel commented on Brady's post announcing the decision. She accompanied the message with a prayer hands emoji.
The seven-time Super Bowl winner said in the video post that his retirement is "for good."
"You only get one super emotional retirement essay, and I used mine up last year," Brady said, referencing his previous announcement that he was leaving the NFL before returning for another season.
"Thank you guys for allowing me to live my absolute dream," he added, sending his appreciation to all of the teammates and coaches he had in his 20 years with the New England Patriots and three years with the Tampa Bay Buccaneers. "I wouldn't change a thing."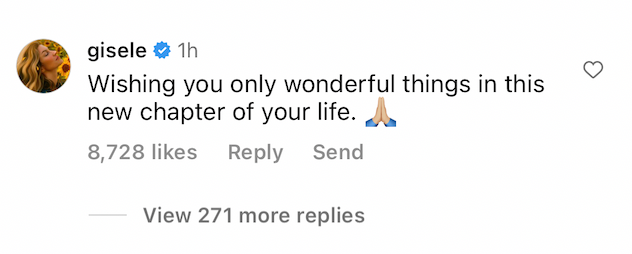 Brady and Bündchen were married for 13 years before divorcing in October. They have two children together: 13-year-old Benjamin Rein and 10-year-old Vivian Lake.
Bündchen spoke publicly about the sacrifices she'd made for her husband's career over the years and her hesitations about him continuing to play.
"I've done my part, which is [to] be there for [Tom]," she said in a candid interview with Elle Magazine published in September. "I moved to Boston, and I focused on creating a cocoon and a loving environment for my children to grow up in and to be there supporting him and his dreams."
"This is a very violent sport, and I have my children and I would like him to be more present," she added. "I have definitely had those conversations with him over and over again."
While Brady finished his final season with the Buccaneers at a lackluster 8-9, he told reporters in the middle of the season that he had "zero" regrets about coming out of retirement to play.
"I returned because I felt like I wanted to compete and I spoke to the team about it and they were excited to have me back," he said in November. "I don't really regret those types of things — I think when I commit to it, I mean it and I do my best and try to give everything I can to this particular opportunity."
Popular in the Community