This morning, I nearly choked on my cocktail olive when the international ArtNet News headline flared across the screen, "Art-Themed Bodypainting Show Skin Wars: Fresh Paint to Feature RuPaul and Mat Gleason." The art world's Mat Gleason has a new evolution and I am not surprised.
For twenty years, the punk provocateur has been needling his thorn in the torso of the Los Angeles art world. His magazine, the Coagula Art Journal, was infamous and scandalous until it slowly became respected and revered. Art critic Gleason is smart. His words are clear. Over time, as print media sank like the Titanic, Gleason stopped printing and opened a small art gallery in the backwater of Chinatown, just as the economy was tanking. With perseverance and a keen eye, the gallery, Coagula Curatorial, is now a Los Angeles powerhouse with a roster of well-reviewed heavy hitters. His schedule of events is smart, capricious and, dare I say, fun.
Skin Wars: Fresh Paint needed a new, fresh face. As a compliment to the glamorous whirlwind of RuPaul, the show needed the anchor of a respected aesthete. Fine art critics are not easy to find. Producers Michael Levitt and Jill Goularte went hunting on the internet.
"I got an email asking if I wanted to audition," says Gleason. "I thought someone at Skin Wars knew who I was. Later, I asked Michael and Jill, the producers, 'Who recommended me?' Jill said they found me online. They Google'd art critic."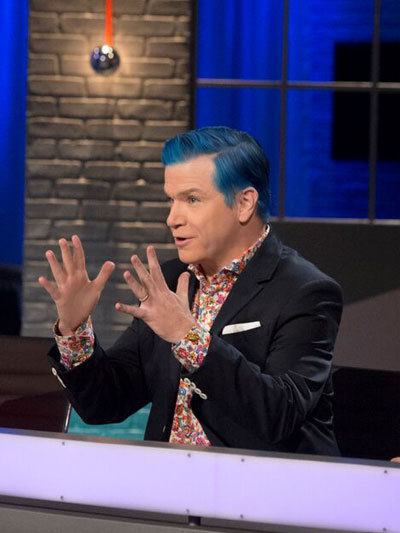 Yep. I just did the same and Mat Gleason popped up fast. He has written for many international magazines. Since 2010, the art critic has been contributing wise words on the Huffington Post. He is a sharp knife to the gooey confection of the art world. Rock and roll legend David Bowie says, "Gleason clobbers the closed door snobbishness that has increasingly distanced the public from the rarefied air of the art world." Contemporary painter and Huffington Post Arts editor Kimberly Brooks recruited Gleason. It was his work on the Huffington Post that kicked open the golden doors of Hollywood.
Why would a man of rarified taste plow into the salmagundi of television? "I thought about what Gore Vidal said, "Never turn down an offer of sex or to appear on television," answers Gleason, "So I signed on the dotted line."
"Body painting, obviously, is a step away from edgy, contemporary art and conceptualism," explains Gleason, "but the last thing I was ever going to do was let some nonexistent art world rules make a decision for me." I had to chuckle. Such art world conventions have never been a consideration for the gallerist.
"In the audition, I looked at various body painting pictures and would point out what I saw that the artist had done, that maybe an eye that was less-trained to look at art, might miss," explains Gleason. "They just said 'You're hired.'"
The lens of a TV camera is dull and unflinching, but behind the stare are millions of eyes and ruthless opinions. Gleason recalls, "I was casual about everything, right until I walked onto the set. I had not even seen the set and I walk on, and there are five giant cameras, lights everywhere, the artists squirming, RuPaul smiling and I'm thinking "Wait, why am I here?!"
"I can now say I worked with RuPaul on a TV Pilot," wrote Mat Gleason on his popular Facebook page. "When I walked on the set for the first time (RuPaul) stopped the filming in order to have my make-up done to his liking. The crew explained that it is rare for a star to go out of their way to help a co-star to look their best. A generous, fun gentleman."
Since Gleason's hair color has been a variety of bold punk colors over the years, I had to ask what the suggestion was. Gleason answers, "RuPaul had them do my eyebrows a little darker and then he said 'He has some sparklies' and they broke out the nose hair trimmer. If Hollywood waxes their nostrils, I definitely missed the memo." Beyond the eradication of the sparklies, "Fresh Paint" gave the critic a bright blue doo.
Film and television production is a bore, with a great deal of downtime. "I shared a dressing room with the other judge Emma Cammack, a world-class body painter. We gabbed a lot to pass the time. She brought crocheting along and got a lot done."
"Every medium in art has its experts. Body painting, as I have learned, is dense with its own jargon and hierarchies, as much, or more than, academic conceptualism or abstract expressionism."
The siren call of Hollywood fame, glamour and riches is powerful. Will Gleason continue to dip his toe in these waters of intemperate caprice? "If they want me," he answered slowly, "The whole experience really reminded me that art can be fun. The art world can be a stuffy, serious place, even at the good parties. It was nice to be in an art context having fun."
Mat Gleason's newest book, The Century Hit Puberty, is a collection of essays that shine a mirror on the art world today. Click Here to find it on Amazon.

Calling all HuffPost superfans!
Sign up for membership to become a founding member and help shape HuffPost's next chapter