Here's why my husband and I raced up to Good Stock Farm two weeks ago. Michael, who was the founding editor of Nation's Restaurant News, had decades earlier met Sandy D'Amato, a multi-starred chef from Milwaukee. When we learned that Sandy and his wife sold his eponymous restaurant Sanford and moved to Hatfield, Massachusetts -- to open a cooking school -- we immediately packed an overnight bag!
En route, we passed farm stands selling butter + sugar corn, honor-system butternut squash, the season's last few tomatoes, and fresh-picked flowers, all tres charming. But nothing prepared us for the lush expanse of land behind their house-cum-cooking school on sleepy Main Street, replete with an experimental garden, trellised vines, herbs and artichokes, and a blanket of grass that led down to the Connecticut River flowing with an equally sleepy calm. You could hear an apple drop.
The house, designed with pencil and paper by Sandy's wife Angie, is built around an elegantly professional and capacious kitchen. Large marble work table, pizza oven, convection oven, industrial refrigerator and sinks, with no separation between the living/dining area -- all merged into interior landscape that felt more like a SoHo loft than a rural dwelling. The weather was warm and, settled on their screened porch, we shared tales about famous chefs and their legendary foibles, about restaurant life in New York in the 1970s, about Sandy's and Angie's myriad reasons for leaving their revered restaurant but not actually retiring. With my first sip of Vouvray, to accompany one of Sandy's fantastic homemade breadsticks, I uttered the word "Provence." I could have just as well said "Paradise" or "Providence." But Provence it was, for I recalled author Patricia Wells' well-known cooking school and home there, known as Chanteduc, and declared Good Stock Farm its worthy counterpart. No passport needed.
Sandy has top-of-the-line credentials, decades of experience, and a newly acquired desire to share it all. A student, literally, of Le Repetoire de la Cuisine - Sandy went to the Culinary Institute of America, housed at the time in one cramped building in New Haven, CT -- but he grew up "eating Italian." One sensibility informed the other, coalescing into his uniquely own style. His food is stunningly contemporary and yet reminiscent of the culinary pedagogy one used to find at Lutece or La Grenouille or perhaps the more rarified Italian kitchen of San Domenico in Imola, Italy. I will never forget his sweet corn soup, served at room temperature, made that morning with a mysterious touch of mace (does anyone use mace anymore?). Nor a spot-on Italian plum tart with its toasty brown sugar-almond crust.
Sandy opened restaurant Sanford in 1989 to rave reviews - Bon Appetit, Gourmet, Esquire, Wine Spectator all called it among the country's best - ran it with Angie until 2012, and sold it to his longtime chef de cuisine. Three signature dishes - Provencale fish soup, grilled marinated tuna with cumin wafers, and grilled pear and Roquefort tart (which he made for Julia Child's 80th birthday party), remained on his menu from day one. When he teaches these beloved recipes at Good Stock Farm, we'll be there!
Speaking of Julia, Bob Spitz, author of best-selling Dearie: The Remarkable Life of Julia Child, says this about Sandy's contribution to American gastronomy: "What sets Sandy apart is his full experience of having worked with the French masters. He is a serious chef who cares deeply about each dish he makes. While everyone seems to be talking about local and indigenous ingredients, Sandy is literally growing the recipes he's teaching at his school."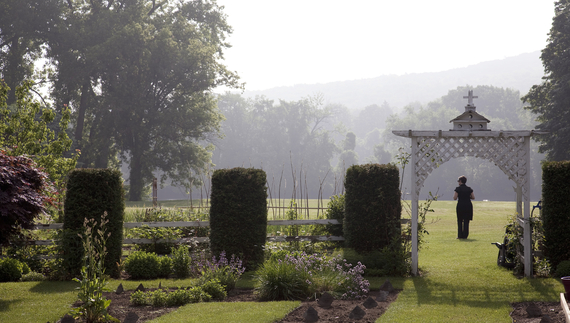 Photo Credit: Kevin Miyazaki
Good Stock Farm is open all year long for demos, learning, eating and meeting new people. Hands-on classes, with a maximum of 8 students, include lunch or dinner spread over a generous time frame of 4-1/2 to 5 hours. Demonstration classes are 2-1/2 hours. October's line-up includes a hands-on lunch called "A Nip in the Air" - roasted beet and garlic soup, juniper-braised shortribs, cranberry walnut tart; and a demo-dinner from Sicily featuring shrimp and green pea arancini, grilled escarole salad, beef spedini, and crispy dessert cassata.
Students either drive or fly to Bradley International Airport, only 50 minutes away, and stay at the Old Mill Inn, a charming B&B less than a mile down the road, or at the Hotel Northampton, five miles away. With five colleges nearby, including Smith and Mount Holyoke, the area sizzles with cultural activities, so you can indulge in a long weekend full of things to do.
Before a visit -- or just on its own -- you will enjoy Sandy's wonderful new memoir, Good Stock, Life on a Low Simmer (Midway Books, 2013). Cook your way through the book and you will be schooled indeed. On its cover is a quote from Esquire: "D'Amato has proved not only that you can go home again but that you can continue a tradition of making people very happy through your talents." Check out the schedule at www.goodstockfarm.com. For reservations call 413-247-6090.
Rozanne Gold is a four-time James Beard award-winning chef and author of Eat Fresh Food: Awesome Recipes for Teen Chefs, Healthy 1-2-3, and Radically Simple: Brilliant Flavors with Breathtaking Ease.
Related