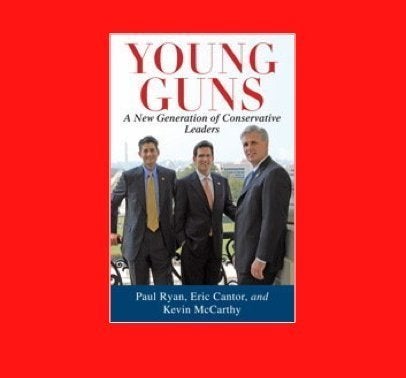 Three of the GOP's up-and-coming stars -- the party's "Young Guns" -- have announced plans to release a book just in time for election season.
The book, authored by House Minority Whip Eric Cantor (R-Va.), Rep. Paul Ryan (R-Wis.) and Rep. Kevin McCarthy (R-Calif.) and subtitled "A New Generation of Conservative Leaders," will, according to a publisher's description, "outline a new direction for the Republican party in terms of engaging a new and diverse party leadership, modernizing and winning policital campaigns, and thinking about the long term policies that will show how to restore America's greatness by reasserting and reapplying its principles."
The description continues:
A year and a half into President Obama's administration, it has become clear that the voters' disgust with Washington has been mistaken for the desire for a far-left agenda. Cantor, Ryan and McCarthy are proud Republicans. But they believe that thier [sic] party has lost sight of American ideals. Through campaign support for those who believe in private sector job creation, maximized individual freedom, and a better America for our children, the Young Guns are changing the face of the Republican Party and giving Americans a road-map to get back to the American Dream.
A reader over at Ben Smith's Blog on Politico notes that the cover picture is the same one that was used for an earlier edition of The Weekly Standard.
Popular in the Community