In the wake of last week's mass shooting at Marjory Stoneman Douglas High School in Parkland, Florida, students and other activists demanding lawmakers act on gun control legislation are organizing marches and school walkouts.
Below are the biggest upcoming protests around the issue. We'll update this as more are announced.
National School Walkout: March 14
A nationwide walkout organized by the people behind the Women's March is planned for March 14.
Youth EMPOWER, the Women's March branch of young activists, is asking students and faculty members to walk off campus at 10 a.m. for 17 minutes ― one minute for each person killed in the Parkland shooting.
"We need action," the group wrote on the official Facebook event page. "Students and allies are organizing the national school walkout to demand Congress pass legislation to keep us safe from gun violence at our schools, on our streets and in our homes and places of worship."
March For Our Lives: March 24
Students at Marjory Stoneman Douglas High School and other schools are planning a march on Washington ― with sister marches around the country ― to demand better gun control legislation on March 24.
"The mission and focus of March For Our Lives is to demand that a comprehensive and effective bill be immediately brought before Congress to address these gun issues," the organizers wrote on the event website. "No special interest group, no political agenda is more critical than timely passage of legislation to effectively address the gun violence issues that are rampant in our country."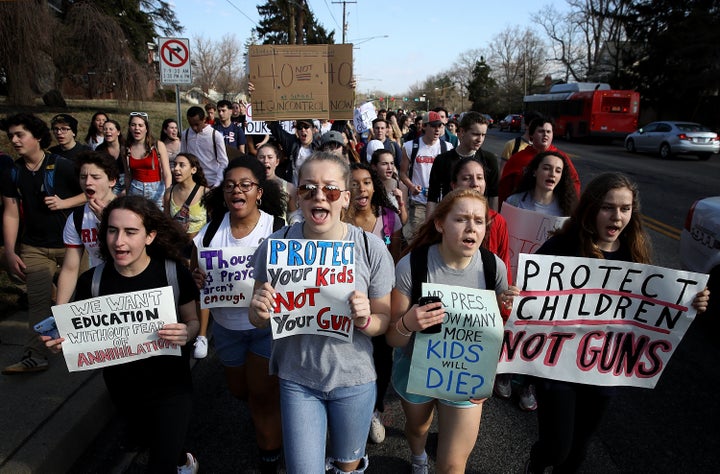 There are dozens of sister marches planned in other U.S. cities, and at least one internationally, in London.
A number of celebrities, including George and Amal Clooney, and Oprah Winfrey, have donated a collective $2 million to the March For Our Lives effort.
Columbine Anniversary School Walkout: April 20
Another "National School Walkout" is planned for April 20, the 19th anniversary of the 1999 Columbine High School shooting in Colorado.
The walkout is being organized by Connecticut high school student Lane Murdock, largely on Twitter and through a Change.org petition that's garnered more than 100,000 signatures.
She's asking students everywhere to wear orange, walk off campus at 10 a.m. and sit outside peacefully to demand that Congress act on gun control legislation.
"Gun violence surrounds us," Murdock told NBC News. "I remember my first lockdown drill as a normal thing," she said. "I saw how Newtown affected so many around me, and it hurt. It hurts that a shooter can go into a school [and] kill little kids, and adults just let it fade into the background like white noise."
Popular in the Community