President Donald Trump on Thursday tapped Hans von Spakovsky, one of the most prominent voices for voter fraud, to his federal commission to investigate elections.
Von Spakovsky, who served in the Department of Justice's voting section and the Federal Election Commission under former President George W. Bush, has long been an unapologetic proponent of voter ID measures. His appointment to the Election Integrity Commission raises serious questions about its neutrality, given his belief in widespread voter fraud and support of restrictive voting measures. Voting rights groups have been critical of the probe, which they say is merely a pretext for implementing more restrictive voting laws and justifying Trump's claim that millions voted illegally in the 2016 election. Several inquiries have found that while voter fraud does occur, it is not widespread.
Rick Hasen, an election law expert and professor at the University of California, Irvine, told "The New Yorker" in 2012 von Spakovsky was responsible for making an obsession with voter fraud a focus of the Republican Party.
"Before 2000, there were some rumblings about Democratic voter fraud, but it really wasn't part of the main discourse," he told the magazine in 2012. "But thanks to von Spakovsky and the flame-fanning of a few others, the myth that Democratic voter fraud is common, and that it helps Democrats win elections, has become part of the Republican orthodoxy."
In 2005, while he was serving in the Justice Department, Georgia submitted its new voter ID law to the DOJ for review, as required by the Voting Rights Act at the time. Four of the five lawyers reviewing the request at back then recommended rejecting the law based in part on the way it would unfairly affect minorities and low-income people, according to "The Nation." But von Spakovsky secretly gave the fifth lawyer, Joshua Rogers, his own articles and arguments supporting the Georgia law. Rogers authored a dissenting memo that eventually became the basis of the department's decision to authorize the law, according to "The Nation."
"There are few people who have worked harder to push voter suppression efforts than von Spakovsky. He was one of the key drivers of the politicization of the Justice Department's civil rights work during the Bush administration," said Kristen Clarke, president of the Lawyers' Committee for Civil Rights Under Law in a statement. "His appointment makes clear that the Election Integrity Commission is a vehicle intended to promote and advance policies that restrict access to the ballot box."
Prior to von Spakovsky's appointment, advocates raised concerns about Kansas Secretary of State Kris Kobach (R), who is leading the probe. Kobach is a staunch advocate for restrictive voting legislation and pushed a law in his state that required people to prove their citizenship when they register to vote and show photo ID at the polls. Federal courts have stepped in to block the law.
He has also attacked the National Voter Registration Act, the 1993 law that requires state motor vehicle agencies to offer people the opportunity to register to vote when obtaining a driver's license. The law has dramatically expanded the franchise, but von Spakovsky once wrote in 1997 certain aspects of the law may "potentially destroy the security and integrity of the voter registration system and undermine public confidence in elections." He also doubted voter registration issues were the reason many people did not vote.
"Recent changes in the federal law, intended to increase voter turnout, are based on the mistaken belief that low voter turnout is due to the difficulty or complexity of the registration process," he wrote. "In reality, large numbers of Americans do not vote for reasons ranging from apathy to satisfaction with the status quo, with the majority of nonvoters being young, college-educated professionals in their 20s and 30s for whom voter registration poses no problem."
The NVRA sets very specific conditions under which a state may remove voters from its rolls, but von Spakovsky has long been an advocate of purges. In his 1997 article for the Georgia Public Policy Foundation, von Spakovsky complained it was too difficult for states to remove voters from its rolls.
His longstanding interest in easing purging is notable because on Wednesday the commission requested every state provide personal information about all voters on its rolls. Separately, the Department of Justice on Wednesday sent a letter to all states asking them to outline their voter removal policies under NVRA.
Von Spakovsky has also exaggerated the pervasiveness of voter fraud in the past. In a 2008 op-ed, he wrote "one doesn't have to look far to find instances of fraudulent ballots cast in actual elections by 'voters' who were the figments of active imaginations." He went on to cite a grand jury report from 1984 claiming to detail extensive voter fraud. But when Hasen requested von Spakovsky provide him with a copy of the grand jury report while he worked on a book, von Spakovsky refused. Von Spakovsky told "The New Yorker" the grand jury report recommended voter ID as a remedy for fraud. However, the magazine found that it actually only recommended voter ID as one of several possible remedies.
Von Spakovsky's presence on the commission also raises concerns about the credibility of the final report it will issue. "The Nation" reported that when he was at the FEC, von Spakosvsky pushed to have the wording changed in an Election Assistance Commission report that stated, "There is widespread but not unanimous agreement that there is little polling place fraud." Von Spakovsky reportedly pushed to have it change to say "There is a great deal of debate on the pervasiveness of fraud."
Allegra Chapman, director of voting and elections at Common Cause, said von Spakovsky only really pursued voter ID requirements and purging litigation under NVRA when he was at the Justice Department.
"The appointment of Hans to this commission just seals the deal that this is essentially somewhere between a sham and a witch hunt," she said in an interview. "He really does nothing to advance voting rights. I think both he and Kris Kobach are pretty much infamously acknowledged as two master manipulators of vote suppressive efforts."
Before You Go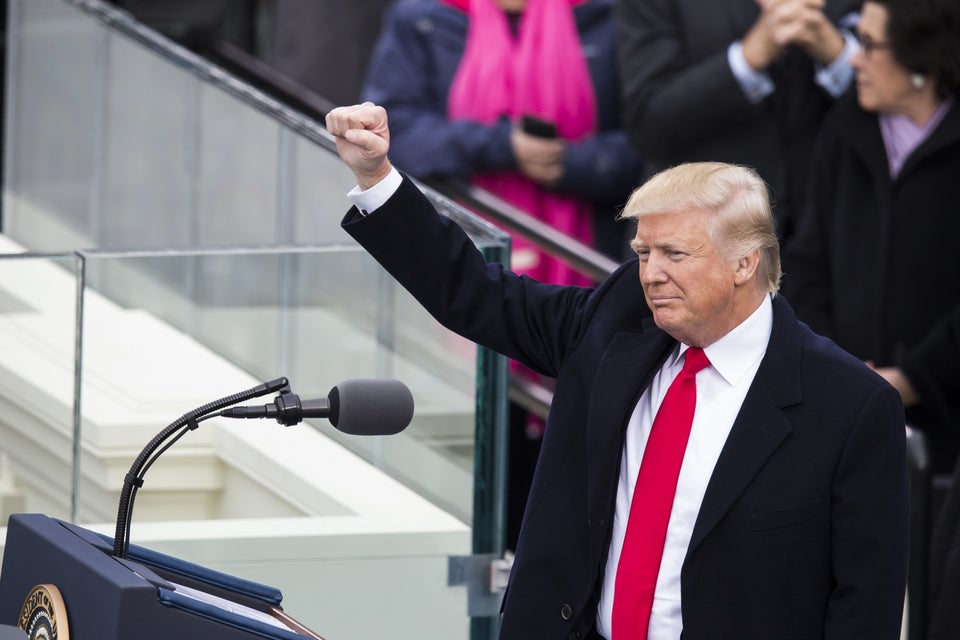 Best Photos From Trump's First 100 Days
Popular in the Community