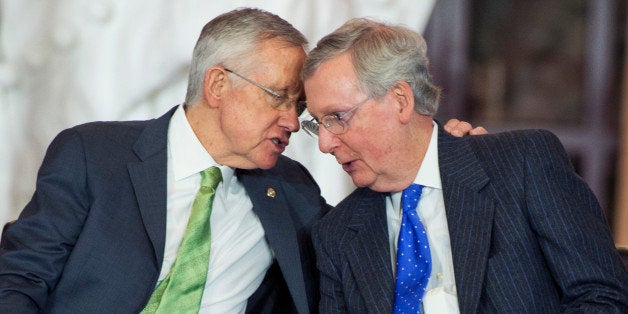 WASHINGTON -- Senate Majority Leader Harry Reid (D-Nev.) is using his last days at the helm of Congress' upper chamber to push through some of President Barack Obama's most contested nominees.
The list includes several nominees that will have no chance of getting a vote once Republicans take control of the Senate in January, such as surgeon general nominee Dr. Vivek Murthy, deputy Secretary of State nominee Tony Blinken and Sarah Saldana, Obama's pick to head Immigration and Customs Enforcement. Several judicial and executive branch nominees are also on the list.
Reid got an opening to hold votes on the nominations thanks to an eleventh-hour effort by Sens. Ted Cruz (R-Texas) and Mike Lee (R-Utah), who took to the Senate floor on Friday night to demand a vote on an amendment that would defund Obama's executive order on immigration. The move by the two conservative allies forces the Senate to hold a rare weekend session which may not end until Monday.
Due to Republican objections, Reid will be forced to hold a series of procedural votes on each nominee, rather than a simple yes-or-no vote. Speaking on the Senate floor Saturday, Reid criticized Republicans for feigning anger over the nominees despite having known for weeks that he intended to hold a vote on them before the end of the lame-duck session.
"It's clear that this impasse we're having here today is not about nominees. It's about preventing us from funding the government," Reid said. "Senate Republicans are forcing completely unnecessary procedural votes just to waste time and slow us down from funding the government. It doesn't have to be this way."
"Regrettably, a small group of Republicans has determined it's in their political interest to hold this legislation hostage," he added.
Reid's comments referred to a $1.1 trillion omnibus spending bill that the House passed on Thursday, which will keep the government running through next September. The Senate was expected to vote on the measure on Friday, but those plans were soon thwarted by Cruz and Lee's immigration amendment.
Cruz, a vocal opponent of Obama's executive order on immigration, questioned whether his party's leaders would follow through on their pledge to fight the president's action early next year.
"We will learn soon enough if those statements are genuine and sincere," Cruz said. "We will learn in just a few weeks if leadership intends to follow through on promises they have made over and over again."
But Cruz's stand will do little to prevent the omnibus from clearing final passage on Monday. If anything, the delay appears to have paved the way for Reid to start the process of squeezing the nominees through.
Murthy's nomination, for example, has been stalled since March over fierce opposition from the National Rifle Association due to comments he made on gun control. A senior administration official told The Huffington Post last week that Murthy's confirmation is a "top priority" for the White House.
UPDATE, 2:26 p.m. -- Murthy cleared the first procedural hurdle by a vote of 52-40. Votes on both cloture and confirmation could come as early as Monday.

REAL LIFE. REAL NEWS. REAL VOICES.
Help us tell more of the stories that matter from voices that too often remain unheard.
BEFORE YOU GO
PHOTO GALLERY
U.S. Capitol Photos