The panic started shortly after 8 a.m. when residents, many who were just starting their days, received a striking alert on their cell phones. The same alerts were broadcast on TV and radio stations.
"BALLISTIC MISSILE THREAT INBOUND TO HAWAII," the statewide emergency alert read. "SEEK IMMEDIATE SHELTER. THIS IS NOT A DRILL."
More than 30 minutes later, the state issued a correction. Gov. David Ige claimed that a state employee had "pressed the wrong button" and sent the alert by accident.
But in those minutes, the fear and panic were real.
The alert forced people to act quickly and make difficult decisions. Is there enough time to gather family members? Should they hide in the closet? Should they take refuge in a tunnel under a mountain? None of these options guaranteed safety.
On a beach on Oahu's north shore, residents on a morning walk bolted to take cover in their nearby homes. Drivers in cars pulled over to tell pedestrians of the incoming missile.
In Honolulu, people huddled together and waited for the state's sirens to go off. The state implemented monthly nuclear warning siren tests in December in order to prepare residents of a potential attack on the state. The attack signals (which sound like a minutelong beep) are tested at the beginning of every month, along with the state's ongoing tsunami warning tests.
Many sent messages of "Goodbye" and "I love you," in fear they wouldn't be able to say it again.
"It was surreal, actually," Chea Paet, 35, told HuffPost. Paet, who lives in the Portlock neighborhood of Honolulu, was unloading his boat at the front of his house when his roommate showed him the alert.
"I immediately ran into the house to wake up my fiancée and told her we needed to get to the guest room or pool in case we saw the blast," he said, adding that he told his fiancée to text her parents "goodbye in case we didn't make it."
"We stood around like it wasn't actually happening," said Paet. "I told her I loved her and that this could be the end."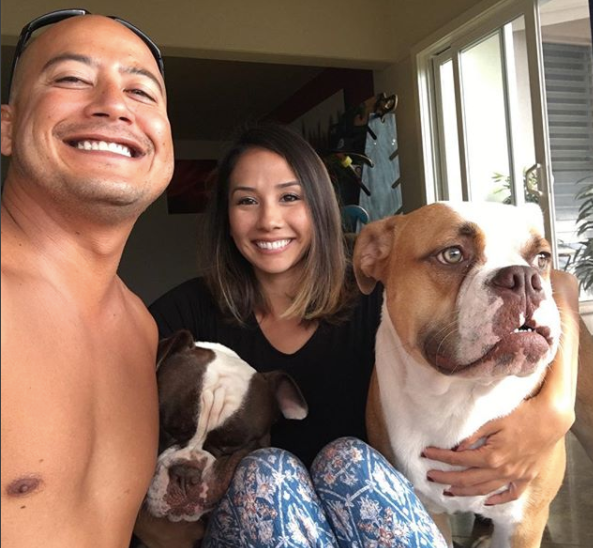 Destinee Solis, 24, was in tears as she packed diapers and clothes, and placed her children into the closet. She and her husband live in the town of Wahiawa, a short drive from the U.S. Army's Schofield Barracks.
"Once I finished, I went in and sat with my kids, hugged them tightly, closed my eyes and just hoped we would make it," Solis told HuffPost. "My husband waited outside the closet door. At one moment, I went out to hug him and basically say our goodbyes."
Solis said her husband called his leaders in the Army to find out more about the situation. As they waited, she said she feared for her and her family's life.
"I didn't want my kids to see the fear we felt waiting for [the missile] to hit," Solis said. "These moments were the scariest, darkest moments of my life. I was mentally preparing myself to lose my kids, my life."
Chris Wall, a graduate student at the University of Hawaii, was headed from his home in Honolulu toward a beach on the island's east side when he received the alert. He turned the car around and sped back to his wife and newborn child.
Once home, the couple began filling water bottles and latching windows shut. They tried to call 911 but the phone wouldn't ring, Wall said.
"It was just complete panic, with neighbors running around looking for insight, looking for cover," Wall told HuffPost. "Babies crying. Just pandemonium."
Wall added that he hoped state officials would take the steps to ensure a false alarm like this doesn't happen again.
"Thirty-eight minutes is just unacceptable," he said, referring to the time that went by between the initial alert and the correction. "I'm sure that people were put in serious danger."
Jessica Frick, a resident of Laie, said that it was difficult to find information about whether or not the missile alert was real. Frick said she and her husband already have problems hearing the state's monthly tsunami warning siren tests from their house.
"We sought out answers from news outlets but had zero luck," Frick told HuffPost. "Then we sought out answers on social media. Mainlanders and [Rep. Tulsi Gabbard's (D-Hawaii) social media accounts] were how we found out it was a mistake."
The false alarm showed Frick how unprepared she was for such an attack.
"We realized we are definitely not prepared," she said. "But for a disaster of that type of magnitude, how prepared can you really be?"
State lawmakers have criticized emergency officials for the error, which caused widespread fear.
Sen. Brian Schatz (D-Hawaii) called the slip-up "totally inexcusable."
"The whole state was terrified," he tweeted Saturday. "There needs to be tough and quick accountability and a fixed process."
After the alert was broadcast across the islands, Rep. Gabbard told CNN that "the people of Hawaii just got a taste of the stark reality of what we face here of a potential nuclear strike on Hawaii."
"This is a real threat facing Hawaii," she added.
The Federal Communications Commissions has launched a full investigation into why the false alert was sent.
In the wake of the incident, Gov. Ige vowed to prevent any future errors of this magnitude.
Support HuffPost
The Stakes Have Never Been Higher
Related
Popular in the Community