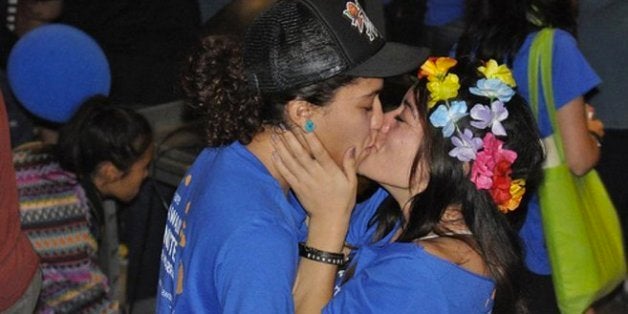 Eager to avoid the loud and lengthy protests over same-sex marriage that disrupted the Hawaii House of Representatives this week, the state Senate may act swiftly on Senate Bill 1.
Senators are considering accepting the House's amended version of SB 1 that expands religious exemptions, removes language concerning parental rights and changes the effective date to Dec. 2.
The Senate could vote on the historic legislation as early as Tuesday. That would avoid conference committee deliberations between House and Senate members and immediately send the bill to the desk of Gov. Neil Abercrombie, who has championed the legislation.
The governor's signature on SB 1 would make Hawaii the 16th state, along with the District of Columbia, to legally recognize gay marriage.
"I commend the House of Representatives for taking this historic vote to move justice and equality forward," Abercrombie said in a statement after the House voted 30-19 to pass the bill late Friday night. (Two House members, who were formally excused, were absent.)
"After more than 50 hours of public testimony from thousands of testifiers on both sides of the issue, evaluating dozens of amendments, and deliberating procedures through hours of floor debates, the House passed this significant bill, which directly creates a balance between marriage equity for same-sex couples and protects our First Amendment freedoms for religious organizations," he said.
The bill could encounter snags in the Senate, but nothing like what happened in the more evenly divided House this week. Republican Sam Slom or any of the three Democratic senators who also voted "no" on SB 1 last week could mimic the stalling tactics that House opponents employed, like proposing floor amendments that were destined to fail.
The Senate, the Abercrombie administration and marriage-equality advocates have been closely following SB 1's long journey through the House. Organized — and galvanized — opposition to the legislation in and around the capitol, especially from church groups, has only grown stronger, even as the bill inched toward passage.
The fervor over the bill was evident again Friday, when the House voted on a third and final reading to approve SB 1 after 12 hours of floor deliberation and two dozen recesses. It resembled Wednesday's 11-hour session, when representatives tried to stop SB 1 by introducing multiple floor amendments, each one summarily voted down by voice and roll-call votes.
Just as on Wednesday, hundreds of people on both sides of the same-sex marriage debate were on hand. But it was the opponents who were more numerous and vocal, shouting "Let the people vote!" for hours in the Capitol Rotunda. Rising tensions prompted House Sergeant-at-Arms Kevin Kuroda to craft an arrangement Thursday whereby the rotunda, the House gallery and Beretania Street were divided into equal-sized sections so both groups could do their thing, but with less risk of physical confrontation Friday.
It worked. SB 1 opponents were just as vocal as before, but there were also more rainbow-lei-wearing supporters on hand, demonstrating that they would not be intimidated in their campaign for marriage equality.
What was different about Friday's House session, however, was that it was televised by Capitol TV. The increased coverage carried the same arguments representatives made Wednesday to a broader audience.
Lawmakers' actions included proposing amendments to further expand church exemptions from the public accommodations law, allow "conscientious objectors" to refuse service to same-sex couples, let teachers opt out of teaching the "homosexual lifestyle" and permit parents to remove their children from class when that happened, and establish a task force to study marriage equality.
One by one, Republicans Gene Ward, Bob McDermott and Richard Fale spoke in favor of the amendments, joined at times by Democrats like Sharon Har and Marcus Oshiro. McDermott once again worried about Dick and Jane books forced to show Dick and Dick or Jane and Jane; Fale once again argued that Abercrombie had divided the community by ordering the special session; and Ward once again expressed concern for "mama bears" threatened by a penis entering an anus.
And one by one, all of the amendments went down to defeat. Repeatedly throughout the day someone would call for a recess — more than 20 times by 6 p.m. — when representatives would huddle to talk on the chamber floor or disappear into the Democrats' caucus room. One very long recess came in the middle of the day; it coincided with lunch.
Democrats Rida Cabanilla and Isaac Choy, both "no" votes on SB 1, were absent from Friday's session. Oshiro himself showed up late, wearing a bright aloha shirt that stood in colorful contrast to his male colleagues' dark business suits.
By the time the floor session ended around 11 p.m., most representatives seemed to have taken to heart the words of Democrat Gregg Takayama, who opened Friday's session with advice from John F. Kennedy.
To find courage to do the right thing, Kennedy said, a person "must look into his own soul. ... A man does what he must — in spite of personal consequences, in spite of obstacles and dangers and pressures — and that is the basis of all human morality."
Or in the words of the "great philosopher" Macklemore, a rapper whose chart-topping "Same Love" song Rep. Kaniela Ing quoted on the floor, "a piece of paper won't solve it all, but it's a damn good place to start."
Before You Go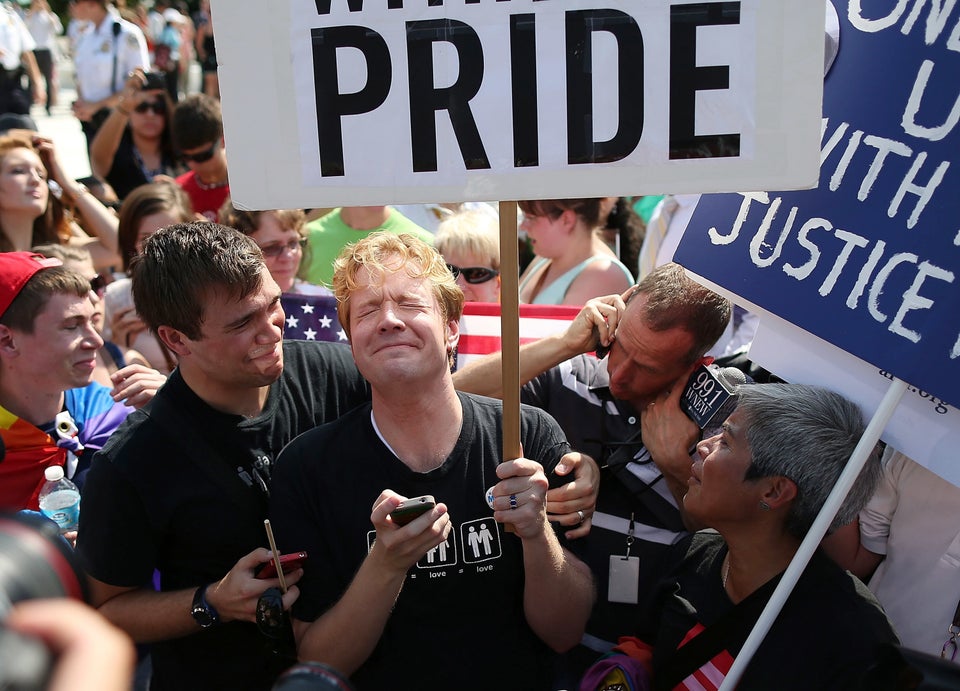 SCOTUS Decisions On Prop 8, Defense Of Marriage Act
Popular in the Community