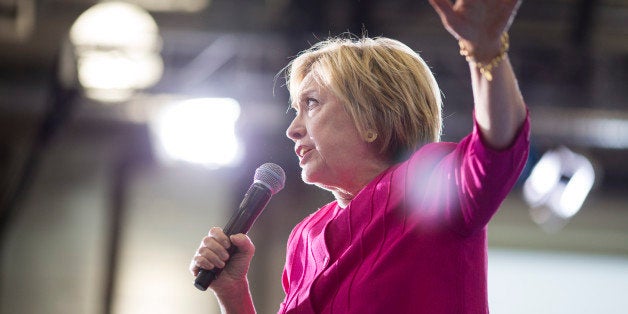 When my now grown daughter Ellie was in third grade, I was lamenting the lack of a postal holiday recognizing the birthday of a famous American woman.
My daughter looked thoughtful before suggesting brightly, "What about one of the woman presidents?"
Here we are 25 years later, with no designated federal holiday honoring the birthday anniversary of an American female. Yet we appear to be on the cusp of electing our first woman president.
Be still, my beating heart.
Obstacles exist, and not just in the form of Julian Assange, Donald Trump, email-gate, or the naive notion that we live in a post-feminist era where electing a first woman president is no big deal. The highest hurdle is plain old sexism.
In April a friend posted this on Facebook: "Guy at a Brooklyn bar, angrily, listening to Hillary: 'You sound like my mother!'"
Hillary, in her pantsuits of many colors, reminds people of their mothers, their public school teachers and all the females in positions of authority over them when they were children. As Dorothy Dinnerstein wrote in her feminist classic The Mermaid and the Minotaur, females are the predominant force on the ground in the rearing and socialization of children and the most frequent source of thwarting the child's early attempts at agency ("Look, Ma, I'm going to run across the street against traffic"). As a result, many adults don't want to re-experience their earlier dependency on a powerful woman in authority. Plus, some people are just plain sexist, no psychoanalytic interpretations necessary.
I'm one of the 36 percent of the populace who trust Hillary and I want to see her elected to the highest office in the country. In a recently released collection of essays about Hillary and her presidential prospects, editor Joanne Cronrath Bamberger writes about Hillary's 2008 run for the White House: "... she was still a transitional woman trying to navigate the gap between twentieth century stay-at-home First Ladies and the first generation of accomplished feminist women who were going to 'have it all,' whether voters were ready for that or not."
Then as now, Hillary is a walking history lesson in the tremendous changes that have occurred for women since the late 1960s. She is, and always has been, whip-smart and wonky, and she is uber-accomplished. As President Obama said at the Democratic National Convention, "... there has never been a man or a woman -- not me, not Bill, nobody -- more qualified than Hillary Clinton to serve as President of the United States of America."
Nonetheless, Hillary occasionally expresses an earlier time's deference to these same men. At the Democratic primary debate in Miami in March, she said: "I am not a natural politician, in case you haven't noticed, like my husband or President Obama." When I made my first small campaign donation to Hillary, I wrote in the form's comment section that she should quit taking a one-down position to her husband or President Obama. She is clearly a natural at politics, no apologies necessary.
That said, she isn't flashy. As 9/11 first responder John Dolan said on the Shonda Rhimes' film that introduced Hillary at the Democratic Convention: "There are show horses and there are workhorses, horses that you count on to deliver, and she's a workhorse." She studies the issues, she researches policy, and she crafts reasonable solutions to social problems, whether on working for health insurance for children, trying for universal health care for all citizens of the United States, or securing help for victims of 9/11.
My 19-year-old son, Alex, like many in his generation, was initially skeptical of Hillary, but pragmatism won out. I support Hillary, not only out of pragmatism like my son, but also out of idealism. If we are mature enough as a society to elect a woman president, it will change our country for the better. It will also bring sexists out of the woodwork, just as Barack Obama's presidency has brought racists out of their dark hiding places. Hillary, if we are lucky enough to elect her, will grow into the office just as Barack Obama did. And we as a country will grow, too.
As Michelle Obama said in her speech before the 2012 Democratic National Convention: "... after so many struggles and triumphs and moments that have tested my husband in ways I never could have imagined, I have seen firsthand that being president doesn't change who you are -- it reveals who you are."
Hillary will be revealed as the person she always has been: practical, hard-working, tenacious, tireless, on the right side of justice in matters of gender, race and children. She will be calm, directed, and she will have done her homework. One day our country just might give her one of those postal holidays as first woman president.
Be still, my beating heart.
Calling all HuffPost superfans!
Sign up for membership to become a founding member and help shape HuffPost's next chapter