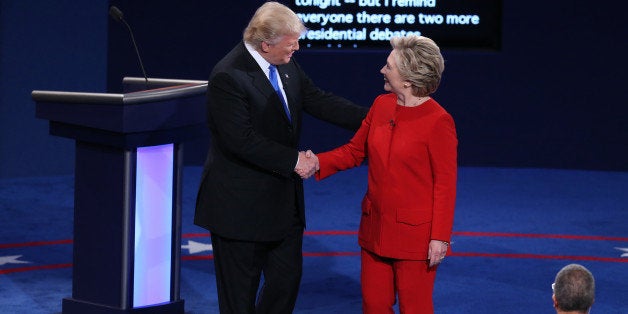 On September 26, Hillary Clinton and Donald Trump verbally sparred in the Hofstra Arena, setting the stage for the next six weeks before Election Day. What did we learn, what happens next, and what was hosting a presidential debate for the third time like for Hofstra (the only school to host three presidential debates consecutively)?
The Debate: On image, style, and substance, Clinton did better than Trump. She was at ease on stage, ready with catchphrases to cut through policy specifics (her opponent's "trumped-up trickle down" economic plan; "you live in your own reality"), and well-prepared for debate questions (as she told us). Trump appeared to have a slight cold, was on the defensive about earlier statements about Clinton's "look" (which he rephrased as "stamina" in the debate), and fell short with details on how he would improve the economy, race relations, and foreign policy. He asserted that he has "a winning temperament," but didn't show how his temperament or judgment are "much better" than his opponent's. Moderator Lester Holt turned over most of the time to the candidates, at the expense of losing some question time, but giving Clinton and Trump every opportunity to seize the initiative and press their case. One did; the other didn't.
What Comes Next? With the second presidential debate two weeks away, both candidates have some time to review the first debate and prepare for the next one. (The vice-presidential debate will take place Tuesday, October 4, at Longwood University in Farmville, Va.; the next presidential debate will be Sunday, October 9, at Washington University in St. Louis, Mo.; and the third presidential debate will be Wednesday, October 19, at the University of Nevada, Las Vegas). For Trump, practice may be key, particularly extended sessions with one opponent, rather than the many that he had during the primaries. Trump faced between four and 10 candidates in nine primary debates -- he skipped one in January 2016 -- and then three candidates -- Ted Cruz, John Kasich, and Marco Rubio -- in two primary debates. A two-candidate debate with a single moderator is an entirely different experience, and developing a strategy for raising topics (as Clinton clearly had with her comments about Trump's business practices and his remarks about women) is essential to maintain initiative and avoid being on the defensive. With the town-hall format in the second presidential debate, this may be more difficult, but candidates do have many opportunities to bring in the issues they want to discuss.
Hillary Clinton, in contrast, is a seasoned presidential-campaign debater: She participated in more than two-dozen Democratic primary debates or similar forums for the 2008 presidential race, including four one-on-one sessions with then-U.S. Senator Barack Obama; and she participated in 9 Democratic primary debates plus one town-hall forum for the 2016 presidential campaign, half of which were with only her main challenger, U.S. Senator Bernie Sanders. For Clinton, maintaining the momentum from her successful first general-election debate is important, as is demonstrating comfort with the less formal (though still highly structured) format of the town-hall debate.
What Did the Debate Mean For Hofstra? Nine weeks and six days after we learned that Hofstra University would host the first 2016 general-election presidential debate, we did it. Between July 19, when the Commission on Presidential Debates announced that Hofstra would host the first debate, and September 26, we developed a full public program of speakers, panels, and events on such diverse topics as the economy, U.S. foreign policy, race, religion, and the American presidency, and much more. And the logistical requirements for hosting a debate required countless hours from so many parts of the University, all of which came together seemingly seamlessly to make it happen.
For the students, it was an educational experience like no other. From meeting in the weeks before the debate with such political experts as Obama political strategist David Axelrod and former Republican presidential candidate Bobby Jindal; to being interviewed by local and national media throughout Debate Day; to seeing politicians such as Jesse Jackson and Jennifer Granholm stroll through the Student Center before the debate; to volunteering in the debate hall (and in some cases getting in!); to seeing Donald Trump in Spin Alley after the debate, as he came through to give his quick take (Trump: "Hillary Clinton failed. Because she can't bring it home. . . . And I think we proved that tonight.") -- students saw, learned, and participated, and they will remember. Having Hofstra in the news for participating in the democratic process was exciting, historic, and inspirational, and made students' already strong "Hofstra pride" soar.
Meena Bose is executive dean of public policy and public-service programs in the Peter S. Kalikow School of Government, Public Policy and International Affairs at Hofstra University, and director of Hofstra's Peter S. Kalikow Center for the Study of the American Presidency.
Calling all HuffPost superfans!
Sign up for membership to become a founding member and help shape HuffPost's next chapter