BEIRUT --
An 85-year-old Holocaust survivor entered the second day of her hunger strike on Tuesday, in protest over the Egyptian government's refusal to allow an international Palestinian solidarity march to enter the Gaza Strip.
American peace activist Hedy Epstein came to Cairo as part of an international delegation with participants from 43 countries. The delegation had planned to join Palestinians in a non-violent march from Northern Gaza toward the Erez border with Israel, calling for the end of the blockade on Gaza on the anniversary of the Israeli invasion last December. Egyptian authorities have refused to allow any of the 1,300 protesters entry into Gaza, prompting Epstein and many others to go on hunger strike.
"There comes a time in one's life when one has to step up and risk one's own body," she said. "We're in a desperate situation here, but not as desperate as the people in Gaza."
Epstein escaped Hitler's Germany in 1939, when she was 14 years old. Her parents sent her to England on the Kindertransport -- a rescue mission that took place nine months prior to the outbreak of World War II to evacuate predominantly Jewish children from Nazi Germany. Epstein's parents remained in Germany and she was never to see them again; they perished in the extermination camp at Auschwitz in 1942. Her extraordinary childhood is one of the reasons Epstein found herself inclined to become involved in the Palestinian solidarity movement.
"I've been involved with the Israeli-Palestinian problem for many years. It probably goes back to my childhood, because I born in Germany and my parents were anti-Zionists."
"When Hitler came to power in 1933 I was 8 years old, and my parents very quickly realized that Germany is not a place to raise a family. So they tried to leave to go anywhere in the world, but there was one place they were not willing to go, and that was Palestine."
After World War II, Epstein worked as a research analyst at the Nuremberg trials of Nazi doctors who performed medical experiments on concentration camp inmates. After she moved to the US, Epstein became an activist for peace and social justice causes. It was a particular event though, that triggered Epstein's interest in the Israel-Palestine conflict.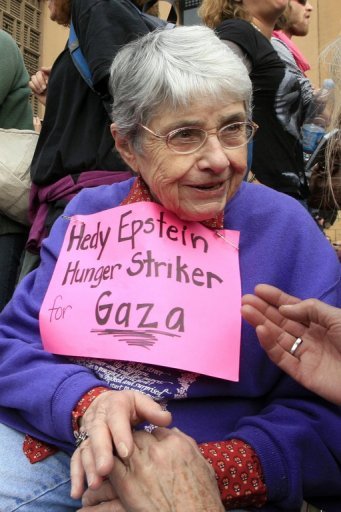 "I think for me the wakeup call came in 1982 with the massacres in the refugee camps of Sabra and Shatila in Lebanon. Up until then I had not paid that much attention to what was happening in that part of the world. Then I heard about that and questioned what is this all about," she said. "As I learned more and I discovered more, I became increasingly more horrified by the practices of the Israeli government vis-a-vis the Palestinian people. And I began to speak out publicly against those policies," she added.
Epstein acknowledged that she represents somewhat of an anomaly in the American Jewish community. "There is an almost thoughtless, blind support of Israel no matter what it does," she said.
"The issue for Israeli Jews and the American Jewish community is the Holocaust, and everything is due to the Holocaust. But Israel is not being persecuted now, Israel is the persecutor."
Epstein did, however, note a slight change in attitude recently: "Since the massacre in Gaza at the end of last year, I do see a crack in the way people are looking what Israel is doing, and that crack needs to be broken wide open, so that a change will take place."
"My hope for change is in some of the young people. I have noticed that some of the young people I speak to are not speaking in the same way as their parents do," she said.
"I don't know if this is going to make a difference. I started the hunger strike yesterday myself, and there are already many people from different countries who have since joined me. We have to try everything at this point"
The Egyptian government has justified its refusal to allow the activists entry for security reasons, citing tensions at the border.
A representative from an NGO involved in organizing the march said that the Egyptian government had agreed to allow 100 members of the delegation to enter Gaza. The decision followed negotiations late on Tuesday between organizers and diplomats at the US Embassy in Cairo. "It is a small victory for us, but it also exposes the security justification as inaccurate. If they can allow 100 to enter, why not 1000?" said Dana Balicki, national campaign manager for CODEPINK.
Israel has imposed a blockade on the Gaza Strip since Hamas were elected in 2006. The blockade was significantly tightened after Operation Cast Lead - the Israeli invasion of Gaza launched to stop rocket fire which killed over 1,300 Palestinians, over two-thirds of them civilians according to Israeli human rights group B'tselem. Thirteen Israelis were also killed, including three civilians.
The blockade which is enforced by Israel and Egypt, allows only the most basic humanitarian supplies into the territory, often causing food shortages and hampering efforts to rebuild infrastructure destroyed during the Israeli bombardment last December.
Related
Popular in the Community