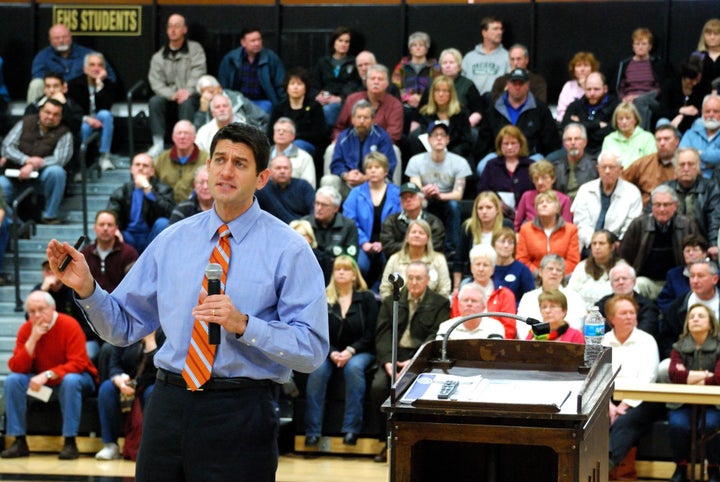 WASHINGTON -- On Thursday, more than 200 protesters impeded traffic in Washington state as they gathered near the offices of GOP Rep. Dave Reichert, chanting, "We need jobs. Jobs! Jobs! Jobs!" This is the third protest targeting Reichert since the vote on the debt ceiling, Patch reported.
He's not the only House Republican getting an earful from his constituents during the August congressional recess. In town halls from New Hampshire to Minnesota, GOP members have been bombarded with complaints.
In New Mexico last week, a woman angry about Congress' partisan squabbling over the debt ceiling cursed at Rep. Steve Pearce. In Alabama, several constituents blasted oil subsidies at an event hosted by Rep. Mo Brooks. More than 150 showed up in Pennsylvania to express their frustration to Rep. Mike Fitzpatrick about everything from student loans to Social Security.
Taxes have been a major theme at several town halls. In Illinois, when Rep. Randy Hultgren proposed making the U.S. tax code "flatter, fairer," his constituents responded by demanding that he support more taxes on the rich.
In New Hampshire, Rep. Frank Guinta -- who serves on the committee on oversight and government reform and the committee on the budget -- faced criticism from hurting voters. "I need desperate help," said John Cochrane, an attendee at Guinta's town hall who has been out of work for more than three years, according to Seacoastonline. "I want to be a good American again. I don't want to be a second-class American."
At an Ohio event for Rep. Steve Chabot, protesters held signs that read "Chabot Shame" and "Hands off my Medicare." Chabot promised the roomful of senior citizens that Medicare changes would affect only those 55 and younger. But one attendee, Teresa Law, told the Cincinnati Enquirer that she was unhappy with his answers. "I want to understand what in the world is going on here. We're just hearing more rhetoric and we're sidestepping the issues. It's maddening," she said.
Some Republicans sought to lower the temperature by holding virtual town halls or only appearing at forums where attendees had to pay to attend. Rep. Chip Cravaack (Minn.) spoke at an event this week for which a business trade group set an admission price of $10. Rep. Paul Ryan (Wis.) went to an event hosted by a local Rotary Club that cost attendees $15. Reps. Lou Barletta (Penn.) appeared at a $30-per-plate "CEO-to-CEO" event last week, and Rep. Renee Ellmers (N.C.) appeared at an event that cost $13. The event Rep. Ben Quayle (Ariz.) showed up to cost $35 a head for a Q&A session and catered lunch.
This tactic may have helped some Republicans avoid protesters, but others weren't so lucky.
House Speaker John Boehner and Minnesota Rep. Erik Paulsen held a $10,000-a-person golf outing. (Lunch but no golf with both congressmen and Rep. Cravaack cost $1,000 a head.) Nearly 200 protesters showed up outside with signs accusing Republicans of protecting corporations over people, and a plane flew overhead with a banner that read, "Where's our piece of the pie? Jobs now."
WATCH the local Fox affiliate's report on the protest:
Correction: An earlier version of this article incorrectly stated that Republican congressmen charged their constituents admission fees for town hall events. Many Republican congressmen spoke at events held by outside institutions where there was an admissions fee.

This article also incorrectly stated that Rep. Chip Cravaack (R-Minn.) appeared at a $10,000-a-person golf outing with House Speaker John Boehner and fellow Minnesota Rep. Erik Paulsen. Cravaack does not play golf, according to his office, but he did show up to the luncheon after the game.
Popular in the Community