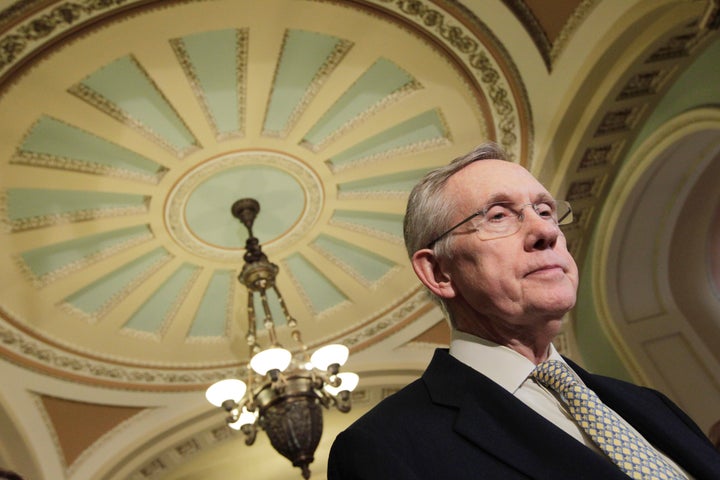 WASHINGTON -- With just three days left until the country is set to begin defaulting on its debt, the House rejected a debt proposal by Senate Majority Leader Harry Reid (D-Nev.) on Saturday -- a move Republicans designed purely for theatrics to show the bill lacked the votes to pass.
The bill was rejected by a vote of 173 to 246. Eleven Democrats joined all of the House Republicans in opposing Reid's bill. The defecting Democrats included Reps. John Barrow (Ga.), Dan Boren (Okla.), Bruce Braley (Iowa), David Loebsack (Iowa), Jim Matheson (Utah), Mike McIntyre (N.C.), Collin Peterson (Minn.), Mike Ross (Ark.), Kurt Schrader (Ore.), Peter Visclosky (Ind.) and David Wu (Ore.).
Reid and House Minority Leader Nancy Pelosi (D-Calif.) headed to the White House to discuss the state of play with President Barack Obama shortly after the bill went down.
House Republicans pushed Reid's bill through via a restrictive voting process: The measure was taken up on the suspension calendar, which requires a two-thirds vote to pass, bars amendments and limits debate to 40 minutes.
Rep. James McGovern (D-Mass.), who sits on the House Rules Committee, called the day's business "a joke," "a disgrace" and "an insult to the American people."
The effect of taking up Reid's bill on the suspension calendar -- a move typically reserved for noncontroversial measures -- is "a $2.5 trillion bill being brought up under the same process used for post offices," McGovern said.
House Republicans maintained that the action was necessary to show that the Democratic plan can't pass and key to moving overall negotiations forward. The vote comes a day after the Senate voted down a GOP debt plan put forward by Speaker John Boehner (R-Ohio). So the result of Saturday's vote is that the majority party in each chamber has rejected the other's plan -- and at least appeared to draw a line on what they won't accept in a final deal.
"This side of the aisle is committed to reaching a solution," Rep. Scott Garrett (R-S.C.) said. "But at the of the day … let it be clear, with God as my witness, we will not compromise on our principles -- our principles of defending the Constitution."
Partisan tensions boiled over at several moments in the debate.
Pelosi said Boehner "chose to go to the dark side" by adjusting his debt proposal to win over conservatives. Rep. Michele Bachmann (R-Minn.), a GOP presidential candidate, accused President Barack Obama of having just "coolly stood on the sidelines" as Congress wrestled with a debt solution.
At one point, Rep. Sander Levin (D-Mich.) started a shouting match with House Rules Chairman David Dreier (R-Calif.) over the point of holding Saturday's doomed vote at all. "This is a disgraceful moment, Mr. Dreier," Levin said. Dreier countered that the House vote will help move the process forward. The two went back and forth vying for recognition to speak until Levin stormed off after shouting into the microphone, "Mr. Dreier, that is pernicious nonsense!"
For all the partisan sniping on Capitol Hill, the reality is that Reid's and Boehner's plans aren't that far apart. Both make substantial spending cuts, both have some form of spending caps and both would establish a "super Congress" composed of 12 members from both parties and chambers that would be given the power to make major changes to entitlement programs. Most importantly, both allow for a debt ceiling increase before August 2, when the government is expected to run out of money to pay its bills and begin to default.
There's "not that much difference," between the two, Rep. Jeff Flake (R-Ariz.) told The Huffington Post on Friday. Flake voted for Boehner's bill and said he, for one, would have supported Reid's plan if he attached it to a vote on a balanced budget amendment.
But with both the Reid bill and the Boehner bill now off the table -- at least in their current forms -- House and Senate party leaders are heading back to the table to come up with another path forward.
Some Democrats continued to call on Obama to go around Congress and use the Constitution to avert a debt default.
"The president needs to pull the 14th Amendment," Rep. Eliot Engel (D-N.Y.) said on the floor. "I think he should because the Republicans have shown no sign of compromise."
Calling all HuffPost superfans!
Sign up for membership to become a founding member and help shape HuffPost's next chapter