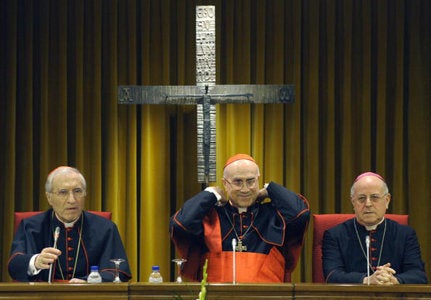 Bob Hutchins and Greg Stielstra have a combined 30 plus years of experience in the faith based marketing arena. Currently, Hutchins runs BuzzPlant and Greg owns PyroMarketing, both firms that assist companies in new media marketing. Together, they just released Faith-Based Marketing: The Guide to Reaching 140 Million Christian Customers. The new book is an innovative manual to help business people understand, and reach this untapped group. I spoke with them about the best, and most efficient, way to reach this demographic.
There are 140 million weekly churchgoers who make up the largest, most faithful, highest spending market segment in the United States. Yet, you write that most businesses don't market to this group. Why not?

Businesses don't target Christians because most are still using demographic data to define their customers. Demographics were the market segmentation choice of the last century, but ideology will rule this one.
For most of history, markets were conversations between a buyer and a seller. It was a face-to-face dialogue focused on people and their needs.
The advent of mass media allowed sellers to speak to millions at once. But, the crowd couldn't reply. Consequently, mass advertising was a monologue that shifted the focus from people to products.
Initially mass media audiences were so vast and affordable it didn't make sense to segment them. But as programming choices increased, audiences splintered. As they did, it became useful to target the segments most likely to buy. Since only demographic data was available, marketers fixated on a person's age, sex, income, and education as if they alone predicted a person's behavior.
The modern digital era moves marketers beyond demographics by letting them glimpse people's beliefs, passions and interests according to their behavior online. These predict behavior much more accurately.
Online behavior reveals that people don't define themselves demographically. That explains why there are no Facebook groups for traditional segments like women 25-54 or households making $75k+/yr. Instead, people define themselves according to their interests and gather with others who share them which is why there are Facebook groups for Scrapbooking, Yoga, and fans of the Green Bay Packers.
Beliefs drive behavior and Christians are the largest belief group in the world (2.1 billion) and in the United States (231 million). As marketers stop relying on out-dated demographics and begin to monitor belief instead, they will recognize the value of Faith-Based Marketing.
You say most businesses do not understand faith communities. What do you think is the biggest misunderstanding?
Many businesses underestimate how many of their current customers are Christians and how important their faith is to every aspect of their lives. This can cause them to make silly decisions and to be honestly surprised when their customers complain or their business suffers.
That's what happened when Lowes changed the name of "Christmas Trees" to "Family Trees" in a flyer a couple of years ago. The switch created a gigantic backlash from upset customers causing the chain to quickly apologize and return to calling them Christmas trees.
By understanding the size and sensibility of your Christian customers companies like Lowes can not only avoid embarrassing mistakes but they can proactively work to increase business with that important segment.
What companies do market themselves to these communities the best?

I think Chick-fil-A is an example of a company that has done a good job with faith-based marketing. It has acknowledged its many Christian customers by including CD's and toys with Christian messages, like those from Veggie Tales and Adventures in Odyssey, in children's meals.
Chick-fil-A also supports several Christian organizations like Athletes in Action and Campus Crusade for Christ with donations.
Perhaps the most significant evidence that Chick-fil-A's understands and respects its Christian consumers is its decision to honor the fourth commandment to honor the Sabbath. Chick-fil-A does this by closing on Sundays. Company founder S. Truett Cathy described the decision this way: "Our decision to close on Sunday was our way of honoring God and directing our attention to things more important than our business. If it took seven days to make a living with a restaurant, then we needed to be in some other line of work. Through the years, I have never wavered from that position."
Bob, you were behind the online marketing campaign of "The Chronicles of Narnia" and "The Passion of the Christ." How did you structure that campaign (I believe this was before the days of Twitter) and is there a lesson to take away from the movie's successful online campaign?
The main thing we wanted to do was to connect with people who were fans of CS Lewis and specifically his Chronicles of Narnia series. His books are very popular amongst Christians.
By reaching out to the Christian market via email lists, blogs, and paid advertising, we were able to create ongoing updates about the movie. We also created online tools that people could use to help promote the film in the form of downloadable posters, info cards, send to a friend links, etc. We also created a desktop alert module that was a tool that sat right on top of the computer desktop so that information was pushed directly to the fans and they were notified when new updates were available about the film.
The lesson to take away is that since Christians are the most socially connected demographic in the country (most meet face to face at least twice per week) you must give them to the tools to spread the word about your film, product , or service.
How have you tried to market your book? What has the reaction been from Faith-Based communities?

We have a muti-facetted campaign for our book, but I'll call attention to three elements.
We created a website at www.faithbasedmarketing.com. Not only does it provide information about the book, but it is also an extension of the book itself. The final section of our book is a directory of Christian organizations, events, media, gatekeepers, concerts, and more. It provides entry points into the Christian subculture. But we were able to compile far more information than we could fit in ten books, so we put it all in an online database at our website. People who buy the book get free access for 90 days, but anyone can subscribe for a small fee.
Rogers and Cowan is handling our publicity and is a great example of a company that's comfortable in both the mainstream and Christian worlds. Their work for Hollywood stars helps them build relationships with media like The Huffington Post, but they have also opened a faith-based division that allows them to book interviews for us on the Moody Radio Network. Consequently, our book gets the kind of complete promotion that's available to any business that includes faith-based marketing in its mix.
Finally, we worked with CCN (The Church Communications Network) to create a one-hour Faith-Based Marketing television show designed to help business people better understand how to reach the Christian market. That program will be broadcast to more than 2500 churches across the country via satellite. EMF Broadcasting, the nation's largest owner of Christian radio stations, is helping to promote the broadcast by inviting business people in each of the 400+ markets where it has stations to attend.
We hope that our book can help bring the Christian and business communities together for their mutual benefit and see this particular promotion as an example of that collaboration.

Support HuffPost
The Stakes Have Never Been Higher
Related
Popular in the Community