Crowdfunding is a global phenomenon but contrary to what most think, it's not a new model of funding. Nonprofits have been utilizing crowdfunding for longer than you may realize. In 1949, Actor and Comedian Milton Berle hosted the very first telethon for the Damon Runyon Cancer Research Foundation. A little over $100,000 was raised in 16 hours. That's the equivalent of nearly a million dollars today! This telethon is probably the earliest example of public nonprofit crowdfunding.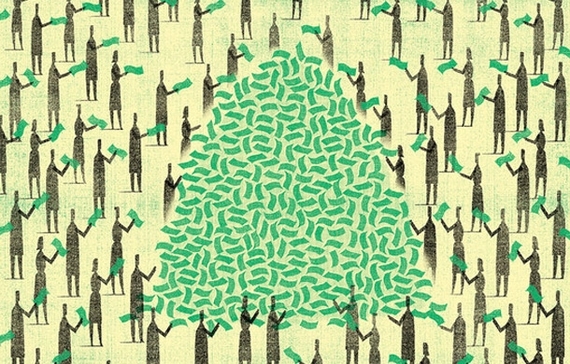 You see, crowdfunding is simply the act of accruing micro donations to reach a larger fundraising goal. Websites like Kickstarter or IndieGogo didn't invent crowdfunding, rather they were some of the first to bring the idea to the masses and provided them a platform that democratized crowdfunding, making it available to anyone.
For nonprofits, online crowdfunding is one of the best ways to engage your current base of supporters as well as reach out to and acquire new donors. But beware, crowdfunding is more than meets the eye! Like any form of fundraising, it's hard. It's no silver bullet, but if executed correctly, it can (and should) be far more cost-effective than your current fundraising methods. To help you dive into crowdfunding, I've put together five simple steps that you can take to dramatically increase your likelihood of crowdfunding success.
Step 1. Choose An Obtainable Goal
One of the biggest mistakes I've seen nonprofits make in crowdfunding is setting an unrealistic fundraising goal. A common misconception when hosting your campaign on a third party platform (e.g. IndieGoGo or Crowdrise), is that there are donors trolling the web looking for charities to support. Nonprofits assume that these random do-gooders will stumble across their campaign and give. The reality is that we don't shop for philanthropy. If as an organization you only have 500 people on your mailing list, then a $100,000 funding goal is probably unrealistic. Your fundraising goal should be based on the size of your network and reach. The idea is that you first reach out to your current supporters to build your foundation, and then empower them to share the campaign with their networks to reach new potential donors.
Step 2. Create a Fundraising Video
Video content is the most shared content online. I talked a bit about this in my last blog post. Donors don't make photocopies of direct mail solicitations to share with their friends. They do however share video through email, Facebook and Twitter (and they do it a lot). Video is the best way to introduce a new potential donor to your cause, and gives you ownership and consistency of how people learn about your mission. Video production does not have to be expensive. I've seen organizations spend a minimal amount and get a huge return. 100Cameras, a NYC-based nonprofit with only one full-time paid staff member spent just $400 on this video to raise over $50,000 in 45 days. Fundraising videos should be no longer than 3:30 minutes, anything longer and you risk losing your viewers' attention. In that time you can state who you are, what you do, why you're raising money and how supporters can get involved.
Step 3. Secure Your Guarantees
One of the most difficult parts of crowdfunding is getting off zero. Fundraising campaigns tend to be a bit like middle school lunch tables: Nobody wants to be the first to sit down but they quickly attract fair-weather fans and band-wagon jumpers. Donors tend to follow the masses and many donors may feel uncomfortable donating to a campaign with a $50,000 goal if the campaign is on zero dollars raised. There are some things you can do to mitigate this. Well before your campaign launches you should reach out to your closest friends, biggest advocates and various board members that you know for a fact will support the fundraiser. Inform them of your plans to launch the campaign, and request that they please donate on the first day, or better yet, within the first few hours of launching. Here at WeDidIt we sometimes even push our clients to do a "soft launch" the night before the campaign is scheduled to be widely promoted. That way your early advocates can donate and by the time the campaign has a hard launch and reaches the masses it's already well off zero.
Step 4. Do Your Homework Before It's Due
I'm a huge believer that fundraising success is not made at the gala, once the letters hit the mail, or when you hit the "launch" button on your campaign. Fundraising success is made in the weeks before you launch when you're doing all of your due diligence. You should never be writing your email appeal for the campaign the morning it launches. Your email as well as subsequent updates should be written weeks before launch so all you have to do is copy/paste when the time comes. The same goes for your Facebook messaging. You may be asking, "How do I write an update email in advance if I don't know how well the campaign will fare?" The trick is that you leave the fine details blank and just fill in the boiler plate stuff. See below.
Hey Everyone! We're so excited with the progress we've made so far with our spring fundraiser. So far we're on _____ percent and have raised over $____ with ___ days to go! (insert the rest of relevant campaign details here)
Step 5. Follow Up, Update, Thank, Repeat
Once your campaign is up and live, your work is far from done. You can't expect the campaign to run itself and to keep the momentum generated by your first promotional push. You need to constantly follow up with your donors, update them, thank them and then repeat the process. Donors procrastinate in making their contributions, it's just the way it goes. They need to be reminded of your efforts and that's what your follow up emails are for. As your fundraising campaign progresses you should develop two separate email lists, one for those who have not donated yet, and one for those that have donated. The list of current campaign donors should receive a different style of update during the campaign, one which includes more of an air of gratitude but also leans on them to reach new donors. Your communication with them should be explicit yet simple. Don't just ask them to "get your friends to donate," but rather ask that they "reach out and get two friends to donate by the end of the week because if we do that we'll be at 90 percent of our goal." Your donors aren't psychic, you need to tell them what you want them to do. The more straightforward, the easier it is for them to do it.
While this isn't an exhaustive list for the elements of successful crowdfunding, I hope it gives you high level view of what it takes to reach your crowdfunding goals. What do you think? If you have any suggestions for other steps that are crucial to fundraising success , leave a comment and let the discussion begin.
If you have further questions about how your organization can leverage crowdfunding don't hesitate to reach me on twitter @benrlamson I'm more than happy to help!
Related