Despite the many different styles within the street art/graffiti realm, in one way or another, the subject matter touches upon the universal struggle of people (and the genre itself) to survive in the face of adversity. LA's Known Gallery has represented this ethos genuinely, despite the current wave of popularity that the scene is experiencing. Known Gallery is for the conceptual fan, not the graffiti fetishist, and their latest exhibition featuring the talents of HowNosm and Daze doesn't stray from this idea.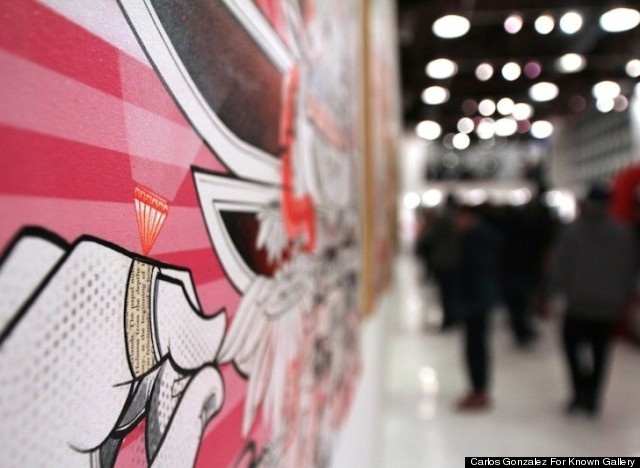 Pick Me (Detail)
HowNosm, the New York-based, German-born twins' inaugural LA exhibition, 'ACHTUNG!' is a collection of 15 original paintings and installations that recall Russian Constructivism gone awry. The images are much more crowded than their revolutionary predecessors, but the strong use of red, white and black along with all-encompassing spheres undoubtedly recall aesthetics that were meant for the common people as opposed to the bourgeoisie. What is most captivating about HowNosm's work is the impeccable flow despite the use of different patterns and textures. All of the different forms coalesce through subtle layering and the interplay between isolated idea and overarching concept.


Split Identities Part 2
Daze's 'The Gray Scale' takes the NYC graffiti veteran's experiences hitting up the train yards and factors in Daze's artistic influences, such as Reginald Marsh and Cy Twombly. While Daze's fine art proclivities may be a considerable distance away from his personal idols, his upbringing is central to his work; making the need for the 'less is more' adage irrelevant. The depth and range of whites, blacks and grays transport the viewer to the dank labyrinthine tunnels of Daze's youth, although his urban realist influences that pour through let in some of the light at the end.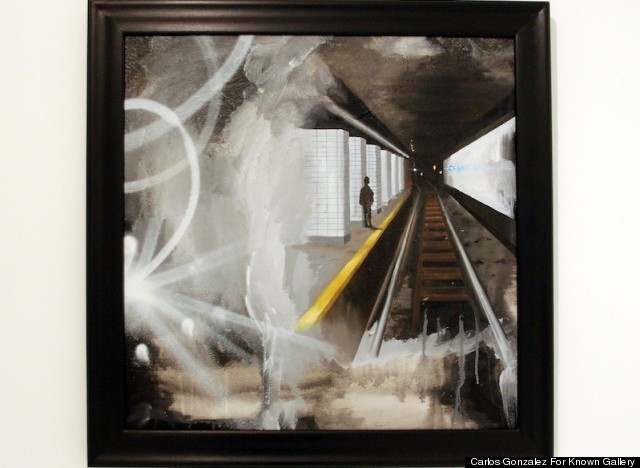 Underground Entrance
The show runs through November 5, so catch it while you can.

PHOTO GALLERY
How & Nosm / Daze @ Known Gallery
Calling all HuffPost superfans!
Sign up for membership to become a founding member and help shape HuffPost's next chapter