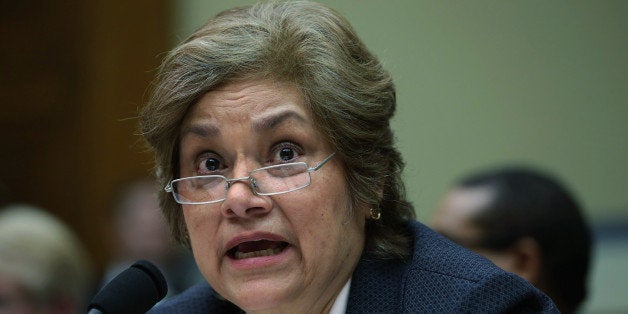 WASHINGTON -- Last Friday, immigration advocates met with Department of Homeland Security Secretary Jeh Johnson and Immigration and Customs Enforcement Director Sarah Saldaña and brought up some concerns, including a surprising statement she made the day before that seemed wholly at odds with the administration's policies.
Saldaña had said at a House hearing that it would be helpful for Congress to pass a law requiring police to hold immigrants for ICE. That came as a shock to those who follow the issue, since the administration has spent months trying to repair relations with localities that resist detaining people on ICE's behalf.
ICE issued a statement under Saldaña's name on Friday, not long before the meeting with advocates, reversing her remarks and saying such legislation would be "highly counterproductive."
Inside the meeting, according to some of those in attendance, Saldaña said she was surprised her comments had caused concerns, and tried to explain them. Johnson interjected and read aloud from her public statement, people in the room said.
"That was a very awkward moment," said one attendee, who requested anonymity to discuss the off-the-record meeting. Another summed up Johnson's interruption in a single word: "Ouch." ICE did not comment on the meeting.
The moment encapsulated the concerns some immigration reform advocates are having with ICE in the months following President Barack Obama's executive actions on immigration. Advocates are relieved to get some policies they've long requested, but some of that relief has faded into questions over how those policies are being implemented. And Saldaña's comments last week, even if quickly reversed, bred concerns among advocates that she is either unaware of, or disagrees with, administration policy.
It would be difficult for any Immigration and Customs Enforcement director to have a completely drama-free relationship with advocates. Their missions are, for the most part, different: ICE is tasked with carrying out deportations, and activists are often fighting against them.
But advocates said they have a constructive relationship with Johnson, and hope to do the same with Saldaña. It just hasn't gotten off to a perfect start.
"It was surprising and really, frankly, just disturbing that she would make those comments without first taking the time to learn the issues, to learn the complexity of the agency and especially to hear what our concerns with the immigrant community are," Marielena Hincapie, director of the National Immigration Law Center, said of Saldaña's statements at the hearing last week.
Saldaña, formerly U.S. attorney for the Northern District of Texas, was confirmed in December by the Senate by a vote of 55 to 39. The ICE director position had been vacant for more than a year after former Director John Morton -- who also faced his share of criticism -- stepped down in 2013. Saldaña is the first Latina to lead ICE, and was confirmed despite Republican opposition that was largely based on their opposition to Obama's executive actions on immigration.
ICE directors have historically taken heat from both sides of the aisle. Republicans accuse them of deporting too few undocumented immigrants, while some Democrats have said they are deporting the wrong people.
The Obama administration has attempted to improve on those points. In November, Johnson announced a new deportation relief program for some parents of U.S. citizens and legal permanent residents, along with the expansion of an existing program that allows some undocumented immigrants who came to the U.S. as children to stay and work temporarily. Those programs are currently on hold because of a court injunction. But ICE agents have been instructed to continue implementation of another piece of the executive actions: a memo laying out priorities for deportation.
"ICE officers, agents, and attorneys will continue to evaluate all cases on an individualized basis throughout the immigration enforcement process to consider any factors that may warrant the exercise of prosecutorial discretion when appropriate," ICE spokeswoman Gillian Christensen said in a statement.
Immigration advocates applauded the executive actions, but now say they are worried some people are facing deportation because they fit the broad strokes of the priorities, when other aspects of their situations should be taken into account as well. That concern increased after ICE announced the results of its Operation Cross Check earlier this month, when agents picked up more than 2,000 convicted criminals. More than 1,000 of them had felony convictions, and many of the misdemeanors were for driving under the influence. But advocates noted that some of the people caught up were guilty of only immigration-related offenses, or had committed less serious crimes years ago and maintained a clean record since.
"Operation Cross Check was a little disconcerting to the community, particularly given some comments that these were 'the worst of the worst,' and then you see who some of the people are and they're not even 'the worst,'" American Immigration Lawyers Association executive director Crystal Williams said.
Many members of the immigrant rights community rallied around the case of Iowa Mennonite pastor Max Villatoro, who was arrested in Operation Cross Check for offenses committed in the late '90s, including a drunk driving conviction. Villatoro has since turned his life around, according to his supporters, and is married with four children who are U.S. citizens. He was deported to Honduras last Friday, prompting outrage from advocates who said ICE should have considered other factors in addition to a crime for which he had already served his time.
ICE officials have said Villatoro was a priority under the new policies due to his criminal record. And some argue it isn't fair to say deportations like his prove ICE isn't following its priorities.
Rep. Luis Gutierrez (D-Ill.), both a long-time critic of deportation policies and a supporter of the new executive actions, said people can't claim "the system doesn't work" because immigrants who would be ineligible for deferred action programs are being deported, although he supports comprehensive immigration reform that would help more undocumented immigrants.
"Show me someone that qualifies [for the programs] and then let's fight," he said in an interview. "And if we bring it up to Homeland Security and they deport them, then I think that it's a sham and it's broken. But that's not what's happening."
Gutierrez said he feels "very confident" that the administration will not deport people who qualify for the new deferred action policies. He debuted a new toolkit on Thursday for would-be deferred action applicants, including a card they can carry and present to ICE officers that says they may be eligible for the programs.
Johnson said at a House hearing on Thursday that there is more to be done to ensure ICE agents are following the new priorities.
"I think that the learning and the training with regard to our new priorities is a work in progress," he said.
At the same hearing, Johnson continued to downplay the slight controversy Saldaña sparked last week over police holding immigrants for ICE. Part of the November executive actions was a plan to end a program called Secure Communities that had faced significant opposition from localities that didn't want to hold immigrants for ICE, particularly those cleared of crimes or with low-level offenses, when they would otherwise be released.
Johnson and Saldaña are currently trying to convince localities and states with policies against cooperating with ICE to get back on board. He said a law mandating local law enforcement to hold immigrants would be "counterproductive" and that "there are constitutional issues."
"It would be a step back. I want to encourage these people to cooperate with us and not impose that on them," he said. "I think it would be very controversial if we did that."
Now advocates are "in a wait-and-see posture," said Joanne Lin, a legislative counsel with the American Civil Liberties Union, which was critical of Saldaña's statements on ICE and law enforcement last week.
"It really remains to be seen whether enforcement under Saldaña and Johnson is going to be materially different than it was under [former DHS Secretary Janet] Napolitano and Morton," she said. "That is really an open question at this point."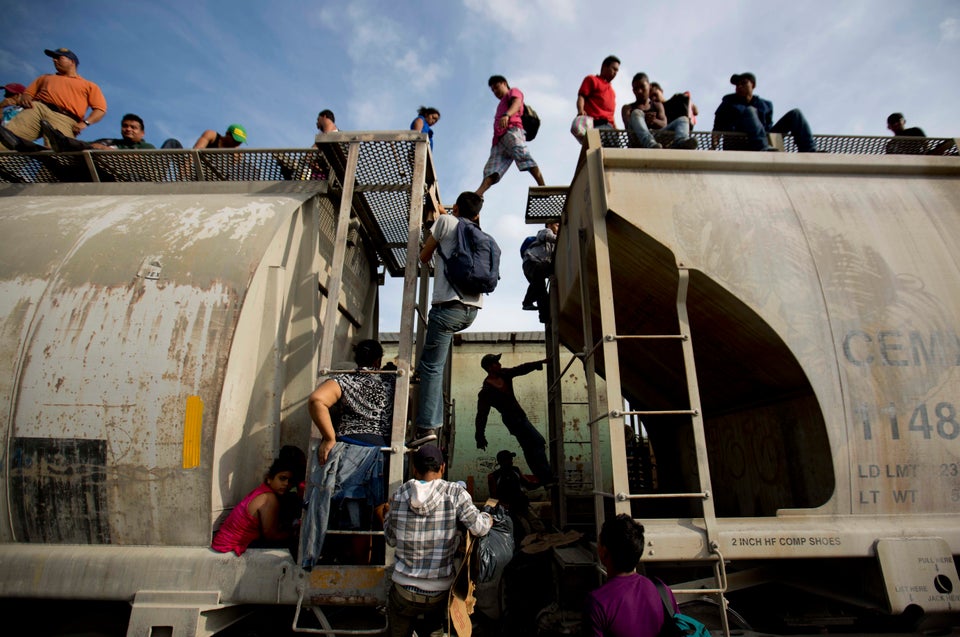 Why Latin Americans Really Come To The U.S.