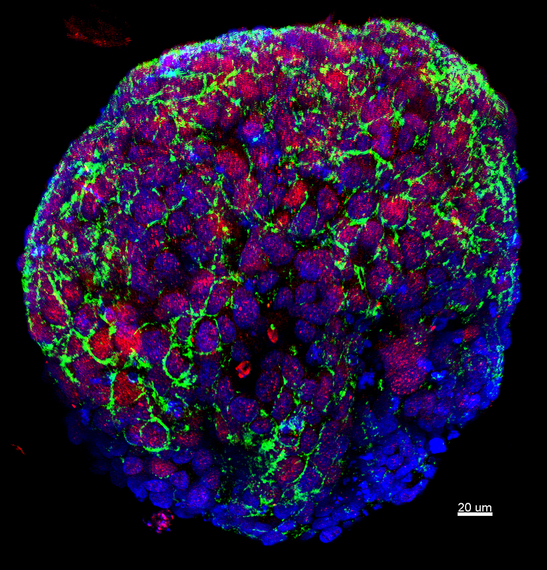 Tumor cells from a biopsy of a patient that investigators are culturing in the lab for further biologic studies and drug testing. Image credit: Dr. Loredana Puca
Are we at the dawn of a new era in medical research? The 2016 federal spending bill gives us good reason to hope that the answer is yes.
Right in the midst of the holiday season, Congress passed a $1.8 trillion spending measure to fund all federal agencies for the rest of fiscal year 2016. Signed into law by President Obama on December 18, the bill was a promising step toward a continuing investment in the nation's long-term health.
The National Institutes of Health, which provides the majority of support for medical research in this country, is receiving a $2 billion raise. Medical schools and other institutions committed to improving patient care have cause to celebrate, especially since this increase has been a long time coming.
Since 2003, the NIH budget has fallen by more than 20% after taking inflation into account. The new federal spending bill, which increases NIH funding to $32 billion, doesn't restore us to the equivalent of 2003 funding levels--but it's a much needed start.
Research targeted at specific areas of disease also benefit from the bill. The President's Precision Medicine Initiative, which will improve medicine by using genetic analysis to match individual patients with exactly the right treatment at the right time, is being funded at $200 million. Alzheimer's disease, a growing epidemic as our population ages, is receiving an additional $350 million. Our efforts to combat antibiotic-resistant bacteria will be amplified, as will work through the BRAIN Initiative, which seeks to map the human brain and better understand how this most vital organ works.
Remarkably, the $2 billion increase Congress allocated to the NIH was twice as much as requested by President Obama. Two Republicans, Representative Tom Cole of Oklahoma and Senator Roy Blunt of Missouri, chaired the subcommittees responsible for determining this year's funding levels.
The reason that medical research is transcending political divides is because the benefits it yields are indisputable.
More funding for medical research translates into higher levels of scientific discovery and innovation. It keeps our best minds and our rising young talent working in labs to find new cures and better therapies for patients around the world. It stimulates our economy and helps ensure our competitiveness on the global stage.
It's also a smart investment. According to United for Medical Research, a coalition of research institutions, patient and health advocates, and private industry, the grants awarded by the NIH to scientific investigators in 2012 generated approximately $57.8 billion in economic output nationwide--nearly double the amount of the agency's entire budget.
Crucially, the spending bill comes at a time when we are truly near the dawn of a new era in medical science. Right at this moment, novel fields of inquiry are being launched, while others are reaching maturity, yielding invaluable insights, and revolutionizing patient care.
Take precision medicine, a field still in its infancy. At Weill Cornell Medicine, researchers are sequencing the tumors of patients with cancer, many of whom have complex forms of disease currently lacking a standard of care. Results of a pilot program with 97 patients have led to the development of a new DNA sequencing test that was recently approved in New York. In the vast majority of patients, this test has uncovered genetic mutations and led to novel recommendations on how to best treat specific cancers, which vary enormously even among individuals with the same type of disease.
The precision medicine approach--fueled by light-speed genetic sequencing and advanced computational methods--is now being extended, at our medical school and around the country, to many other diseases ranging from diabetes to depression and heart disease.
Our genes and our cells contain untold mysteries--and may hold the keys to many conditions that afflict children, adults, and the elderly the world over.
We are at a moment in science with unprecedented potential. Researchers around the country are thankful for the boost in government funding--but we need sustained, high levels of support in order to usher in this new age.
Our health--and the wellbeing of future generations--depends on it.
Calling all HuffPost superfans!
Sign up for membership to become a founding member and help shape HuffPost's next chapter