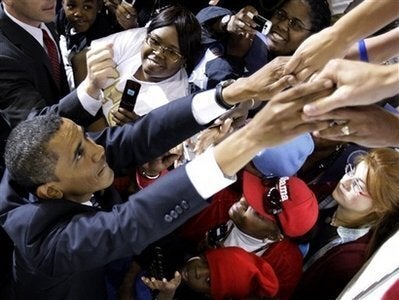 Another ominous sign for the McCain campaign is the most recent polling average by Real Clear Politics, which has Barack Obama leading -- albeit barely -- in Indiana, a state that hasn't voted for a Democratic presidential contender since Johnson in 1964. A recent trip to the Hoosier state by this reporter supports those findings and suggests a continuation of the trend that may paint the state blue come Nov. 4.
Indiana overwhelmingly supported President Bush's reelection in 2004, and driving along Interstate 90 en route to South Bend, it's not difficult to see why. The self-proclaimed "Crossroads of America," Indiana is a land of farming, manufacturing, and religion. These are blue collar folks with red politics in their blood. This year, however, the economy is forcing a double take. A major region of the so-called Rust Belt, Indiana has ties to both the auto and steel industries and their spiraling troubles have driven unemployment to the forefront of voters' minds -- even, it's possible, ahead of typical red-meat Midwest Republican family values.
"I think Indiana is pretty much up for grabs this year," said Paul Garwood of South Bend, a self-described "pretty independent" voter who is leaning toward Obama. Just outside of town, where signs of economic recession are everywhere, an outsider might have difficulty even noticing McCain is running. Unlike Bush in 2000 and 2004, McCain has little visual presence in the community.
Such a notable difference between this year and 2004 seemingly has much to do with Indiana independents such as Garwood, whom Obama appears to be winning over handily.
"I'm divided but I'm pretty sure," said Michael Stankiewicz of South Bend. "[Obama] picked a good VP with history and knowledge of the issues."
South Bend resident Paula Blank agrees. She, like Stankiewicz and Garwood, is primarily concerned about the economy --- jobs and taxes. Blank describes herself as "more for Obama," although admits that McCain's pick of Sarah Palin did "kind of sway me for a while." Blank supported Hillary Clinton in the primaries.
The failing economy, which has certainly helped Obama here, has additionally prevented the GOP from playing into independents' concerns and fears over so-called wedge issues, such as abortion, gun control and gay marriage. Indiana Republicans recently failed to force a discriminatory definition of marriage amendment onto the ballot this year. The proposed amendment had been intended to prevent court challenges to Indiana's current gay marriage ban.
Such issues aren't playing nearly as well in 2008 as they have in the past, as Indiana grapples with a 6.2 percent September unemployment rate and widespread anticipated job losses in its industrial and manufacturing sectors.
"People are very frightened," said a South Bend woman who asked to remain anonymous. Citing the failing economy, she said, "I'm voting as much for Senator Obama as I am voting against Senator McCain ... We've wasted a tremendous amount of money in the last eight years."
Independent voter discontent is being capitalized on by an Obama campaign surging in funding and determined to bring it in the air as well as on the ground: according to the AP, "The Obama campaign also has aired at least $2.1 million in Indiana TV ads since June -- compared with less than $200,000 in advertising by the Republican National Committee on McCain's behalf through last week."
Of course, in Hoosier country, Obama's b-ball skills can't hurt, either. The man can sink a three at will.
Related
Popular in the Community