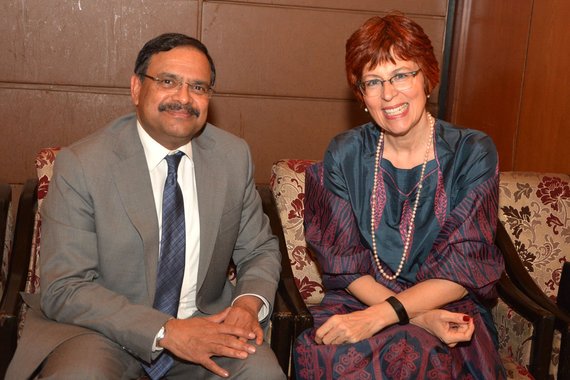 In the backdrop of the recently concluded BRICS* health ministers' meeting in New Delhi, Chandra Kishore (CK) Mishra, India's Secretary for Health & Family Welfare and Dr Flavia Bustreo reflect on the benefits of effective collaboration to improve health and development and the new ways of working needed in the Sustainable Development Goals (SDGs) era**.
Unique relationship
The working relationship between the Government of India and the World Health Organization (WHO) is unique and, perhaps the most mutually symbiotic relationship in the history of public health, playing a critical role in the country taking giant strides in improving its health outcomes. From eliminating polio and maternal and neonatal tetanus to reducing preventable maternal and child mortality, the Indian government, with technical support from support WHO, has conceived and implemented many successful health initiatives.
The success against polio has generated renewed enthusiasm to eliminate other killer diseases in India. Mission Indradhanush, the Indian government's flagship campaign to achieve full immunization coverage of all children and pregnant women, is a testimony to this change. This campaign aims to immunize children against seven preventable childhood diseases. The government has also introduced the pentavalent and rotavirus vaccines to tackle the huge burden of childhood pneumonia and diarrhoea, and has announced the rollout of the pneumococcal conjugate vaccine early next year.
This positive momentum for health is further reflected in India's National Strategic Plan (2017-23) to ensure a TB-free India by 2035, which is being developed in partnership with WHO. The government also launched its national strategy for adolescent health in 2014 - the Rashtriya Kishor Swasthya Karyakram (RKSK) - which aims to promote health and well-being throughout the life course and build a strong foundation for India's socio-economic development.
This extraordinary collaboration demonstrates how it is possible for a WHO Member State - in this case India - to "set the agenda" and drive its own health reform, while remaining in step with the health standards and priorities established by WHO in its role as the global coordinating authority on health. While this partnership can act as a model of engagement for other Member States, it should be noted that the world has now entered a new phase.
BRICS and the SDGs
In September 2015, the international community endorsed the SDGs. Health and international development stakeholders need to up their game if we are to achieve these ambitious objectives. Universal health coverage and the elimination of preventable mortality cannot be achieved with a business-as-usual approach.
BRICS, and especially India with other Member States, must play a leading role in realizing these ambitious goals in collaboration with WHO and other development partners. Ensuring good health and well-being is a key cornerstone of the SDGs framework, which will require political will, targeted financing and a thriving health innovation ecosystem. India can play a major role by leveraging its position as the Chair of the BRICS' New Development Bank (NDB) to position health as a key investment area for the bank. It can also work with WHO to implement the health R&D roadmap and expand access to affordable lifesaving drugs and vaccines.
Through an open, mutually reinforcing working relationship that is underpinned by an eagerness to share knowledge and best practice, India and WHO can ensure timely progress against the Global Strategy's various targets and help realize the SDGs.
This approach is already reflected in the BRICS Framework for Collaboration on Strategic Projects in Health. South-South learning between Member States is of particular value, as is already taking place through governments' collaboration as Partners in Population and Development (PPD). Such efforts need to be amplified.

New ways of working
WHO fully realizes that it needs to be better prepared to respond effectively in the SDGs era. It can do this by evolving new ways of working, creating a more agile organization by updating its governance and leadership, drawing on the best minds in global public health, adapting rapidly to emerging health challenges and being more responsive to countries' needs.
Member States must play an important role in WHO's evolution by providing feedback on the kind of support they value most and the global collective action that is required. This will need WHO to work ever more closely with them, especially countries from the global South. Member states should contribute financially to support global collective action and take clear ownership of their national health agendas. WHO can also benefit from these countries' indigenous medicine systems by incorporating their traditional knowledge to complement the existing scientific know-how, and help these countries to develop policies and assess the required investments to support traditional medicine.
With the world facing critical health threats such as antimicrobial resistance, we need to urgently scale up the in-country laboratory capacities and mobilize sufficient human and financial resources to strengthen surveillance of emerging threats. This can be best managed by WHO under the able guidance of a seasoned global health leader who has a thorough understanding of the organization and its current functioning, the leadership vision, management skills, and perhaps, most importantly, the current experience of updating its governance and leadership to make WHO 'fit for purpose' to effectively serve its critical role.
Going forward, WHO will be judged by its ability to deliver on its mandate as the coordinating and technical authority on global health and the results that it produces for its Member States. We want to assure the international community that we intend to further leverage our strong and evolving partnership to realize good health and well-being for people around the world.
*BRICS is the acronym for an association of five major emerging national economies: Brazil, Russia, India, China and South Africa.
**The views expressed here are solely those of the authors in their private capacity.
Link here to more info on the SDGs and health and the Global Strategy at www.flaviabustreo.com.
Related
Popular in the Community