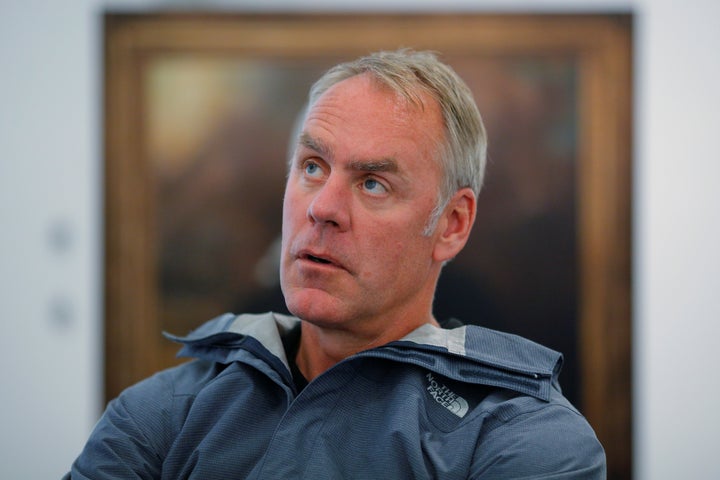 WASHINGTON ― Top officials at the Department of the Interior cited former coal executives and crank bloggers to challenge the overwhelming evidence of the threat posed by man-made climate change, according to department emails released through a Freedom of Information Act request by former Interior scientist Joel Clement.
On Sept. 26, Indur Goklany, a science and technology policy analyst at the Interior Department, cited a study briefing from a group called CO2Science, highlighting a selective finding that some plankton communities may benefit from increased levels of carbon dioxide, which causes the oceans to acidify.
CO2Science is the shortened nickname for the Arizona-based Center for the Study of Carbon Dioxide and Global Change, an oil-funded think tank run by former Peabody Energy executive Craig Idso. Rebekah and Robert Mercer, the hedge fund billionaires who bankrolled candidate Donald Trump's presidential campaign and funded the right-wing news site Breitbart, donated $125,000 to the organization last year.
On Aug. 14, Goklany ― whose degrees are in electrical engineering, according to his website ― sent an email to Doug Domenech, the assistant secretary for insular areas at Interior, which handles U.S. island territories like Guam. In the email, Goklany rejected data in a New York Times story detailing the threat Guam faces from climate change, claiming it "doesn't show any acceleration in sea level rise due to man-made global warming or whatever."
He then linked to a "very good article" from "Watts Up With That," a blog run by former television meteorologist Anthony Watts that promotes doubt over the existence and causes of climate change. The article ― a diatribe republished from another climate change denier website and written by Kip Hansen, a blogger whose primary concern appears to be challenging New York Times stories about climate change ― suggests, without evidence, that massive coral reef bleaching is a natural phenomenon, and states that the existence of mountains on Guam makes sea level rise unconcerning.
"Climate change is no more [a] threat in Guam today than it has ever been," Hansen concludes.

The emails are by no means surprising from an agency that, despite overseeing research on huge swaths of the nation's wilderness and federal lands, has served as the speartip of the Trump administration's efforts to politicize science and shape regulations to favor fossil fuel companies. But they demonstrate the extent to which once-fringe commentators now wield significant influence at the highest reaches of government.
"They're in the bubble of the climate misinformation world and ignoring their own scientists," Robert Brulle, an environmental sociologist at Drexel University who tracks climate change denial groups, told HuffPost. "Interior has the [U.S. Geological Survey]. Interior has the Park Service. Interior has all these people. They've got some really excellent resources inside of the Interior Department."
He added with a sigh: "Good grief."
The emails also revealed the officials acting on their own scientific judgments. Earlier this week, The Washington Post reported Domenech targeted a U.S. Geological Survey researcher for writing that climate change "dramatically" shrank glaciers in Montana, insisting the scientists went "outside their wheelhouse." Domenech is a long-time Republican operative who served in President George W. Bush's administration and whose son, conservative pundit Ben Domenech, is married to Meghan McCain, daughter of Sen. John McCain (R-Ariz.).
On March 10, 2017, a little more than a week after Secretary Ryan Zinke took over the agency, Goklany proudly emailed some of his own work to one of his new colleagues, Downey Magallanes. Magallanes is a top aide of the interior secretary and the daughter of Frederick Palmer, a longtime coal executive and a current senior fellow at the right-wing Heartland Institute.
"Apropos of our conversation, attached are a couple of papers I wrote as an Independent Scientist, which Fred Palmer might enjoy," Goklany wrote.
Palmer, Peabody Energy's former senior vice president of government affairs, has described coal and other fossil fuels "as part of a divine plan." In a 1997 documentary, Palmer was quoted as saying, "Every time you turn your car on, and you burn fossil fuels, and you put CO2 in the air, you're doing the work of the lord."
In one of Goklany's papers, published in 2012 by the libertarian Cato Institute, he writes that "fossil fuels not only saved humanity from nature's whims, but nature from humanity's demands." The second paper, titled "Carbon Dioxide: The Good News," was published in 2015 by The Global Warming Policy Foundation, a United Kingdom-based think tank whose position is that the science of climate change is far from settled.
Goklany and Domenech also took aim at a National Park Service brochure highlighting the effects of climate change in America's national parks, from melting glaciers in Montana's Glacier National Park to drought conditions in Arizona's Saguaro National Park.
"I've looked at it and see several omissions and other shortcomings," Goklany wrote to Domenech in April. He described page 2, which notes the scientific community's consensus that human activity is driving global warming, as "propaganda for a favored option."
Zinke himself has rejected scientific findings about the pace at which Montana's glaciers are vanishing. At a June 8 budget hearing, Zinke said the park's namesake features started melting "right after the end of the Ice Age" and that it's "been a consistent melt."
In early March, Goklany contacted an agency ethics official about participating in a panel discussion at Heartland's 12th International Conference on Climate Change in Washington, D.C. The ethics office ultimately gave Goklany the green light to speak in his personal capacity, so long as he not be introduced as an Interior Department official.
"They're in the bubble of the climate misinformation world and ignoring their own scientists."
In his opening remarks, Goklany said that "fossil fuels have made the world much more environmentally sustainable." And he argued that habitat is never really lost, only "converted," and that the burning of fossil fuels is somehow helping to fight the biodiversity crisis by increasing crop productivity.
Goklany has for years maintained ties to Heartland, which transformed itself over the past decade from a tobacco industry defender under the auspice of "smokers' rights" into a leading proponent of climate change denialism. The Illinois-based organization has become more influential than ever since Trump took office, particularly at the Interior Department and the Environmental Protection Agency. EPA Administrator Scott Pruitt spoke at Heartland's America First Energy Conference in November, alongside Rep. Lamar Smith (R-Texas) and Sen. Jim Inhofe (R-Okla.).
Heartland has stayed influential despite a series of public embarrassments. In October, HuffPost reported that the group included a convicted child sex offender in a list of scientists it submitted to the EPA. In January, a monthslong investigation by HuffPost revealed Heartland had protected a former executive charged with stalking and harassing a female colleague half his age. Heartland did not refute the stories, but responded by accusing HuffPost of attempting to smear the organization.
Popular in the Community