WASHINGTON — The lead spokesperson for the Interior Department labeled a CNN reporter with a vulgar insult after being pressed to answer questions about Secretary Ryan Zinke's travel, emails released as part of a public records request show.
"Rene is a fucking idiot," agency spokeswoman Heather Swift wrote to one of her colleagues, referring to CNN correspondent René Marsh.
"She sounds like one," responded deputy director of communications Russell Newell.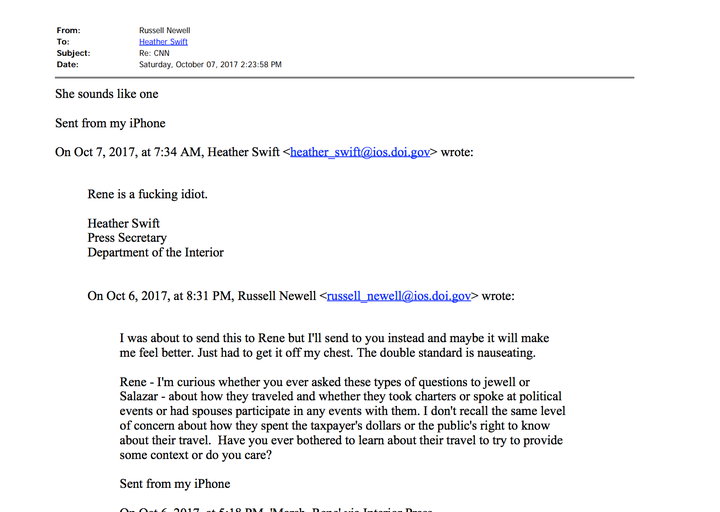 The insult stemmed from an Oct. 3 inquiry in which Marsh asked the agency's press team several follow-up questions about Zinke's trip in June to Las Vegas, where he met with the Vegas Golden Knights hockey team, and other taxpayer-funded flights. Swift promptly replied to say that she was "checking into this."
The following day, Marsh emailed again to ask when she could expect a response. Swift didn't answer, prompting Marsh to follow up again on Oct. 5. Swift told her that she was "working on it" but that "the person who handles the Secretary's travel is currently out of the office so it's taking a little longer than usual."
On Oct. 6, Marsh sent two more emails to the agency's press team. In the second she wrote: "We have repeatedly asked the press office for answers to the below questions and for 4 days now we have been told you are working on it and today we've received no response at all. We are asking questions that the public has every right to know as these are their tax dollars and for Interior not answer any of the below questions is really hard to understand. Is the DOI issuing a no comment on all of the below questions?"
Interior finally sent a response that evening but failed to answer several of Marsh's specific questions. Emails show that Marsh again insisted that the Department of the Interior provide answers.
Later that evening, Newell emailed his colleague Swift a draft of an email he was considering sending to Marsh in which he planned to question the reporter about whether she'd asked previous interior secretaries such questions.
"I was about to send this to Rene but I'll send to you instead and maybe it will make me feel better," Newell wrote to Swift. "Just had to get it off my chest. The double standard is nauseating."
The Department of the Interior and Marsh did not immediately respond to HuffPost's requests for comment.
The Vegas trip is among those that have come under scrutiny. On June 26, Zinke and several staffers chartered an oil company plane for a flight from Las Vegas to Montana, costing taxpayers $12,375, as Politico first reported.
Zinke's use of private planes at taxpayers' expense — a controversy he's shrugged off as "a little BS" — is being investigated by the Interior Department's Office of the Inspector General. The watchdog office is expected to release its final report next week, according to CNN.
Popular in the Community