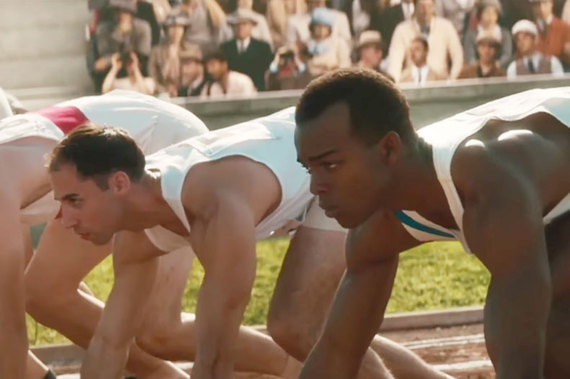 Stephan James, who played Representative John Lewis in Selma, plays another 20th-century icon in Race, the story of Jesse Owens at the 1936 Berlin Olympics. Hitler's plan to use the Olympics to show Aryan supremacy was thwarted when the American track star won four gold medals. In an interview, James talked about how his training helped him recreate the running styles of almost 80 years ago and what he learned from talking to Owens' daughters about their father.
What does Jesse Owens' story mean to us today?

It means so much, you know so, so much. The fact that we are sitting here talking about it 80 years later, we really see how much it has resonated with people and the insight and the impact that he has really been able to have not just in that sport but really the world over. It's so much more than who he was as an athlete, it was about who he was as a person, a gentleman, a humanitarian, and the type of person who treated everybody how he wanted to be treated. So that type of person is somebody we should always look to as inspiration and I think that's what the story will do.
In one of the movie's most powerful scenes, the NAACP asks Owens not to run because they do not want to endorse the Nazis, as reports of their anti-Semitism were already raising concerns around the world.
I can't imagine what that must've been like. To play him and to be him are two different things. To have that sort of pressure on you from your own community, and as much pressure from the other side, it's definitely something I can imagine he had to think through. He relied on his family, especially on his wife Ruth who was very important to him. They had known each other for pretty much their whole lives and they were best friends. What she said meant a lot to him. And I feel like at the end of the day he made the decision he felt like was best for him and his family and had very little to do with pressures from either one of those sides.
Is the style of running different today than it was in Jesse's day?
Yes, very, very much so. It's a very, very different world. Athletes are privy to technology that Jesse wasn't in 1936. So that part of the whole training process for me was a challenge. I had to train to be this track athlete but I can't train like guys train nowadays. I had to train like how he trained back in 1936. The devil is in the details, so it was about how he started his race, what his stride looked like, what his face looked like--and I was training in those shoes. I actually trained in shoes that were like the ones he's wearing when training for the Olympics but it's very, very different. Jesse ran on essentially dirt when nowadays track athletes are running on turf and he had these three-inch spikes on his feet where nowadays runners run with very different shoes. We realized that there were certain things that Jesse cleaned up in terms of his running technique with the help of Coach Larry, and for me it was about learning the wrong way to do it and then right way to do it. So as much as it was physical it was a mental thing for me. It's a very, very different whole process and there were definitely difficult moments but it was just a matter of repetition for me and doing his techniques so many times that I couldn't really run any other way. So if you were to ask me to run right now I would run exactly like him.

Did you talk to people who knew Jesse Owens to prepare for the role?

Yes, yes definitely. His daughters are still alive and well and just very lovely women and they've been instrumental in the whole filmmaking process from the beginning. They were always around to answer questions about the type of man he was, the type of father he was. I wouldn't even have to ask. They would just tell me stories about him; they loved him and love talking about him. To the rest of the world he was this big superstar but to them he was just daddy and I was so fortunate to be able to learn about him from that perspective, just as a human being. So I really felt like I had something more to bring to the film rather than just this guy who can run really fast.

Calling all HuffPost superfans!
Sign up for membership to become a founding member and help shape HuffPost's next chapter