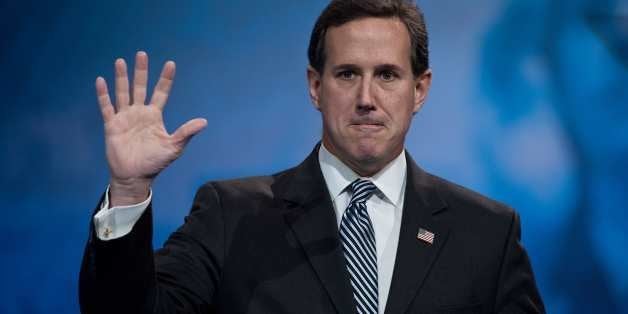 Over at The New York Times, Jonathan Martin has the story about the GOP state party officials in Iowa, fretting that they're facing the possibility that their state's primacy in the presidential primary season may be "diminishing" ahead of the 2016 elections. Their concerns have nothing to do with the perennial efforts of other states attempting to siphon off some of Iowa's mojo. Rather, the Iowa GOP is concerned that their state is destined to become a playground for a set of candidates that they deem ... well -- let's say déclassé:
But Iowa's political leaders, always looking ahead to the next campaign, worry that looks can be deceiving and that the prized role of the Republican caucuses is in jeopardy. Establishment Republicans fear that conservatives have become such a dominant force in the nominating process here that they may drive mainstream presidential candidates away.

That would relegate the caucuses to little more than a test of the party's right-wing sentiment, and would do little to identify and propel the eventual nominee.
Basically, "establishment" types have a lot of worries. They worry about the way the famous Ames Straw Poll briefly gave a lift to the nigh-upon-unelectable Michele Bachmann. Additionally, there is goodly concern over The Family Leader's Bob Vander Plaats -- the failed Iowa gubernatorial candidate who parlayed his electoral loss into a role as the state's pre-eminent social conservative kingmaker. Vander Plaats, who found power in making the GOP candidates sign one of those "pledges", hasn't faded as the sun set on the 2012 election season. In fact, his recent Family Leader "summit" was essentially covered as the de facto start of the 2016 season in the Hawkeye State.
The bottom line concern, then, is that Republicans like New Jersey Gov. Chris Christie and Florida Sen. Marco Rubio -- here stylized as "moderate" candidates -- won't find a foothold in wild and woolly Iowa. And, if we operate -- as Martin's sources do -- under the assumption that the eventual nominee will be a "moderate" or "acceptable" candidate, then it adds new risk that Iowa's prominence will dim because its voters keep elevating fringe candidates.

But some of this stuff just doesn't add up. And I'm not merely referring to some of the factors that Martin notes in passing, such as the fact that the media focus on Iowa is too intense for serious contenders to opt-out of completely, or the fact that each year, Iowa evolves from important-primary state to general election battleground-state -- which makes putting down early roots in Iowa important for anyone with real electoral ambition. I mean that this remembrance of 2012, that comes in the piece, doesn't make sense to me:
It has been Iowa in recent years, however, that propelled conservative upstarts -- Mike Huckabee in 2008 and Mr. Santorum in 2012 -- who ultimately failed to gain mainstream support and go on to win the nomination. The party's eventual Republican nominees, meanwhile, waged less than intense efforts in Iowa and paid no penalty.
Does anyone remember the Iowa caucus propelling the "upstart" campaign of Rick Santorum anywhere in 2012? Does anyone remember Mitt Romney, the eventual nominee, paying a "penalty" for a halfhearted effort in Iowa? Because I sure don't remember any of those things. And as Byron York recently reported, neither does Rick Santorum, for that matter:
Santorum had one enormously bad break in the campaign, and it was in the state he's visiting this week. After surging in the final days of the Iowa campaign, he watched as the race ended in a virtual tie between himself and Romney. The count on election night was unofficial and would have to be certified later -- a process that has always resulted in changes in vote totals -- but Romney was nevertheless declared the winner by a grand total of eight votes.

Santorum was stunned. "I had no clue that the press would treat it like that," he recalls. "I knew it was an uncertified ballot. To me, it was a tie, and this thing was going to be decided in a couple of weeks. And then, within hours, it was Romney wins, he's going to win New Hampshire, it's over. The press ran with it, and it's unfair that they did, in my opinion."

In the end, the vote totals did change, and Santorum was declared the winner of the Iowa caucuses by 34 votes. But that determination didn't happen until the campaign had gotten to South Carolina. Santorum never got the chance to spring off his victory in Iowa.
Yeah, the reason I don't remember the Iowa caucuses giving too big a lift to a social conservative candidate in 2012 is because that is not what happened, in our universe, in 2012.
Nevertheless, I don't discount the concerns of the "Iowa GOP establishment" out of hand. But I'll point out that there are still several hundred days between now and the Iowa caucuses, so perhaps it is way too early to worry about right now. I'm prepared to be wrong, of course! But maybe everyone should simply try to remember what actually happened in 2012 before forming a bunch of weird new conclusions about it.
REAL LIFE. REAL NEWS. REAL VOICES.
Help us tell more of the stories that matter from voices that too often remain unheard.
BEFORE YOU GO
PHOTO GALLERY
Santorum Answers Sex Qs